If you are a climbing or hiking enthusiast, having the best trekking poles is downright important. See our top picks for this particular tool in this post.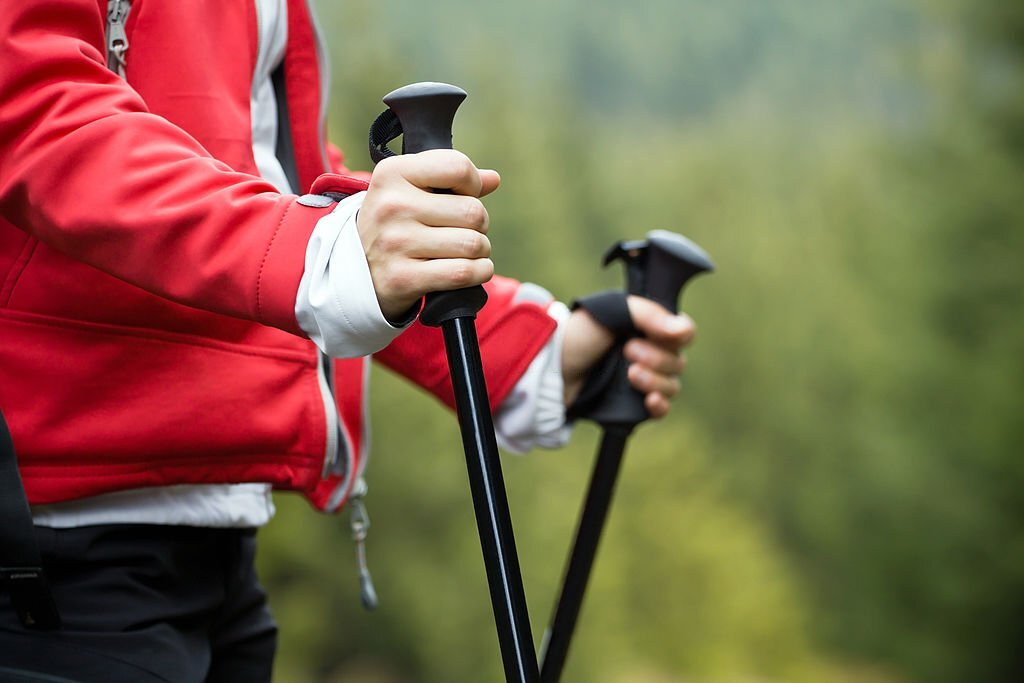 A Quick Overview
Are you an outdoor enthusiast looking to maximize their hiking or trekking experience? Look no further than trekking poles! In this comprehensive guide, we'll explore their world and provide valuable insight so that you can select the appropriate poles.
Trekking poles provide many advantages that can enhance outdoor adventures, from casual hiking on scenic trails to rugged climbing on difficult terrain. Trekking poles make a noticeable difference to both casual and experienced hikers alike - offering enhanced stability, reduced joint impact, improved endurance and overall increased safety during outdoor excursions such as hiking or climbing. They truly are indispensable additions.
Trekking poles are as indispensable to successful expeditions on technical terrain and challenging ascents as climbing helmets, ice axes, mountaineering boots and hardshell jackets.
From materials and construction, adjustable length, grip comfort, and more - we cover everything you need to know about trekking poles. In the meantime, take a look at our top selection for this particular outdoor gear!
---
Best Trekking Poles: A Complete Rundown
Product Name
Shaft Construction
Grip Material
Where To Get
Black Diamond Distance Z Trekking Poles
Aluminum
Foam
REI
Amazon
Komperdell Carbon Trail UL Vario Compact Trekking Poles
Carbon
Foam
REI
Amazon
ALPS Mountaineering Momentum Trekking Poles
Carbon
Foam
REI
Amazon
Leki Legacy Lite Trekking Poles
Aluminum
Cork / Rubber
REI
Amazon
Leki Makalu FX Carbon Trekking Poles
Carbon
Foam
REI
Amazon
Mountainsmith Halite 7075 Trekking Poles
Aluminum
Cork
REI
Amazon
---
Best Trekking Poles Review
In this section, we will provide our insights about the trekking poles that we picked for this post. Our expert review should help you decide which of these poles are worth your time and attention:
1. Black Diamond Distance Z Trekking Poles - Editor's Pick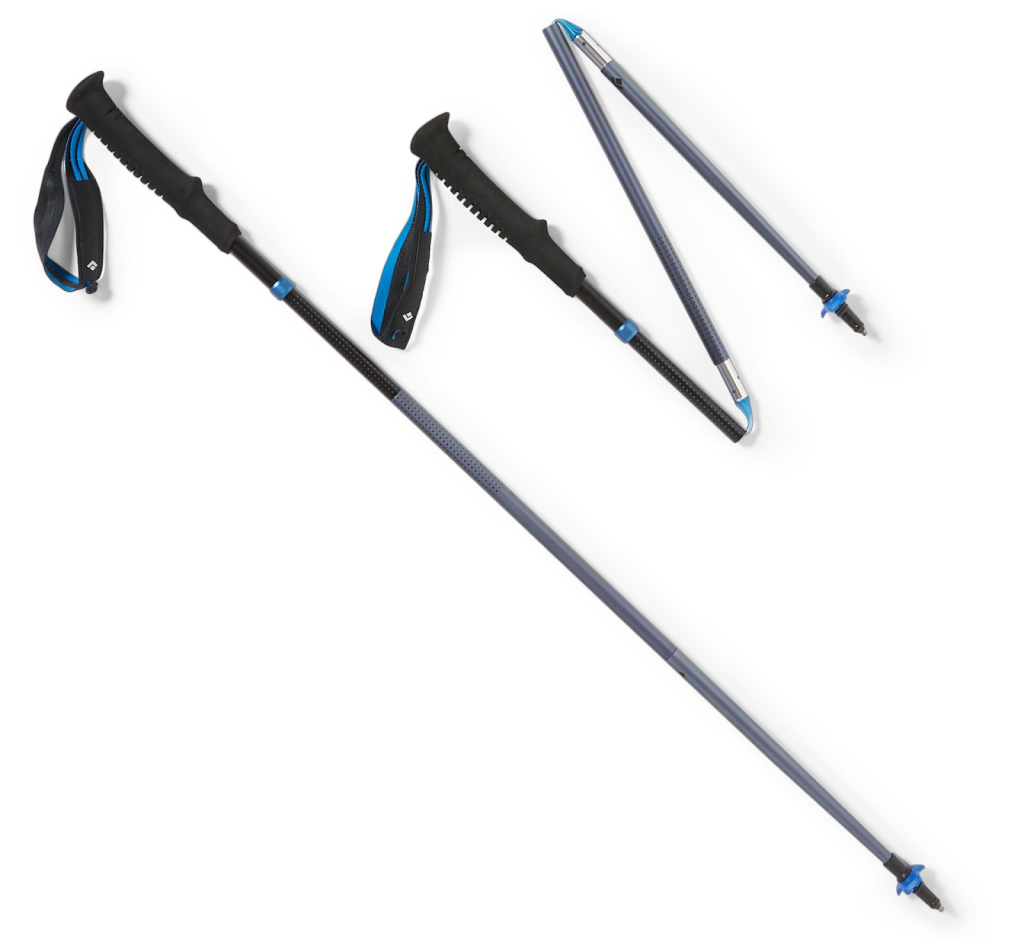 TECHNICAL SPECIFICATIONS
Ideal Use
Shaft Material
Grip Material
Adjustable Length
Minimum Length
Maximum Length
Weight (By Pair)
Basket Type
Locking Mechanism
Hiking / Climbing
7075 Aluminum
Foam
No
51 inches
51 inches
12.6 ounces
Trekking
Twist Lock
Black Diamond Distance Z Trekking Poles Review
Black Diamond Distance Z Trekking Poles are an outstanding trekking pole choice that combines durability, convenience, and performance. Outdoor enthusiasts have become loyal users due to their outstanding features and dependability.
These poles rise to the occasion due to their collapsible design. Utilizing innovative Z-Pole technology, these poles fold down quickly for storage or transport. It is perfect when undertaking long-distance treks or exploring remote trails, as they will let you stow away the poles conveniently when they are not needed.
Durability should always be top-of-mind when purchasing trekking poles, and these trekking poles from Black Diamond provide that. Crafted using top-quality materials for optimal strength and resilience against rugged terrains. Specifically, their aluminum shafts ensure strength and support on challenging hikes.
The Black Diamond Distance Z has ergonomic, lightweight EVA foam grips that offer soft but secure holds to help minimize hand fatigue while offering moisture-wicking properties to make sure that every journey remains secure yet relaxing, rain or shine!
PROS
CONS
Provide excellent impact absorption
Lightweight yet robust design for all-terrain usage
Can be stowed easily
Available on fixed lengths only
2. Komperdell Carbon Trail UL Vario Compact Trekking Poles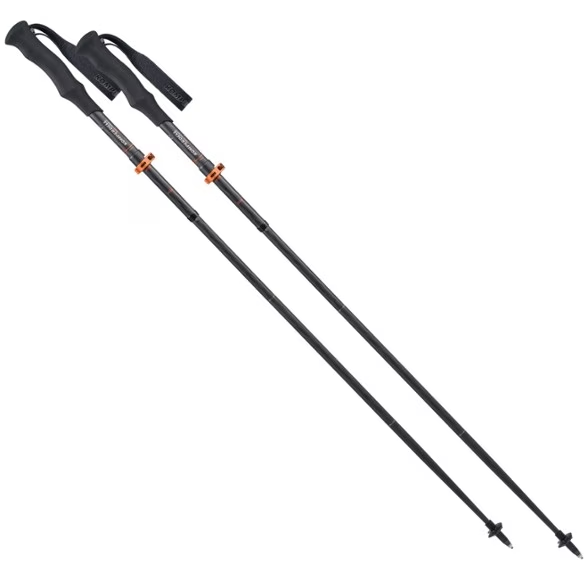 TECHNICAL SPECIFICATIONS
Ideal Use
Shaft Material
Grip Material
Adjustable Length
Minimum Length
Maximum Length
Weight (By Pair)
Basket Type
Locking Mechanism
Hiking / Climbing
Carbon
Foam
Yes
41.3 inches
49.2 inches
14.9 ounces
Trekking
Combination Lock
Komperdell Carbon Trail UL Vario Compact Trekking Poles Review
Komperdell Carbon Trail Vario Compact Trekking Poles are constructed using lightweight carbon fiber material for maximum durability while remaining lightweight - essential features when hiking long trails or challenging terrains where every ounce matters! They combine strength with a lightweight design for optimal use on long hikes.
One of the hallmark features of this pair of trekking poles is their collapsible design, allowing a highly convenient storage and transport mechanism. Whether you are exploring challenging trails or traveling to hiking destinations, these poles can quickly fold to a compact size for storage in any backpack!
Adjustability is another hallmark feature of the Komperdell Carbon Trail Vario Compact Trekking Poles, thanks to their Power Lock 3.0 system, which enables fast and secure length adjustments of the anodized aluminum shaft. As a result, the trekking poles can quickly provide the ideal holding power regardless of the terrain conditions.
Comfort is not compromised with these trekking poles; their ergonomic foam grips offer a soft yet secure hold to make long hikes much less tiresome on hands and wrists. Plus, the foam grips have sweat-absorbing qualities to ensure comfort during excursions. The poles also include carbide tips that enable them to pierce through tough surfaces, ensuring optimal ground grip.
PROS
CONS
Features an adjustable and easy-to-store design
Carbide tips easily penetrate the ground
Strikes the perfect balance between durability and streamlined weight
Slightly expensive
3. ALPS Mountaineering Momentum Trekking Poles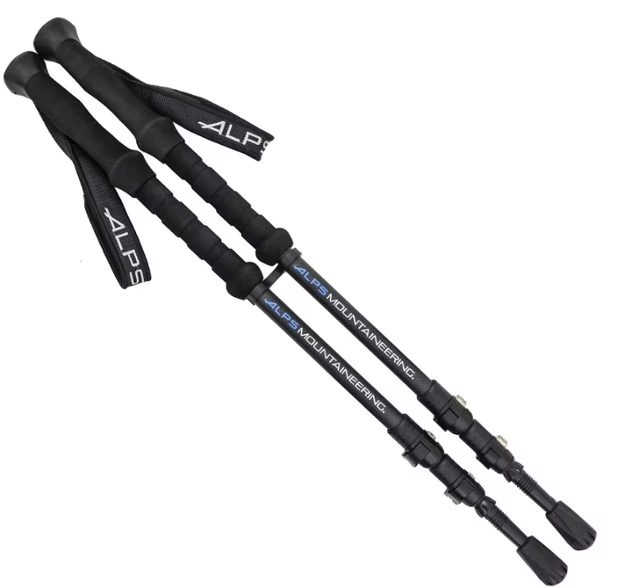 TECHNICAL SPECIFICATIONS
Ideal Use
Shaft Material
Grip Material
Adjustable Length
Minimum Length
Maximum Length
Weight (By Pair)
Basket Type
Locking Mechanism
Hiking / Climbing
Carbon
Foam
Yes
24.5 inches
53 inches
14.5 ounces
Powder and Trekking
External Lever Lock
ALPS Mountaineering Momentum Trekking Poles Review
ALPS Mountaineering Momentum Trekking Poles are constructed to withstand rugged terrains and their demanding requirements. That's a guarantee. Their lightweight carbon shaft construction ensures they can withstand even the toughest hikes while remaining light and easy to manage.
Moreover, these poles have adjustable lengths, providing users with maximum adaptability on any terrain while hiking or trekking. Specifically, the telescoping design lets users tailor the height of poles according to individual comfort, terrain, and terrain type. Based on our experience using these poles, their adjustability ensured optimal posture and reduced joint impact. We also like their reliable external twist-lock mechanism that keeps poles secure even during vigorous activities.
The ALPS Mountaineering Momentum Trekking Poles have extended contoured EVA foam grips. They offer secure yet comfortable hold to their users. Furthermore, the foams also relieve hand fatigue with their moisture-wicking properties. Plus, the presence of adjustable webbing wrist straps optimizes hand support by evenly distributing weight. This means minimal fatigue and stress.
At the same time, these trekking poles are equipped with removable rubber tips and durable tungsten carbide tips. These components add versatility across various terrains and conditions.
PROS
CONS
Comes with contoured, moisture-wicking foam grips
Tungsten carbide tip ensure ground traction
Also includes length adjustability on their design
The circumference of the foam grips are actually big; users with small hands might have difficult time holding it
4. Leki Legacy Lite Trekking Poles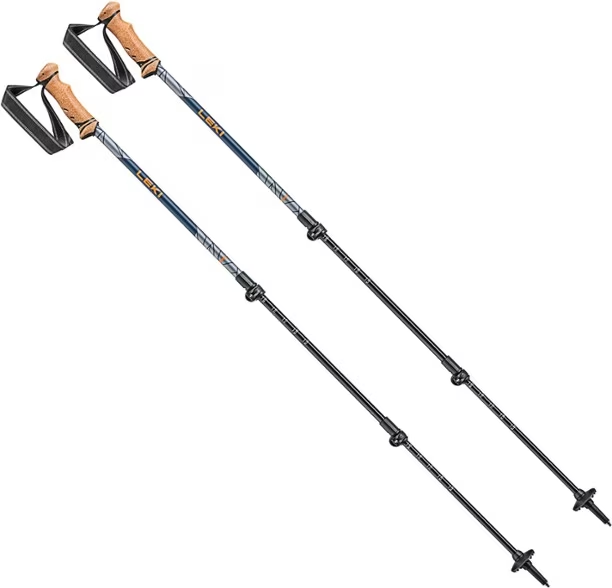 TECHNICAL SPECIFICATIONS
Ideal Use
Shaft Material
Grip Material
Adjustable Length
Minimum Length
Maximum Length
Weight (By Pair)
Basket Type
Locking Mechanism
Hiking / Climbing
Aluminum
Cork / Rubber
Yes
39 inches
53 inches
1 lb. 2.0 oz.
Trekking
External Lever Lock
Leki Legacy Lite Trekking Poles Review
One of the ultimate choices for the best trekking poles is the Leki Legacy Lite. Right now, it is among the most popular choices among outdoor enthusiasts when it comes to reliable and high-performing trekking poles. It has an innovative design that delivers stability, durability, and comfort on hiking adventures. These trekking poles can become essential companions on all your hiking excursions.
Leki Legacy Lite Trekking Poles are made with lightweight yet sturdy heat-treated HTS 6.0 aluminum to withstand rugged terrains, offering outstanding strength-to-weight ratio and stability without adding unnecessary bulk. You'll feel secure traversing steep ascents, uneven surfaces, and challenging descents with these poles in hand!
These units also possess a unique locking mechanism. Specifically, the SpeedLock+ allows quick and secure length adjustment via simple lever action for optimal posture and stability during hikes. Adjusting them easily according to terrain or personal comfort with just one flick!
Furthermore, these poles have been outfitted with ergonomic Evocon Cor-Tec grips that offer a secure yet comfortable hold to reduce hand fatigue. Interestingly, the grips also have a standard 8-degree positive angle to ensure that your wrists remain in a neutral position.
PROS
CONS
Carbide flex tips ensure universal grip to any surfaces
Optimizes wrist support and comfort
One of the toughest trekking poles in the market
It has an added weight, but this is seemingly ignored by many hikers and mountain climbers
5. Leki Makalu FX Carbon Trekking Poles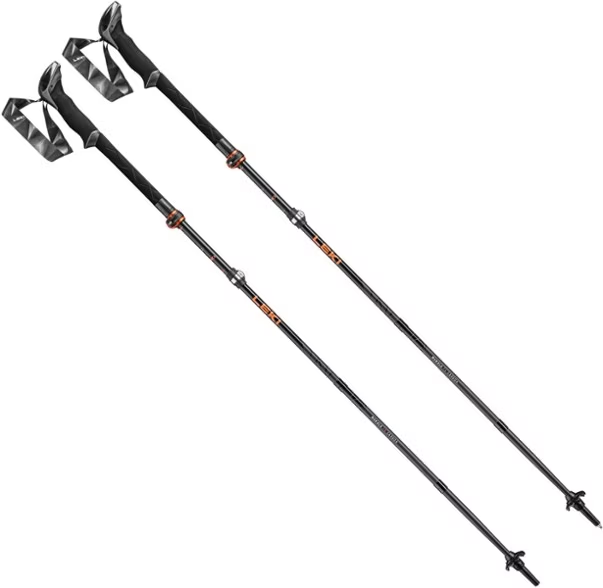 TECHNICAL SPECIFICATIONS
Ideal Use
Shaft Material
Grip Material
Adjustable Length
Minimum Length
Maximum Length
Weight (By Pair)
Basket Type
Locking Mechanism
Hiking / Climbing
Carbon
Foam
Yes
43 inches
51 inches
1 lb. 1.9 oz.
Trekking
External Lever Lock
Leki Makalu FX Carbon Trekking Poles Review
Leki Makalu FX Carbon Trekking Poles provide reliable gear when embarking on outdoor adventures, offering hikers exceptional performance with durability, versatility, and comfort. These qualities enable these trekking poles to become indispensable companions for hiking expeditions.
The shafts of the poles are constructed from lightweight yet rugged carbon fiber material for maximum strength while remaining light enough for effortless maneuvering. Similar to the Lite Legacy, the Makalu FX has an interchange basket system and carbide flex tips to ensure its all-terrain viability.
Meanwhile, the Aergon Air foam grips offer a comfortable yet secure hold, while their moisture-wicking properties reduce fatigue while on extended climbs and hikes. The back portion of the grips has been rubberized for a secured hand grip while going downhill. The grips also maintain a natural 8-degree holding position so that your wrists remain at ease.
These trekking poles from Leki feature their innovative SpeedLock 2 system for effortless length adjustment with just the flick of a lever, offering optimal posture, stability, reduced joint impact, and an overall enhanced hiking experience.
PROS
CONS
Sturdy, weighted design for optimal swings and strikes
Can be easily adjusted and locked
Grips are ergonomically designed for prolonged adventures
No notable drawbacks
6. Mountainsmith Halite 7075 Trekking Poles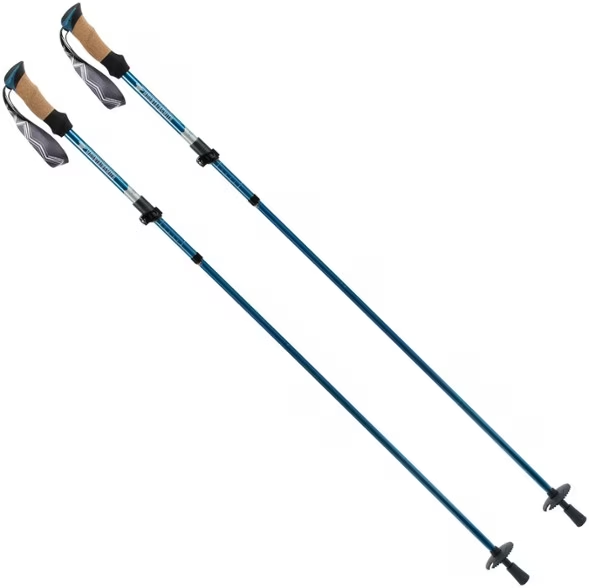 TECHNICAL SPECIFICATIONS
Ideal Use
Shaft Material
Grip Material
Adjustable Length
Minimum Length
Maximum Length
Weight (By Pair)
Basket Type
Locking Mechanism
Hiking / Snowshoeing
Aluminum
Cork
Yes
48 inches
54 inches
1 lb. 5 oz.
Powder and Trekking
External Lever Lock
Mountainsmith Halite 7075 Trekking Poles Review
Mountainsmith Halite 7075 Trekking Poles provide hiking enthusiasts with everything they need to explore rugged terrain with confidence and explore nature. These poles will allow you to conquer tough trails in comfort and style!
The Mountainsmith Halite 7075 Trekking Poles deliver the comfort needed for extended high-altitude trips. Their ergonomic cork grip minimizes hand fatigue while ensuring safety while on the move. Plus, their adjustable wrist straps have soft-touch webbings that minimize pressure and hot spots on your hands.
It's also rugged yet lightweight and constructed of high-grade 7075 aluminum for exceptional strength and lightweight handling, perfect for challenging hikes in rugged environments.
One noteworthy feature of the Mountainsmith Halite 7075 Trekking Poles is its collapsible architecture. Specifically, the poles come with four collapsible sections that enable you to downsize the item to 16 inches. This design ensures better storage and portability for the poles.
PROS
CONS
Streamlines portability and functionality with its collapsible construction
Comes with interchangeable baskets for ground versatility
Aids in minimizing wrist fatigue
The entire poles might be too long for specific adventures
---
Importance Of Having The Best Trekking Poles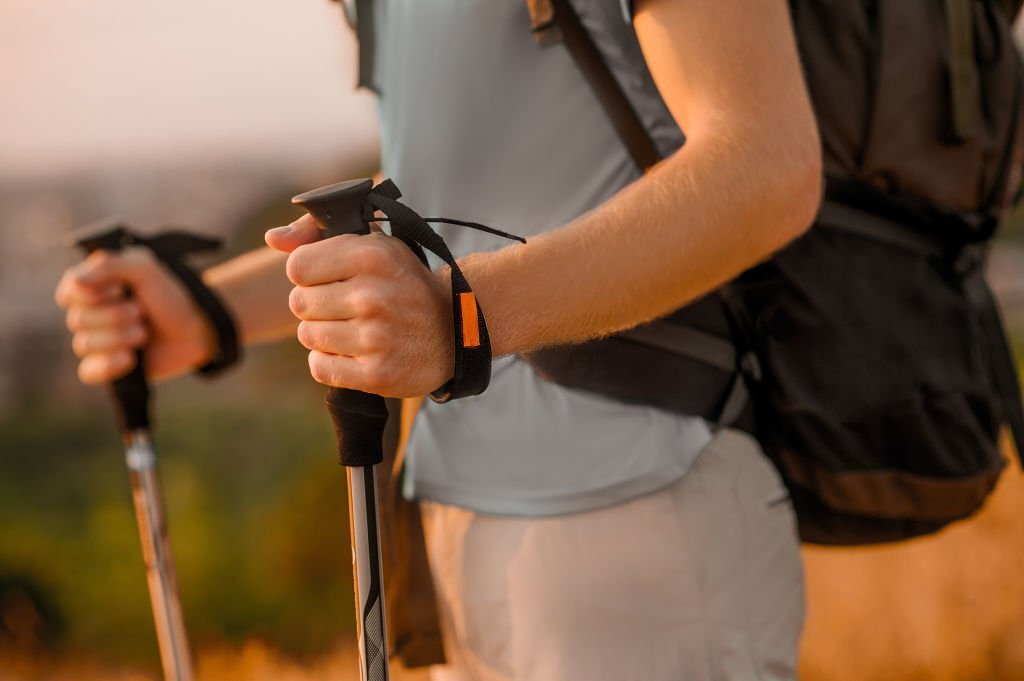 Hiking poles (commonly referred to as hiking poles or walking sticks) provide many benefits that can enhance outdoor adventures and mountain climbing success. Let's examine their importance more closely:
Increased Stability and Balance
Trekking poles provide invaluable stability and balance on challenging terrain, helping you confidently navigate uneven surfaces, steep ascents, and descents. They even distribute body weight evenly for increased stability. They also decrease strain on knees, hips, and ankles, preventing potential injuries from arising during trekking expeditions.
Reduced Joint Impact
Long hikes or carrying heavy backpacks can strain your lower body joints, increasing fatigue and discomfort as you trek along. Trekking poles act as shock absorbers to lessen this impact on each step and give a smoother stride experience.
Increased Endurance
Trekking poles help engage your upper body muscles, effectively sharing the workload between arms and legs to conserve energy while building endurance for long-distance hikes or tough terrain. Trekking poles are especially helpful on long hikes or trails where further progress needs to be made; using trekking poles allows you to do just that!
---
How To Choose The Best Trekking Poles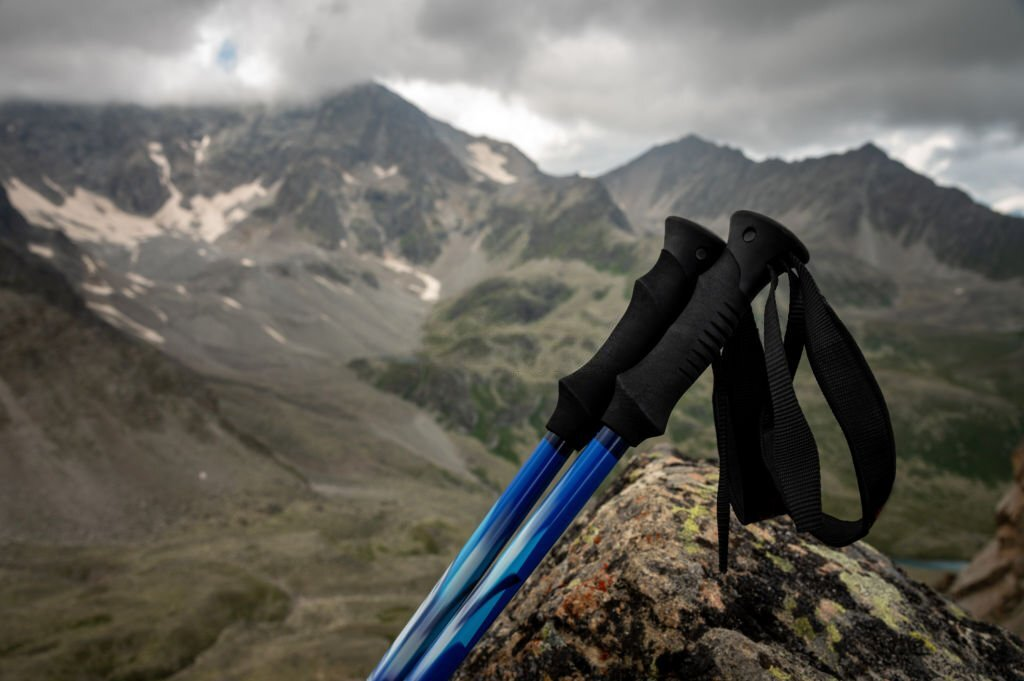 Selecting trekking poles that best meet your needs involves carefully considering a number of key factors. Here we explore each factor so you can make an informed decision:
Pole Materials and Construction
The materials used in trekking pole construction play an essential part in its performance and durability, with aluminum and carbon fiber being two popular choices for use.
Aluminum poles are known for their durability, affordability, and excellent strength-to-weight ratio - making them popular choices among hikers who require reliable performance in various terrain. Aluminum poles also tend to resist bending and denting more readily than other varieties.
Carbon fiber poles are lightweight and offer exceptional shock absorption, making them the ideal companions for long-distance hikes or backpacking adventures. Carbon fiber poles are highly sought-after among hikers seeking weight reduction and maximum comfort; however, carbon fiber may be more costly compared to aluminum.
Adjustable Length
The adjustable length feature is an essential one when purchasing trekking poles. Most trekking poles come equipped with mechanisms that enable users to alter the length according to their height and terrain type, providing optimal comfort and performance during hiking, backpacking, or snowshoeing activities.
Adjustable poles also enable more than one activity, such as snowshoeing, to take place on multiple terrain types simultaneously. This customization feature ensures optimal comfort and performance - so a must-have!
Grip and Wrist Straps
Trekking pole grip and wrist straps have an enormous influence on your comfort while hiking. Opt for ergonomic designs that provide secure holds while minimizing hand fatigue; common materials for these features include cork, foam, and rubber grip materials which offer distinct benefits:
Cork grips are popular due to their natural moisture-wicking capabilities and ability to conform to your hand over time. They also offer insulation benefits in both hot and cold conditions for added comfort.
Foam grips are lightweight, soft, and absorbent - providing cushioned cushioning as well as an easily manageable grip even if your hands sweat profusely.
Rubber grips provide durability and superior gripping power and are suitable for wet or rainy conditions. Commonly found on entry-level trekking poles and is more affordable than cork or foam grips.
Wrist straps should also be given due consideration, as they provide added support and allow you to maintain a relaxed grip, helping reduce hand and wrist fatigue. Look for padded and adjustable wrist straps that offer optimal support while being easily adjusted while out on the trail.
Locking Mechanism
Trekking pole locking mechanisms determine how securely their adjusted length remains held in place, with two common types available on most models:
External lever locks - External lever locks are an easy, secure solution that is generally preferred among hikers due to their ease of use and greater durability and dependability.
Internal twist locks - Internal twist locks secure pole sections by twisting them together to secure them into place, making for easier adjustments with minimal effort needed for adjustments. While slightly more effort may be necessary, internal twist locks remain popular due to their lightweight design and ease of use.
Consider the pros and cons of each locking mechanism before selecting the one that best meets your hiking style and preferences.
Weight
Weight can have an enormous effect on your hiking experience, especially during long-distance treks or carrying heavy backpacks. When considering the weight of trekking poles:
Lightweight Poles - If weight reduction is key to your hiking journey, lightweight trekking poles crafted from carbon fiber are an ideal choice. Offering great strength and shock absorption while remaining relatively light overall, lightweight poles offer an optimal strength-to-weight ratio and should help minimize fatigue while increasing endurance on the trail.
Midweight Poles - Aluminum trekking poles offer an optimal balance between durability and weight, being slightly heavier than carbon fiber poles yet still offering reliable performance. If weight concerns are your top concern while prioritizing durability/cost-effectiveness considerations remain key, aluminum poles could be the perfect solution.
Heavy-Duty Poles - When backpacking or hiking on rugged terrain, durability, and stability may take precedence over weight considerations. When this is the case, choosing heavier trekking poles such as reinforced aluminum can provide needed strength and support during physically taxing activities like these.
Consider your hiking style, the level of endurance required for your treks, and how much weight is comfortable when selecting trekking poles that will best meet your individual needs in terms of weight and durability. Striking an equilibrium between weight and durability will guarantee that you end up with poles that fulfill them all.
Remember, when selecting trekking poles based on weight, consider your priorities and budget appropriately. While lighter poles may offer benefits in terms of reduced fatigue and faster travel speeds, they may come at a higher price point. When making decisions based on weight, consider all available options before making your selections.
Tip Designs and Accessories
Trekking pole tips play an essential role in providing traction and stability on various terrains. Here are some popular tip designs and accessories:
Standard Tips - Most trekking poles include standard tips as a matter of default. They're suitable for general hiking conditions and provide an optimal blend of traction and durability.
Rubber tips - Rubber hiking tips provide increased traction on pavement, rocks, or other slippery surfaces and prevent the tips from slipping off during hikes.
Snow baskets - For optimal winter hiking experience, snow baskets feature wider tips designed specifically to prevent poles from sinking too deeply into soft snow, providing greater stability.
Interchangeable tips - Some trekking poles feature interchangeable tips, enabling you to switch between standard tips, rubber tips, or snow baskets depending on the terrain you will be hiking on. This provides flexibility and ensures your poles can adapt to various outdoor activities.
Consider what terrain you will be traversing when selecting a tip design suitable to you. Having interchangeable tips may prove particularly advantageous if your hiking plans involve multiple environments and conditions.
---
Additional Features: Going the Extra Mile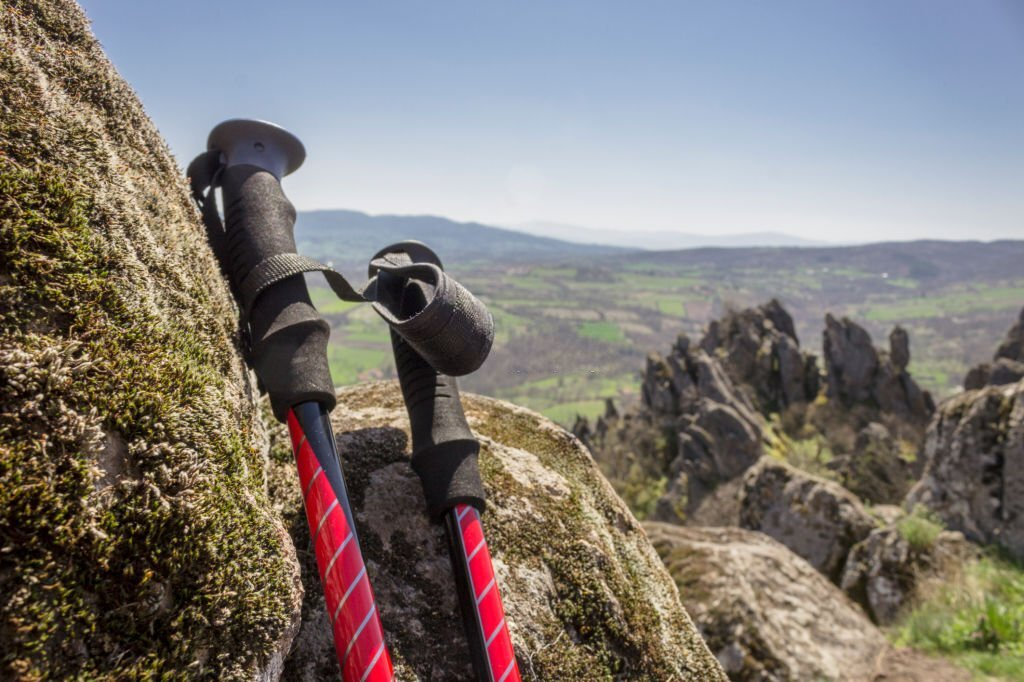 The best trekking poles serve the primary function of providing stability and balance, but additional features may enhance your trekking experience. While not essential, additional features can add convenience and versatility to your expeditions, especially if you are doing these things alone. Here are some common options to keep in mind:
Shock Absorption
Trekking poles designed with built-in shock absorption systems are intended to minimize the impact on joints during hiking, typically including springs or internal mechanisms that absorb and dampen shock generated from each step.
If you often hike on challenging terrains or experience joint sensitivity, this feature can be especially helpful, relieving stress from wrists, elbows, and shoulders for an enjoyable hiking experience.
Interchangeable Tips
Interchangeable tips allow you to easily switch between various tip designs based on the terrain you will be hiking on, adding versatility to trekking poles for various outdoor activities.
For instance, standard tips may not offer adequate traction on slippery surfaces, whereas rubber tips improve traction for improved grip, or snow baskets provide stability during snowy conditions - adaptable poles ensure you're prepared for whatever adventure may come your way!
Wrist Straps
Wrist straps are an often neglected yet invaluable feature of trekking poles, offering added support and weight distribution, thus alleviating strain on hands and wrists.
When used correctly, wrist straps enable a relaxed grip on poles which prevents fatigue in hands while increasing overall comfort during long hikes. Padded and adjustable wrist straps offer optimal support suited to fit individual hand sizes for maximum comfort during use.
---
Essential Trekking Pole Maintenance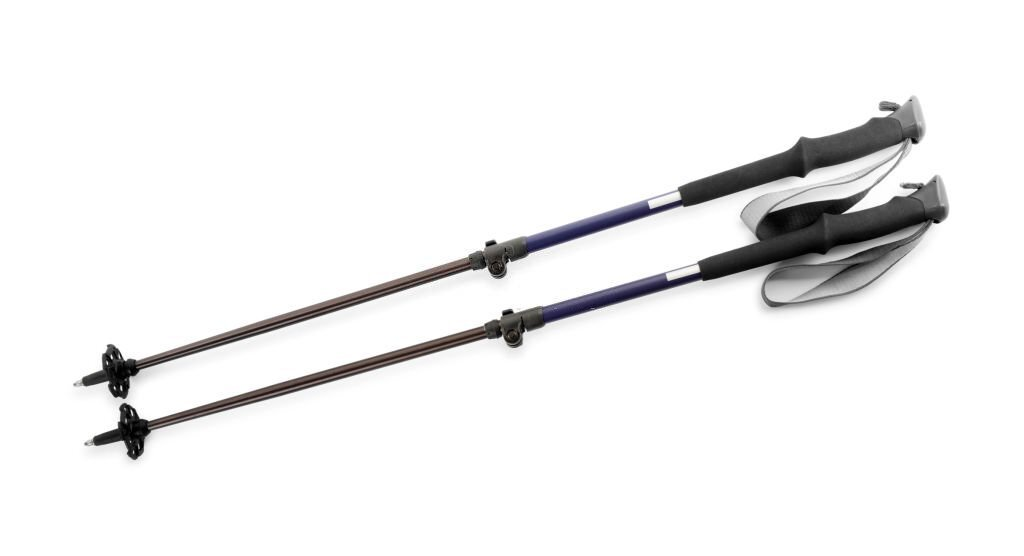 Trekking poles are essential companions for hikers, providing balance, stability, and support on outdoor adventures. Proper maintenance of trekking poles is key to their continued performance at an optimal level and long lifespan.
In this comprehensive guide, we'll cover how best to do so; from cleaning and storage through checking and replacing parts, this comprehensive guide has everything covered - so let's get trekking!
Why Maintenance Matters: Prolonging Lifespan and Performance
Maintaining trekking poles is more than aesthetics: it ensures their longevity and optimal performance, too. Below are a few reasons why maintenance matters:
Durability - Proper care and maintenance will extend the lifespan of your trekking poles, giving you many more adventures without frequent replacement costs.
Performance - Clean and in good condition, trekking poles offer better performance on the trail. Regular cleaning ensures smooth operation, secure locking mechanisms, and comfortable grips - leading to greater stability and an enjoyable hiking experience.
Safety - Trekking poles that have been properly maintained reduce the risk of hazards and injuries during hikes. Proper upkeep ensures all components, including locking mechanisms and tips, work as expected for optimal support on every hike.
Now that we recognize the significance of maintenance let's dive deeper into how to effectively maintain trekking poles. Let's also cover how to do so effectively in steps.
Cleaning Your Trekking Poles: Removing Dirt and Debris
Regular cleaning is key to keeping trekking poles in good condition. Here is an effective cleaning routine you can follow:
Start By Tackling Excess Dirt
Gently tapping the poles together will remove loose dirt and debris, while soft brushes or cloths should be used if there is stubborn filth to clear away. If there is any remaining, use these to help clean it away.
Clean The Grips
Grips can become stained from sweat, dirt, and oils on your hands. Use mild soap or a mixture of warm water and mild detergent to cleanse them before gently scrubbing with a soft brush or cloth, paying special attention to crevices and textured areas. Rinse thoroughly afterward with clean water before drying completely.
Wipe The Shaft
Only use clean sponge and damp cloth when wiping the shaft of your trekking poles. You can also use any mild detergent or cleaner recommended by their manufacturer if there are stubborn stains or sticky residue. Make sure that any cleaning product used is rinsed off completely according to instructions and rinsed off thoroughly afterward.
Clean The Tips
Inspect each tip for dirt, mud, or debris before cleaning with either a toothbrush or a small brush. Rubber tips may benefit from using warm soapy water for stubborn dirt removal if necessary; just remember to rinse and dry them afterward! Rinse and reattach as soon as possible after.
As part of your trek pole cleaning regimen, inspect it for any tell-tale signs of damage, such as dents, cracks, or bent sections. If any major signs are observed, consult either the manufacturer or professional for repair or replacement options.
Checking And Maintaining Components: Tips, Locking Mechanisms, And Straps
Cleaning alone won't do when it comes to maintaining the best trekking poles properly--certain components need regular checks and upkeep too! Let's probe these components and their maintenance requirements:
Tips
Your trekking pole tips bear the brunt of wear and tear, so regularly inspect them for signs of wear or damage. If they appear worn down, cracked, or otherwise compromised, it's essential that they be replaced in order to maintain optimal traction and stability - most trekking poles come equipped with replaceable tips, so this process should be seamless; follow the manufacturer's instructions or seek professional assistance as required if assistance is required.
Locking Mechanisms
Locking mechanisms on trekking poles play an essential role in keeping them at the desired length, so regularly inspect your locking mechanisms for signs of wear, rust, or corrosion to identify any problems. Should there be an issue detected, follow these steps:
External Lever Locks
Apply a small amount of lubricant recommended by the manufacturer to the lever mechanism to help ensure smooth operation and avoid sticking or jamming. This will also help maintain smooth door operation.
Internal Twist Locks - When cleaning and lubricating internal sections of poles with a silicone-based lubricant, ease of adjustment is greatly increased, and stuck poles or difficult-to-adjust sections can be avoided. This will keep poles working smoothly!
Referring to your trekking pole manufacturer for maintenance tips is always advised.
Straps
Inspect the straps of your trekking poles for any signs of wear, fraying, or damage. If they become worn or frayed, they should be replaced for increased safety and comfort on hikes. Some trekking poles come equipped with adjustable and removable straps, so this process may be made simpler if necessary.
---
Storage Tips To Keep Your Trekking Poles Safe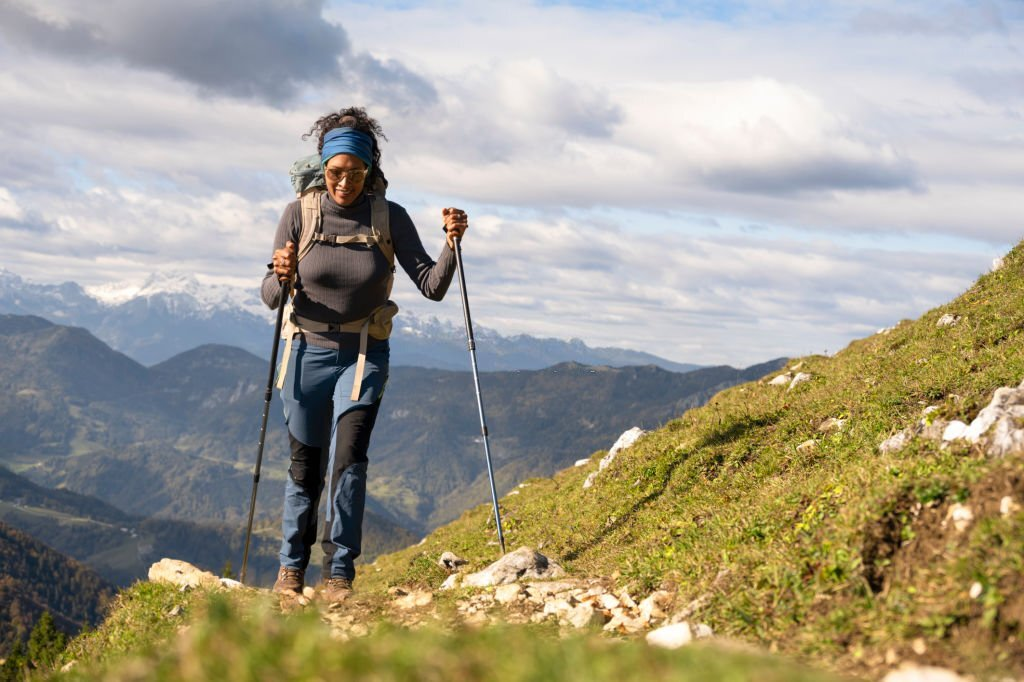 Storage is essential to protecting your top trekking poles when they aren't being used - here are a few storage strategies:
Before storing trekking poles, ensure they are completely dry to prevent moisture build-up, which could lead to rust or corrosion. Wipe them down with a clean cloth and let them air dry naturally.
Disassemble (if applicable) - If your trekking poles have collapsible parts or removable components, take time to disassemble them according to their manufacturer's instructions so as to reduce strain on internal mechanisms and ensure their continued good condition. This helps avoid strain being put on them over time.
Store trekking poles properly - It is best to store trekking poles in a cool, dry location away from direct sunlight and temperature fluctuations. Avoid basements and places prone to high humidity as these may expose them to mold growth and humidity issues.
Protect the tips - Adding rubber caps over the tips of trekking poles may prevent accidental damage to other items or surfaces when not in use, protecting against accidental scratches and scrapes that can occur while they sit idle.
By following these storage practices, you can extend the lifespan and condition of your trekking poles for future hiking adventures.
---
Final Thoughts
Selecting the best trekking poles can greatly enhance your hiking experience. By carefully considering key aspects such as materials, adjustability, grip comfort and additional features - including materials, adjustability, grip comfort and additional features - you can find poles to meet all your needs and preferences.
Ensure your investment strikes a balance between durability, weight and cost in order to guarantee a worthwhile return on your investment! So make your decision wisely, gear up, and embark on your next journey with pride!
Related Posts: