The best hiking pants don't just add protection to your body while you are on the ascent. They also provide optimal mobility so that you can move freely and comfortably. Check out our selection of hiking pants in this post.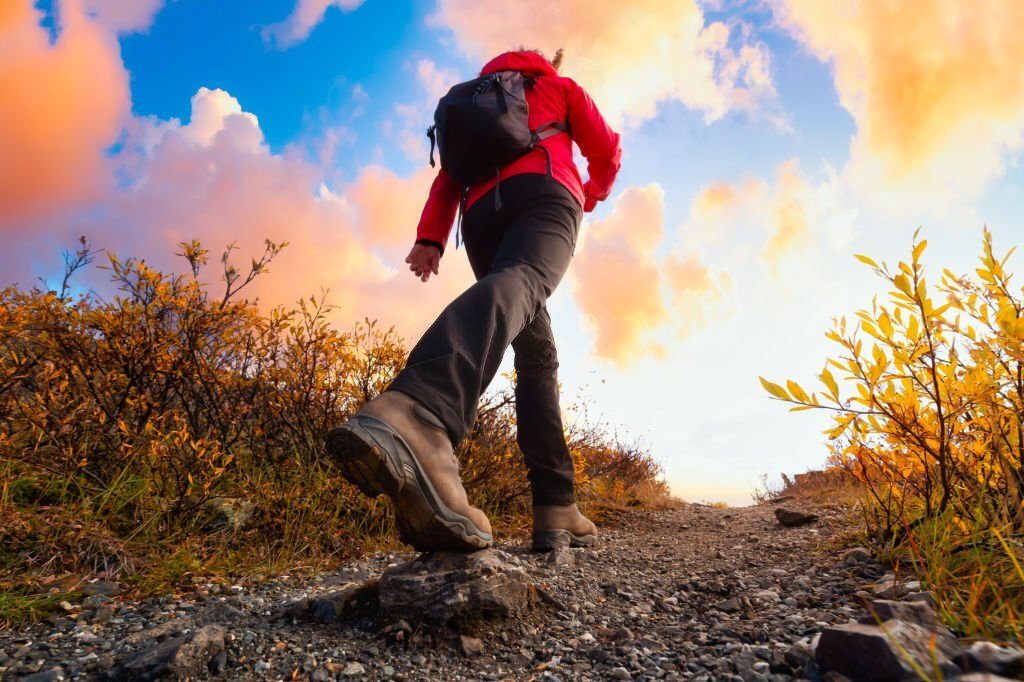 A Quick Overview
Hiking, mountaineering, and alpine climbing are adventures sought by many people all over the world. And even being mainstay outdoor pursuits, the standards for these activities stay the same. Aside from rigid planning and preparation to make the trip successful and stress-free, it is also essential that hikers are equipped with the proper gear.
For instance, layering themselves with windbreakers and rain jackets can provide optimal protection against the common elements you can encounter. Meanwhile, hardshell jackets are essentially those outer layers that can protect you from the extremities of Mother Nature. To complete this setup, adventures are also tasked to wear top-of-the-line hiking pants and climbing helmets. 
Fundamentally, the hiking pants should be able to handle different types of environments. At the same time, it should be durable enough to resist wear and tear, especially if you are going to use it regularly. Additional features, such as anatomical fit, could also improve the quality of these pants. Before we discuss the nitty gritty part of these garments, allow us to show you some of the top hiking pants today, as picked by our experts in Rilor Wilderness.
---
Best Hiking Pants: A Rundown
Here is an overview of some of the top hiking pants in the outdoor market today.
Ideal Use
Fabric
Where To Get

Arc'teryx Gamma Pants
Hiking / climbing
Fortius DW 2.0 nylon / elastane
REI
Amazon

Outdoor Research Cirque Lite Pants
Hiking / climbing
50-denier polyester
REI
Amazon

Patagonia Quandary Pants
Hiking / climbing / general travel
Recycled nylon / spandex
REI

Fjallraven Keb Trousers
Hiking
Polyester / cotton / nylon / elastane
REI
Amazon

KUHL Renegade Rock Pants
Hiking / climbing
Nylon / spandex
REI


REI Co-op XeroDry GTX Pants
Hiking / climbing
Polyester
REI
---
Best Hiking Pants Review
Take a look at what we can say about our selection, and know why these pants are among the best possible options you can get for expeditions at the summit.
1. Arc'teryx Gamma Pants - Editor's Pick

TECHNICAL SPECIFICATIONS
Fabric
Waterproof
Windproof
Waterproofing material
Weight
Fit
Fortius DW 2.0 nylon / elastane
Yes
Yes
Fortius DW 2.0 soft shell
12.5 ounces
Men / women
Arc'teryx Gamma Pants Review
Arc'teryx is one of the best makers of outdoor clothing. Hence, it's not really surprising that one of their pants lands on this list. Specifically, its Arc'teryx Gamma Pants are among the top choices of hikers, climbers, and backpackers due to their innate mobility that it provides. At the same time, we've tried this pair of pants and found it to be extra durable.
The entire thing is constructed from the proprietary Fortius DW 2.0 soft-shell fabric. This particular fabric is a combination of nylon and elastane, with a composition of 88 percent and 12 percent, respectively. This architecture enables the pants to be rugged but without being too restrictive. It also has a nice warmth-to-weight ratio, making it a great option for quick climbs at the summits.
The entire pants have a durable water-repellent finish that prevents moisture from entering. With its low-profile webbing waist belts, you can wear this item along with a backpack or harness. It comes with intuitive components, too, such as a gusseted crotch, zipped hand pockets, and adjustable cuffs. The articulated patterning of this gear further improves the mobility it provides to its wearer.
PROS
CONS
Ideal choice for high-exertion adventures
Strikes the perfect balance between durability and stretchability
Offers a degree of breathability
No notable drawbacks
2. Outdoor Research Cirque Lite Pants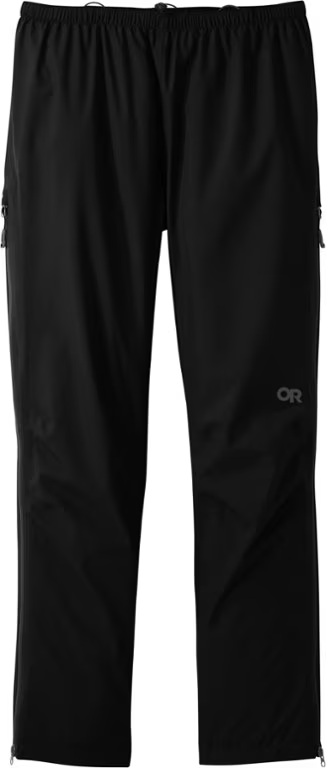 TECHNICAL SPECIFICATIONS
Fabric
Waterproof
Windproof
Waterproofing material
Weight
Fit
50-denier polyester
Yes
Yes
2-layer GORE-TEX PACLITE membrane
10.7 ounces
Men / women
Outdoor Research Cirque Lite Pants Review
One reason why we picked this pair of hiking pants over other options out there is because of its superb waterproofing. Essentially, it should be able to protect you from the elements, whether you have anticipated the downpour or not. It is equipped with a two-layer breathable GORE-TEX membrane, which could keep your entire legs from being wet.
At the same time, the Outdoor Research Cirque Lite Pants are easy to wear. They come with side zippers that ensure a quick on and off. If you are in a rush, such a feature is downright helpful. The side zippers are about 3/4 of the length of the entire pants, so that's pretty convenient.
I also like the fact that this clothing has fully taped seams to prevent the entry of water and moisture. Interestingly, it has a tailored back pocket that works as a stuff sack. In short, this item is as packable as it gets. Fit adjustment is not difficult, thanks to its elastic waist and draw cord. Movement is very easy due to its articulated knees.
PROS
CONS
Anatomical fit for better mobility
Comes with side zippers for hassle-free on and off
Durable and waterproof
No notable drawbacks
3. Patagonia Quandary Pants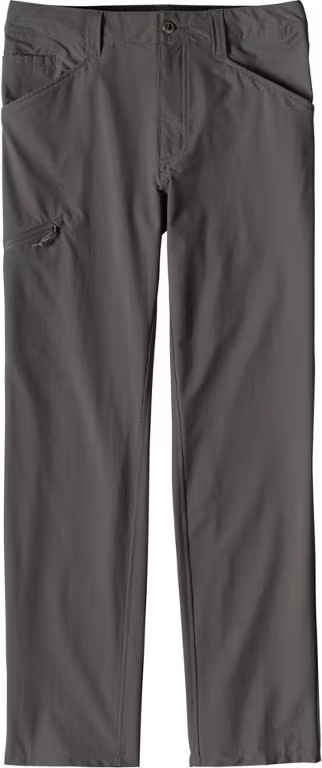 TECHNICAL SPECIFICATIONS
Fabric
Waterproof
Windproof
Sun protection fabric
Sun protection
Weight
Fit
Recycled nylon / polyester
No
No
Available
40 UPF
10 ounces
Men / women
Patagonia Quandary Pants Review
When the expedition doesn't involve too much wind and water, then the Patagonia Quandary is the pair of hiking pants that you need! This one is described as robust and technical, which indicates that it is designed to work on challenging terrains and adventures. It is designed with quick-drying yet rugged stretch-woven nylon to ensure that it can withstand the long haul.
Furthermore, the addition of spandex to its construction further optimizes its mobility-oriented design. While it is not waterproof, the Patagonia Quandary Pants have a weather-resistant, durable water-repellent treatment. So it can still negate some moisture and light drizzles. But its main selling point is its UPF 40 sun protection that keeps your legs protected from UV rays during summertime hikes.
The ergonomic construction of the Patagonia Quandary Pants enables them to support different types of users. For instance, its gusseted crotch and knee articulation ensure that you can move your legs like you are not wearing anything. And its curved waistband has a natural contour that wraps your hips just snugly.
PROS
CONS
Provides optimal sun protection (not all pants have this feature)
Movement-oriented construction
Features an anatomical, articulated fit
Not for summit adventures or applications where the weather is unpredictable
4. Fjallraven Keb Trousers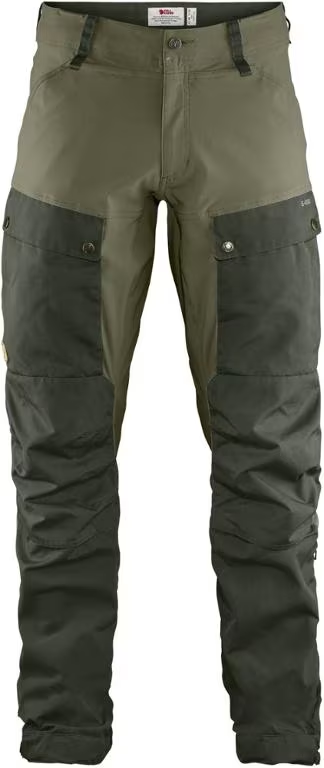 TECHNICAL SPECIFICATIONS
Fabric
Waterproof
Windproof
Weight
Fit
Polyester / cotton / nylon / elastane
No
Yes
1 lb. 5.5 oz.
Men / women
Fjallraven Keb Trousers Review
Those who want fully rugged hiking pants should consider the Fjallraven Keb Trousers. It is a highly rugged construction that features a refined anatomical fit so that wearers can move without feeling restricted. The tightly woven G-1000 Eco fabric of this item features a unique combination of polyester, cotton, nylon, and elastane. The material itself offers optimal leg protection to its users. It can withstand constant use and abuse, too.
The breathability of the Fjallraven Keb Trousers is superb, too. It comes with hip-to-knee zippers that promote airflow and ventilation. There are also double zippers and slides along the pants' calves that help expel excess heat from your body.
Furthermore, it is interesting to note that it has knee openings that let you accommodate knee pads (if you have them). I also like this pair of trousers for its convenient leg openings that you can adjust via its detachable buttoned straps. Such a feature enables convenient fitting of the pants. It is also a good choice for boot wearers, as it is equipped with removable boot hooks.
PROS
CONS
One of the most rugged hiking pants there is
Surprisingly easy to wear
Tailored with components that enhance its breathability
Doesn't have a waterproof layer
5. KUHL Renegade Rock Pants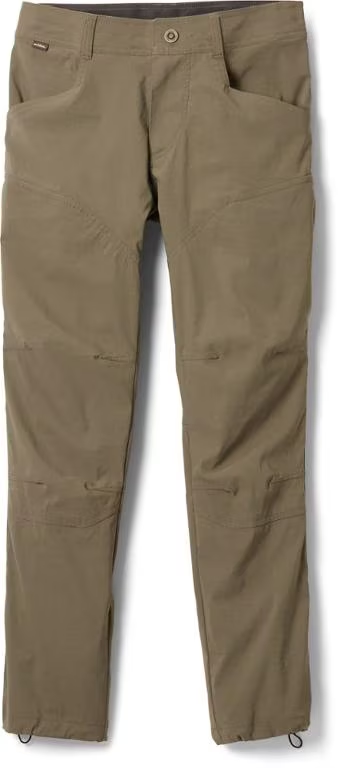 TECHNICAL SPECIFICATIONS
Fabric
Waterproof
Windproof
Sun protection fabric
Sun protection
Weight
Fit
Nylon / polyester
No (but moisture-wicking)
No
Available
50 UPF
13.6 ounces
Men / women
KUHL Renegade Rock Pants Review
One of the best hiking pants that you can certainly get today is the KUHL Renegade Rock. This was tailored to provide climbers a reliable lower body gear that can protect their legs from the extreme elements. At the same time, this item has a tapered fit so that it doesn't restrict your movement. It has a soft-shell fabric that keeps you from feeling any discomfort while on the move.
It's not fully waterproof clothing; however, it does have a durable water-repellent finish on its fabric. Hence, it can combat moisture, light drizzle, and even unwanted stains. Meanwhile, its waistband has been lined with microsuede so that you can stretch and flex without discomfort. The pants have been riddled with a number of pockets for small item storage!
The KUHL Renegade Rock Pants have articulated knees, as well. Therefore, it really benefits hikers, climbers, and expedition lovers who want to conquer their adventures. And it is something that you can wear under high heat, thanks to its UV-ray protective fabric. It offers up to 50 UPF of sun protection so that your legs won't get burnt.
PROS
CONS
Superb defense against UV rays
Simple yet comfortable design
Comes with a plethora of storage pockets
No side zippers for faster on and off
Not fully waterproof
6. REI Co-op XeroDry GTX Pants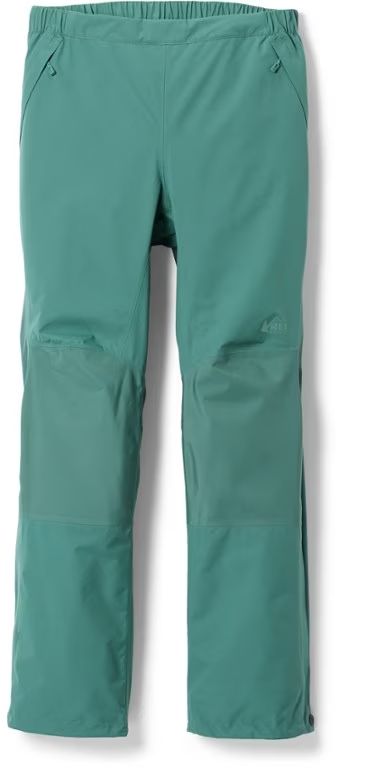 TECHNICAL SPECIFICATIONS
Fabric
Waterproof
Windproof
Waterproofing material
Weight
Fit
Polyester
Yes
Yes
2-layer GORE-TEX Paclite laminate
9.9 ounces
Men / women
REI Co-op XeroDry GTX Pants Review
The XeroDry GTX Pants feature impressive defense against the elements. The gear itself is both waterproof and windproof, thanks to its two-layer GORE-TEX Paclite waterproof membrane. But at the same time, this clothing has guaranteed breathability, allowing you to move through various terrains without getting your legs too sweaty.
The construction of the REI Co-op XeroDry GTX Pants has been quite innovative, in my opinion. Aside from its primary polyester components, it comes with specialized ripstop fabrics attached to crucial high-abrasion parts of the pants. Meanwhile, the rest of the clothing is a showcase of durability and suppleness. Because of this hybrid structure, the XeroDry GTX Pants have been one of the most-sought hiking pants today.
The exterior fabric of this item has a durable water-repellent finish for shedding moisture and drizzle. Similar to all hiking pants here, this pair includes articulated knees for enhancing one's movements. It is then matched by under-leg gussets that further optimize its mobility-oriented design. Its fitting is quite nice, too, with its elastic waistband construction and drawcord availability.
PROS
CONS
Articulated construction for optimal mobility
Surprisingly breathable
Offers decent waterproofing and windproofing
May only keep you dry on light to moderate rains only
---
Should You Go For Hiking Pant Or Hiking Shorts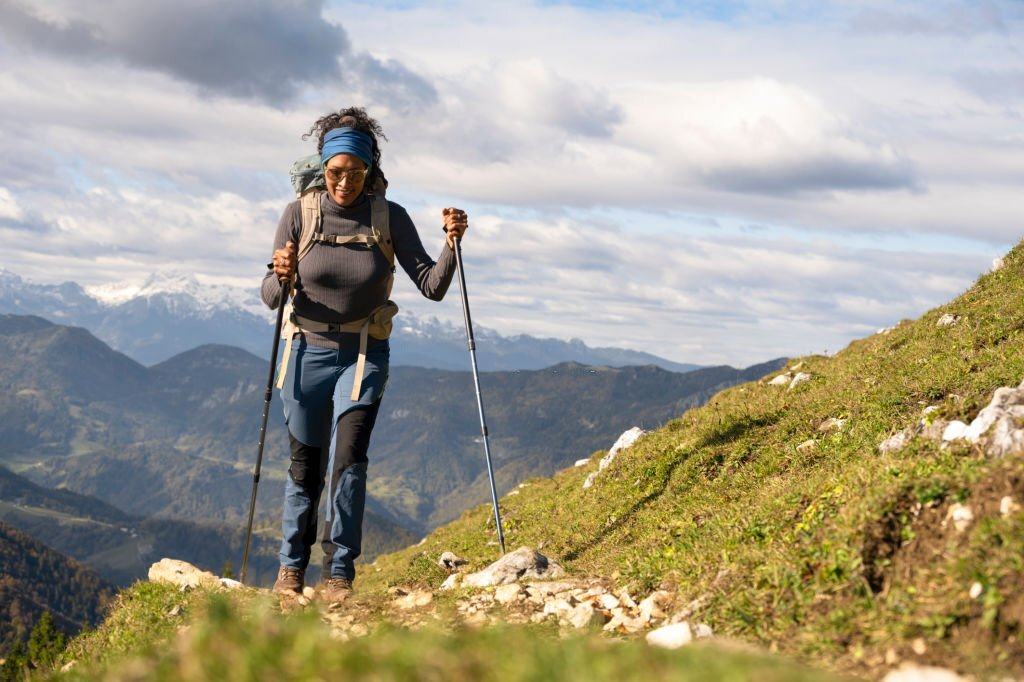 Hiking, climbing, and similar activities require unrestricted mobility in your leg and foot area. Hence, there's always this idea that shorts work better than pants when it comes to this aspect. But what's the actual score?
Well, the choice depends on the actual application. You see, if the weather is turbulent and the terrain is fairly unfavorable, then the best hiking pants are the best gear. Oppositely, if the conditions are just good, then you are free to wear shorts.
But does this mean that hiking shorts are equally ergonomic and useful as their counterparts? Objectively, full-length pants have lots of provisions. Unlike shorts, they can keep your entire legs covered. And that means fewer insect bites and painful scorches.
Furthermore, pants are more recommended for technical applications, such as summit or alpine hiking. After all, they can protect you from potential wounds and injuries that you could sustain when traversing against hard surfaces (i.e., jagged rocks).
Meanwhile, shorts work well in areas where the terrain is already established. If the trail presents no obstacle or danger, then you are free to wear your favorite hiking shorts.
Optionally, you can also go with those convertible hiking pants. As their name suggests, these pants enable you to switch from pants to shorts and vice-versa.
---
Are Hiking Pants Suitable For Daily Use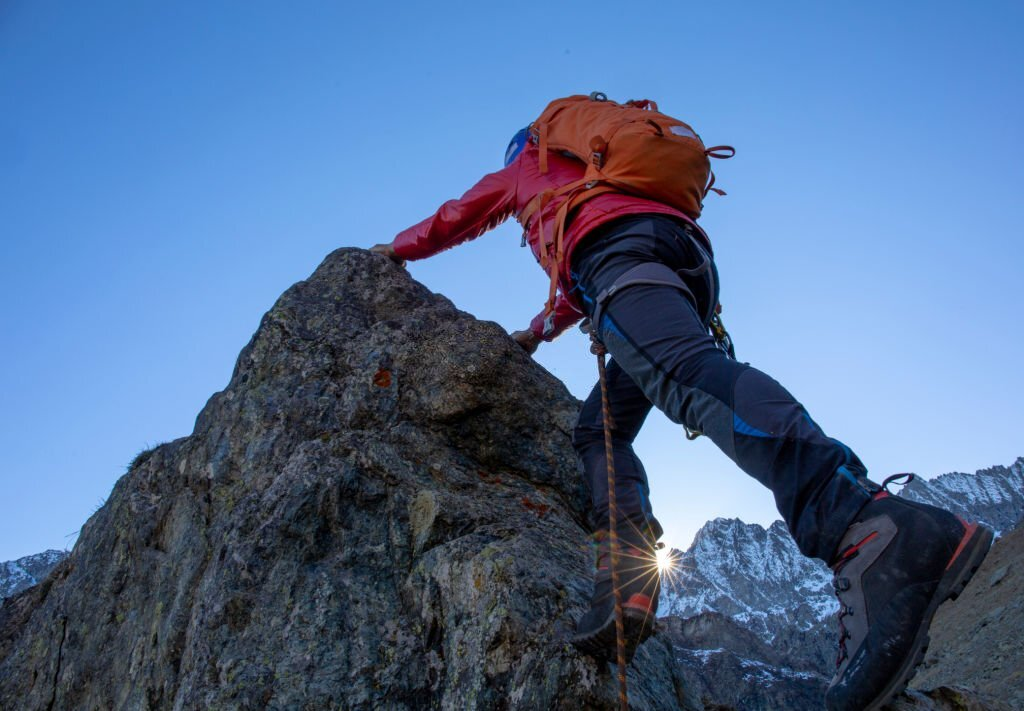 Many think that hiking parts are just for hiking and outdoor adventures. At the very least, the assumption is that these pants are just reserved for the rugged trail and off-grid expeditions and nothing more.
However, this doesn't mean that we don't want to wear these pants regularly. For instance, I like to travel interstate while wearing my hiking pants. Instead of just ordinary denim or shorts, these hiking pants are actually more comfortable and suited for long-distance applications.
Of course, not all brands of hiking pants may allow this kind of versatility. But there are hiking pants out there that can also serve as activewear. You can take a look at some of the provisions of Kuhl, REI, and Patagonia since they tailored their gear to fit the multi-use category.
But in the end, as long as you are comfortable with it, you can always double-down your hiking pants as everyday wear!
---
How To Choose The Best Hiking Pants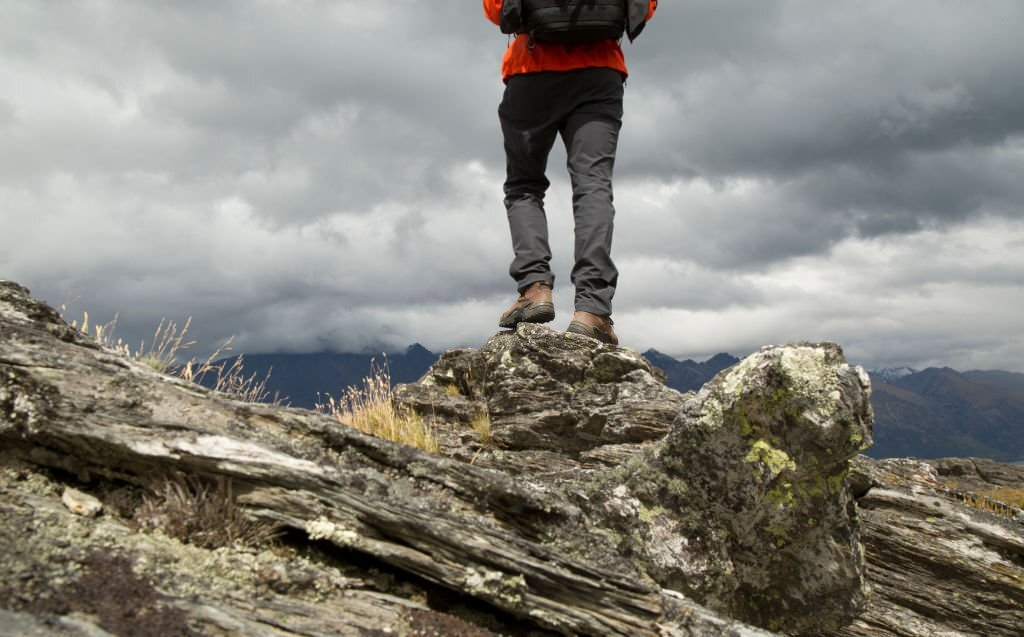 When choosing the ideal hiking pants, several considerations should be taken into account. After all, there's no such thing as a one-size-fits-all solution when it comes to this particular outdoor clothing. There are numerous hiking pants that exist out there, with each of them serving a different purpose and application.
Despite this, there are certain guidelines that you need to follow so that you can get the ideal hiking pants. Read on below to know more about them.
Ensuring The Correct Fit
When it comes to clothing, fit matters. Regardless of how well constructed a jacket or pants is, if it doesn't fit you, it will not give you the desired protection and comfort that you need.
Of course, finding the right fit for your hiking pants is not easy. It is not something that you can do by just guessing. As much as possible, you need to see the pants yourself and try them first-hand to see if it actually matches your anatomy.
Keep in mind that not all brands follow the same fitting specifications. There are brands that are notably baggy than their counterparts. Fortunately, modern innovations have enabled the production of pants that have an athletic fit that is not too tight or too loose. They just hit the spot. Arc'teryx, Outdoor Research, REI, and Patagonia are among those brands.
Moreover, I also like the fact that their pants have articulated components, such as on the knees. Aside from providing a good fit, these articulated parts also maximize the mobility of their wearers. So if you are choosing hiking pants, make sure that these features are present.
Prioritizing Durability
The thickness of the fabric is the one that determines the overall durability of the hiking pants. And the very least, hiking pants have to be rugged enough to withstand the elements, as well as the wear and tear caused by constant use.
Regardless of where you are heading, you need to wear outdoor clothing that can withstand whatever Mother Nature throws at you. So when it comes to these pants, you need to be keen on how they are constructed and what materials are used on them.
The term denier is one that indicates a fabric's thickness. Essentially, a thicker fabric means that it has a higher denier count. On the other hand, thin fabrics have a low denier count because they weren't weaved tightly.
However, there are instances where you might need a thinner pair of hiking pants. For example, in hot regions, you would benefit from these thinner pants since they have more optimal breathability. But just because they are thin doesn't mean that it is easy to rip them. You still have to make sure that they are made to be durable.
If you are hiking on the alpines and cold summits, it is better that you wear thick clothing. That's a guaranteed way of keeping yourself comfortable and protected while traversing the frigid terrains.
Materials Used
Hiking pants can be constructed from different materials. Some feature a combination of nylon and polyester. Others utilize a minimal amount of elastane. This elastane, commonly known as spandex, enables the pants to have some sort of stretchability. It is a nice component that enhances the mobility that the pants could provide to its users.
But, of course, other hiking pants have foregone their stretchability to ensure that they are as rugged as possible. Their construction isn't the same as hardshell jackets. They are more akin to softshell gear, in which they possess great weather resistance. They are more suitable for alpine hiking, as well as expeditions where the weather can get unruly.
Resistance To Water And Moisture
While there are hiking pants that claim that they have waterproof membranes, such as GORE-TEX, their imperviousness to water isn't really 100 percent. This is especially true if we are talking about heavy rains and being submerged in puddles and shallow rivers.
Still, it is essential that they can offer a degree of defense against moisture and light downpours. Hiking pants that are designed for alpines and summit expeditions should provide more protection against the elements. Hence, aside from the standard waterproof membranes, they should also have a durable water-repellent finish for beading off moisture.
But keep in mind that the addition of these extra layers of hiking pants could reduce their breathability. Hence, it is still essential that you balance things out. Identify the temperature and weather conditions of your destination so that you can pick the ideal pair of hiking pants.
---
Final Thoughts
Here, the best hiking pants are those that can provide the appropriate fit to your body without compromising the protection and comfort they provide. It is essential that you get durable and weather-resistant options, too, to guarantee that you can complete your outdoor expeditions without a fuss.
Check our other blogs: