The best climbing helmets don't just complete your outdoor attire when venturing the mountains, glaciers, and alpines. They also guarantee total protection to your head if things go south (literally).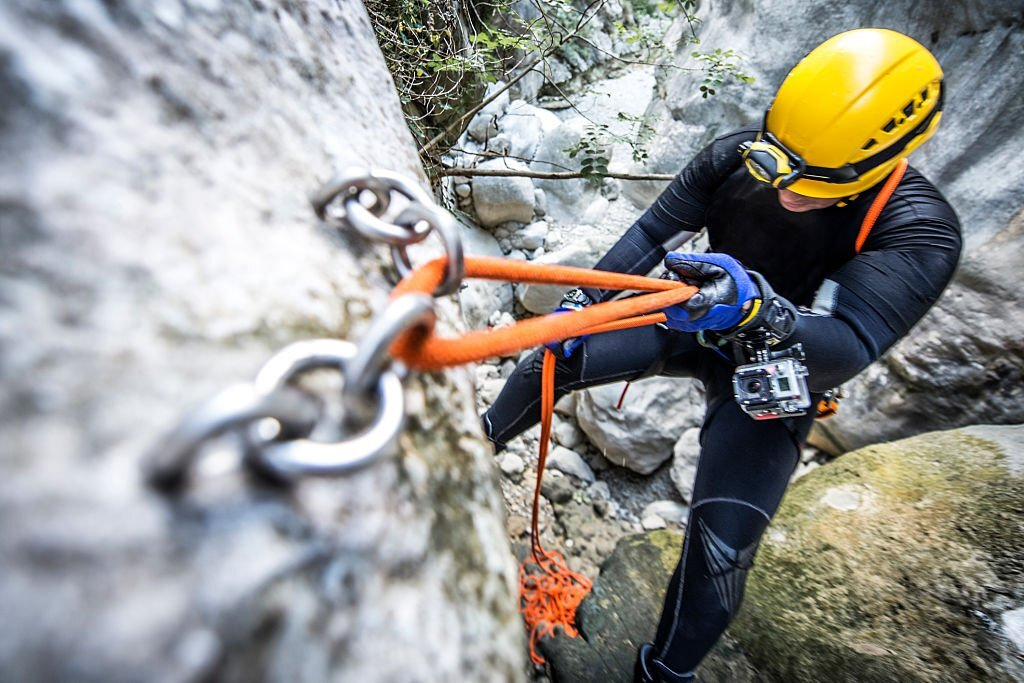 A Quick Overview
It's not a secret that the great outdoors presents both beauty and danger. That's why it is essential for outdoor enthusiasts to organize their gear and plan the things they need to bring to ensure their safety and comfort.
Among the outdoor adventures you can try, mountaineering and alpine climbing are among the most challenging. But they also yield wonderful experiences that can't be traded off. Hence, utmost preparation is essential before you engage in these activities. Having the right training, knowledge of the terrain, and complete gear matters in these pursuits. For instance, wearing a hardshell jacket and hiking pants could significantly improve your comfort and mobility.
This time, we will talk about the top climbing helmets. Contrary to popular belief, these outdoor helmets are extremely necessary. Just because you are already a seasoned climber doesn't mean that you are impervious to whatever Mother Nature throws at your head. From rolling rocks down to falling ice formations, these misfortunes could result in incorrigible accidents if your head has no protection.
Before we go into the technical part of choosing the ideal climbing helmet, take a look at some of the top-rated climbing helmets in the market today.
---
Best Climbing Helmets: A Quick Overview
Here's a rundown of some of the most recommended and highly used helmets for climbing, mountaineering, and other similar outdoor expeditions.
Shell Material
Helmet Design
Where to Get

Black Diamond Vision Climbing Helmet
Polycarbonate
In-mold
REI
Amazon

Petzl Meteor Climbing Helmet
Polycarbonate
In-mold
REI
Amazon

Mammut Wall Rider MIPS Climbing Helmet
Polycarbonate
Hybrid
REI


Black Diamond Capitan Climbing Helmet
ABS
Hybrid
REI
Amazon

Petzl Sirocco Climbing Helmet
Expanded polypropylene
Hybrid
REI
Amazon

Black Diamond Vapor Climbing Helmet
Polycarbonate
Hybrid
REI
Amazon
---
Best Climbing Helmet Review
See all the features and capabilities of the helmets we just featured above.
1. Black Diamond Vision Climbing Helmet - Editor's Pick
TECHNICAL SPECIFICATIONS
Ideal Use
Construction
Shell material
Foam
Circumference

Weight

Fit
Certifications
Climbing
In-mold
Polycarbonate
EPP / EPS
Small / Medium - 21 in. to 23 in.
Medium / Large - 23 in. to 25 in.
Small / Medium - 7.6 oz.
Medium / Large - 7.9 oz.
Unisex
EN 12492
Black Diamond Vision Climbing Helmet Review
One of the best climbing helmets out there is also among the most innovative. The Black Diamond Vision Climbing Helmet features unique capabilities, such as the presence of headlamp clips. These additional components allow the helmet to be extra versatile and functional while you are in the alpines.
At the same time, it comes with an extended side and back coverage. With these inclusions, you can rest assured that your head gets foolproof protection against blunt impacts and blows. The Black Diamond Vision also has detachable and reversible hook-and-loop pads. The way I see it, these pads enhance the comfort factor of this helmet.
Of course, this climbing helmet is as reliable as it gets. It features the use of different materials, such as polycarbonate shell, EPS foam puck, and composite EPP foam. It is a hybrid helmet, but such a design enables the helmet to be extra protective and comfortable. At the same time, its low-profile suspension system ensures that this helmet can fit snugly to your head.
PROS
CONS
Offers an adjustable fit
Provides comprehensive head protection
Made from high-quality materials
No noticeable drawbacks
2. Petzl Meteor Climbing Helmet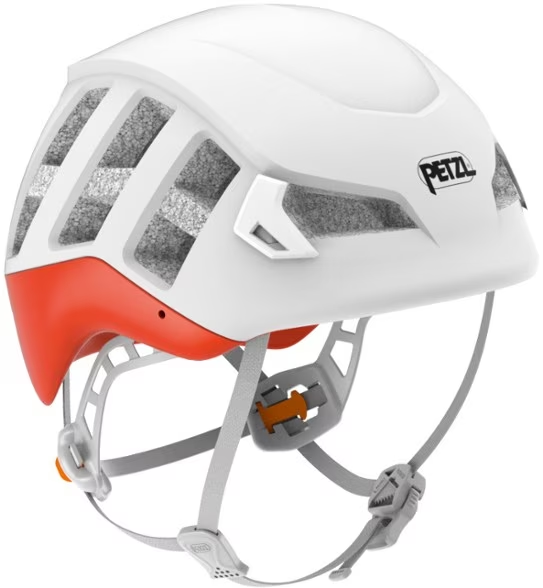 TECHNICAL SPECIFICATIONS
Ideal Use
Construction
Shell material
Foam
Circumference

Weight

Fit
Certifications
Climbing / mountaineering
In-mold
Polycarbonate
EPS
Small / Medium - 18.9 in. to 22.8 in.
Medium / Large - 20.9 in. to 24 in.
Small / Medium - 7.9 oz.
Medium / Large - 8.5 oz.
Unisex
CE, EN 12492, UIAA
Petzl Meteor Climbing Helmet Review
One of the toughest and most resilient climbing helmets today is the Petzl Meteor. This one was constructed for rugged mountaineering and climbing adventures. Hence, it is lightweight, low-profile, and ultra-protective.
The architecture of the helmets features reinforced tops and sides. In this way, this gear could protect you from impacts, regardless of where they are coming from. Because it offers more head coverage, it is sure to keep you safe from deleterious head or brain injuries caused by physical force.
It also has an in-mold construction that includes an expanded EPS foam liner directly integrated into its durable but lightweight polycarbonate shell. It is an excellent choice for warm-weather climbs due to its large vents. Meanwhile, the rear elastic component of this helmet can accommodate the headbands of your ski goggles. Needless to say, it has attachment points, too, for visors and goggles.
PROS
CONS
Designed to maximize airflow
Durable yet lightweight design
Provides full head coverage
Adjustment is a little quirky
3. Mammut Wall Rider MIPS Climbing Helmet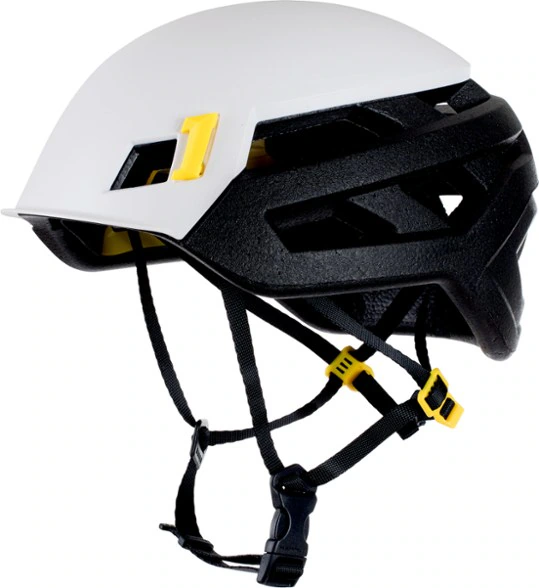 TECHNICAL SPECIFICATIONS
Ideal Use
Construction
Shell material
Foam
Circumference

Weight

Fit
Certifications
Climbing
Hybrid
Polycarbonate
EPP
Small / Medium - 20 in. to 22.4 in.
Medium - Large - 22 in. to 24 in.
Small / Medium - 7.9 oz.
Medium / Large - 8.8 oz.
Unisex
CE EN 12492
Mammut Wall Rider MIPS Climbing Helmet Review
The Mammut Wall Rider MIPS Climbing Helmet is an exceptional climbing helmet. Though it is a little more pricey than its counterparts, it has proven technologies that enable it to protect its users at all times while they are ascending.
This particular helmet has MIPS technology. This one is a low-friction layer attached to the gear; it slides around 10 to 15mm in all directions. As a result, it can prevent excessive rotational movements that could cause brain injuries upon impact.
Moreover, this helmet also includes a fully ventilated design that allows you to use it in warm weather expeditions. The integrated low-profile visor of this helmet adds to its functionality. But at the same time, it is also compatible with goggles, as well. It doesn't have any quirky adjustments, as its lightweight chin strap is straightforward to use. Overall, you can never get wrong with this highly reliable climbing gear.
PROS
CONS
MIPS technology is one-of-a-kind
Ventilated construction aids in high-exertion activities
Significant impact absorption capabilities
A little pricey than its counterparts
4. Black Diamond Capitan Climbing Helmet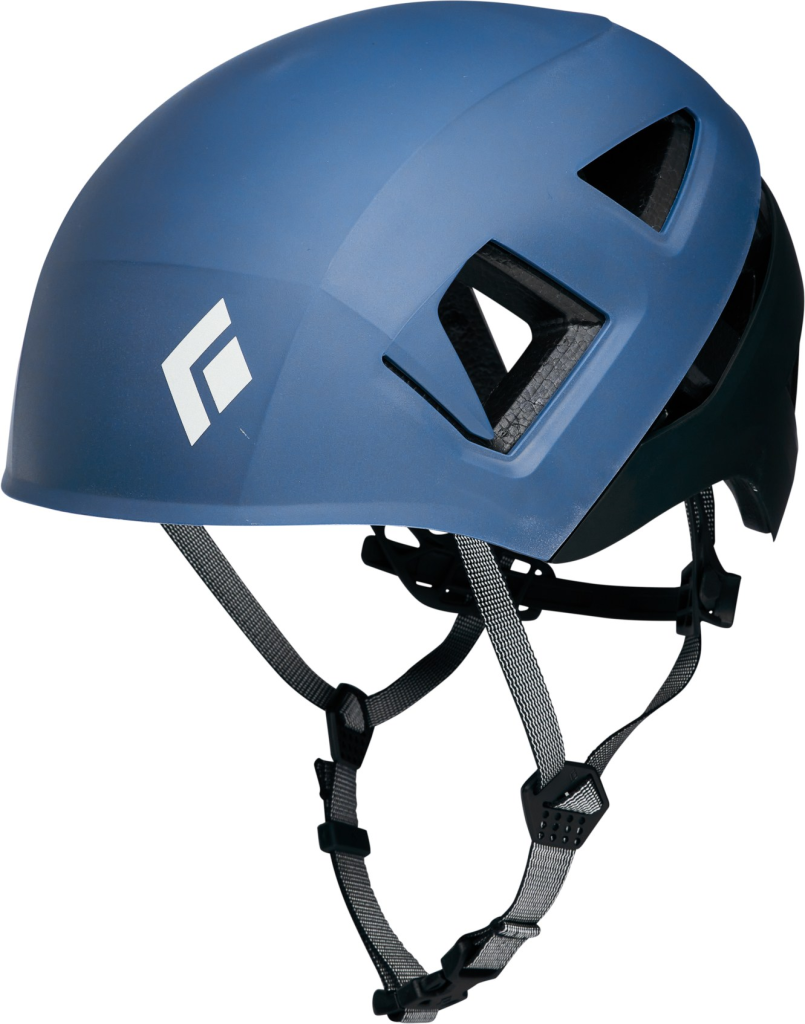 TECHNICAL SPECIFICATIONS
Ideal Use
Construction
Shell material
Foam
Circumference

Weight

Fit
Certifications
Climbing
Hybrid
ABS
EPP foam / EPS foam puck
Small / Medium - 21 in. to 23 in.
Medium - Large - 23 in. to 25 in.
Small / Medium - 11.6 oz.
Medium / Large - 12.3 oz.
Unisex
EN 12492, UIAA
Black Diamond Capitan Climbing Helmet Review
The Black Diamond Capitan Climbing Helmet has an architecture that can keep you protected while ascending big, steep walls. Compared to its previous versions, this one has an updated design, which incorporates additional coverages on its sides and back. Moreover, it offers a snug fit so that you can climb without being annoyed.
Unlike other helmets on this list, this one uses an ABS shell. Specifically, it has two layers of this plastic that enhances its durability and fit. There's also a combination of EPP foam and EPS foam for optimal impact absorption. And this feature has met the International Climbing and Mountaineering Federation's UIAA requirements.
This helmet is ergonomic, too. It has a low-profile suspension system and a flexible chin strap. These components enable users to get the right fit for the helmet as quickly as possible. Moreover, the tent has existing vents that offer breathability whenever climbing in warm temperatures. There are also headlamp clips that let you traverse the path even during the night.
PROS
CONS
Offer added coverage on its side and back
Integrated vents for optimized breathability
Hybrid fusion of EPP and EPS foams for enhanced impact absorption
The fit is noticeably narrow
5. Petzl Sirocco Climbing Helmet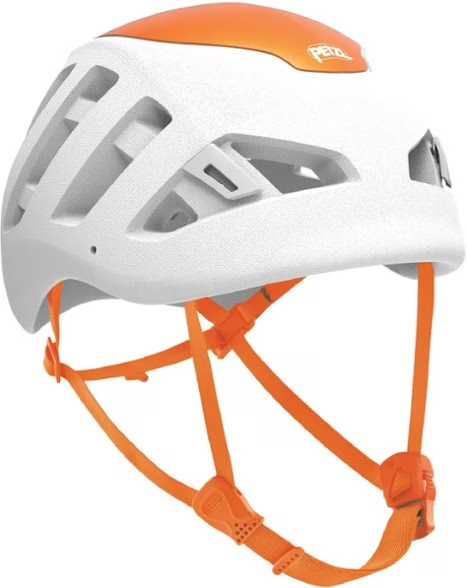 TECHNICAL SPECIFICATIONS
Ideal Use
Construction
Shell material
Foam
Circumference

Weight

Fit
Certifications
Climbing / mountaineering
Hybrid
ABS
EPP foam / EPS foam
Small / Medium - 19 in. to 23 in.
Medium - Large - 21 in. to 24 in.
Small / Medium - 5 oz.
Medium / Large - 6 oz.
Unisex
CE, EN 12492, UIAA
Petzl Sirocco Climbing Helmet Review
Another fine climbing helmet that you should check out is the Petzl Sirocco. It serves as a durable armor that keeps your head protected while climbing rocky or icy surfaces. It also has a lightweight design thanks to its streamlined use of materials.
This unit includes a hybrid construction. It has a shell tailored from expanded EPP foam. Meanwhile, its crown has been injected with EPS foam for enhanced impact absorption capabilities. There are around 24 vents around the helmet for added breathability. It is also nice that the Sirocco Helmet comes with a magnetic buckle on its chin strap since it allows convenience in its fitting.
Furthermore, the helmet comes with a rear elastic and two hooks. These components enable you to affix a headlamp if you desire to continue your expedition at night. Interestingly, its package includes a spare foam that you can use once the existing foam deforms or cracks. By the way, this unit has met the CE, EN 12492, and UIAA certifications. This means that it is an ultra-versatile helmet that you can use in different climbing pursuits.
PROS
CONS
Met different helmet safety and climbing standards
Vented design guarantees its breathability
Can handle multiple light to moderate blows
The magnet of its buckle tends to grab pebbles
6. Black Diamond Vapor Climbing Helmet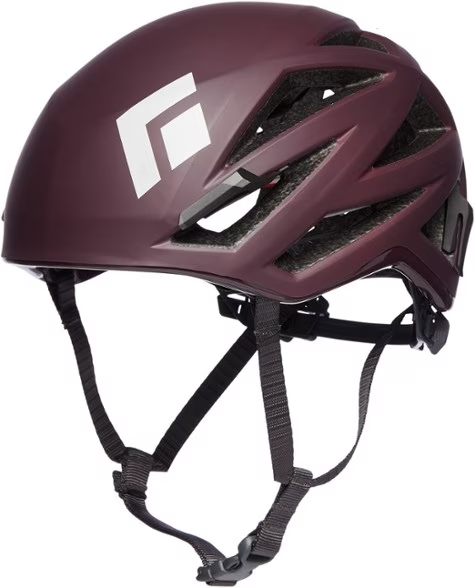 TECHNICAL SPECIFICATIONS
Ideal Use
Construction
Shell material
Foam
Circumference

Weight

Fit
Certifications
Climbing
Hybrid
Polycarbonate
EPS foam / EPP foam
Small / Medium - 21 in. to 23 in.Medium - Large - 23 in. to 25 in.
Small / Medium - 6.7 oz.Medium / Large - 7 oz.
Unisex
CE, EN 12492, UIAA
Black Diamond Vapor Climbing Helmet Review
One of the best helmets for climbing is definitely the Vapor Helmet from Black Diamond. This one is a package of ultralight construction but reliable protection. You see, it has a layer of Kevlar and carbon rods infused between its polycarbonate shell and EPS foam. Because of this unique design, the helmet remains light and protective at the same time.
The helmet is an excellent choice for all-day use because it is convenient and breathable. It comes with a ratcheting suspension that ensures that the helmet doesn't go away, regardless of how harsh the environment is. At the same time, this suspension system easily slides inside the helmet for convenient storage.
There are detachable clips on this gear where you can attach your headlamps. Again, this is a useful feature for climbing in low-light conditions. With its geometric, vented design, you will be able to experience a breeze even if you are doing tough tasks. In a nutshell, the Vapor Helmet is a suitable choice for expeditions where your head is at risk of impact. It is protective but downright comfortable.
PROS
CONS
Hybrid composition works better than other climbing helmets
Allow convenient storage
Headlamp clips are removable
No significant drawbacks
---
How To Choose The Best Climbing Helmets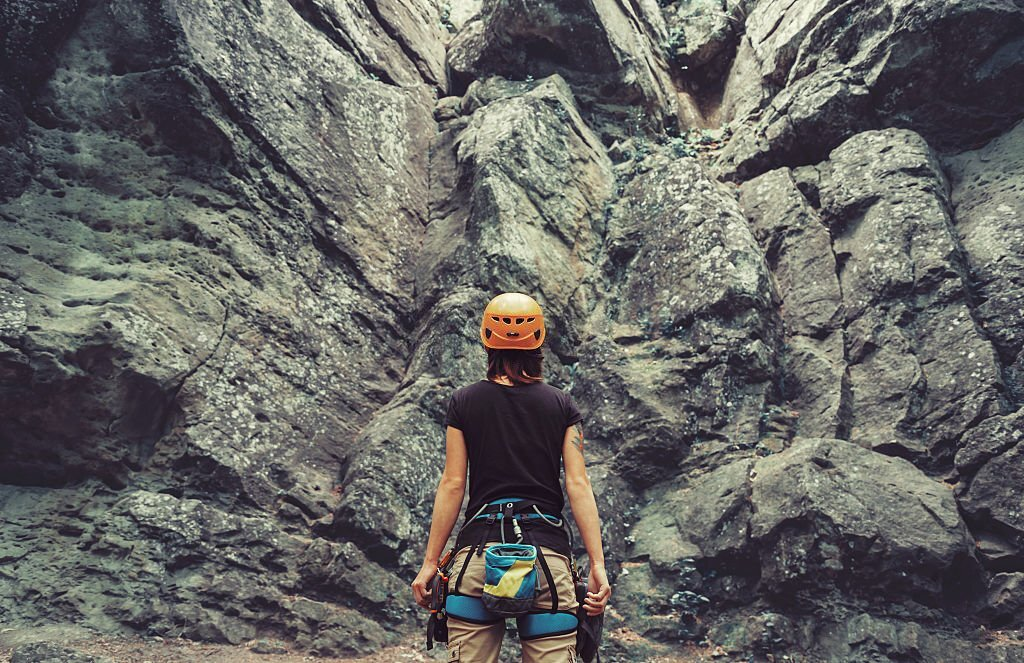 When it comes to climbing helmets, the number of choices you have is pretty much extensive. However, not all of these helmets are created equal. Some of them may have a shabby construction that could be fatal at certain moments (i.e., rock falls and avalanches).
Fortunately, certain climbing helmets have impressive designs that allow them to provide superb head protection without being too heavy. Of course, I am not talking about those conventional hard plastic helmets with internal harnesses. Modern options vary from EPP helmets, EPS helmets, and ABS-type helmets.
But what do each of these options have to offer to climbers? And what are other factors you should consider when choosing a climbing helmet for your next mountaineering and alpine trekking trip?
EPP and EPS Helmets
Most of the best climbing helmets today use foam as a medium for dispersing impact. Of course, these foams have a lightweight construction so that users will not be burdened by them. And this design remains "universal" regardless of the placement of the foam.
The function of the foam is extremely important. Once the helmet receives a blunt blow or impact, its foam will absorb it. And while the foam does so, it deforms, depending on the force. In some cases, the foam could also squish and crack.
Keep in mind that, on average, the foam of these climbing helmets can only handle one strong impact on a given area. So if there's another impact that would take place on an already deformed part of the helmet, the foam will not be able to diffuse the force. And that means that you are prone to head injuries.
There are two types of foams used in helmets: EPP and EPS.
Expanded Polystyrene (EPS)
The EPS is the typical foam used by a variety of climbing helmets. Though it sounds cool, EPS is actually the same foam used in the packaging of peanuts. But of course, the EPS foams in these climbing helmets are more durable than their counterparts.
Interestingly, the density of EPS can be adjusted for impact absorption. But similar to what I've said earlier, EPS foams can only absorb one impact before they should be replaced. In some cases, it could still be functional after an impact. However, its impact-absorption quality has already deteriorated. Once you see that there are cracks or deforms in the foam, the helmet should be replaced.
These EPS-type helmets have plastic shells that cover the foam from soft impacts. In this way, the hard-impact property of the foam won't be affected.
Here are some downsides of EPS foams. First, they are not recyclable. Second, they are not environmentally friendly, especially in the aspect of their manufacturing.
Expanded Polypropylene
One notable thing about expanded polypropylene (EPP) foams is that it has similar materials used in EPS foams. However, the distinction lies in their manufacturing procedures. They have more refined processing that allows them to function better.
Compared to EPS foams, the EPP formats have a rubber-like architecture. This is great since it means that the foam doesn't get crushed easily. It is also one of the reasons why the best climbing helmets use this particular foam. Because the foam can handle strong impacts a number of times, you don't need to retire immediately, which means more savings on your part.
But of course, if the blow was really hard, you need to check the helmet first. If you deem that it has been structurally wrecked, you should consider replacing it.
Most of the time, the EPP foam is placed on the sides of climbing helmets. This deliberate design prevents your head from hitting walls if you ever fall.
Here are some downsides of EPP foams. First, they are more expensive than EPS foams. Second, they are not dense as EPS foams.
Combination Of Materials
Of course, some manufacturers decided to combine EPS and EPP foams to get the best of both worlds. Fundamentally, these helmets have a layer of rugged EPS on their top. In this way, the helmet can have an appropriate defense from hard impacts caused by fallen debris.
Meanwhile, another layer of EPP is found on the back and sides of the helmet. Such a design allows the helmet to become extra durable and impact resilient from impacts coming from different sides.
Hardshell Helmets
If there are hardshell jackets, then it is surprising that there are hardshell helmets, as well. And based on their name, these hardshell helmets have hard plastic components that make them extra solid. If you go with those old-school helmets, they have hardshell designs that don't have foam on them.
Today, these hardshell helmets integrate foams already to have better impact mitigation systems. Technically, there's a blurry line between hardshell helmets and softshell helmets, as they have plastic components on them. However, we can always make a distinction.
Those softshell helmets have plastic shells, too. But those plastic shells work primarily to protect the foam, which is their main impact-mitigating feature. Meanwhile, hardshell helmets use plastic components as the primary defense against falls and blows. If they have foams on them, they are just there for additional protection and comfort.
There are certain drawbacks when it comes to these hardshell helmets. They are heavy. At the same time, they don't possess great ventilation mechanisms. Moreover, they are not great at dealing with impacts coming from the side.
There are specific types of plastics used in these hardshell helmets. Here are they:
ABS Plastic - This is a type of thermoplastic commonly used in various commercial and non-commercial amenities. In the past, most hardshell helmets used ABS plastic. But as the years passed by, they were eventually replaced by polycarbonate plastics.
Polycarbonate - The modern climbing hardshell helmets have polycarbonate as their primary shell material. In fact, even softshell helmets have polycarbonate layers too. The reason polycarbonate is a good choice is due to its flexibility and durability. It is also robust enough to withstand impacts without cracking. It also adds impact-absorption capabilities to the helmet.
---
Pick A Helmet That Fits Your Adventure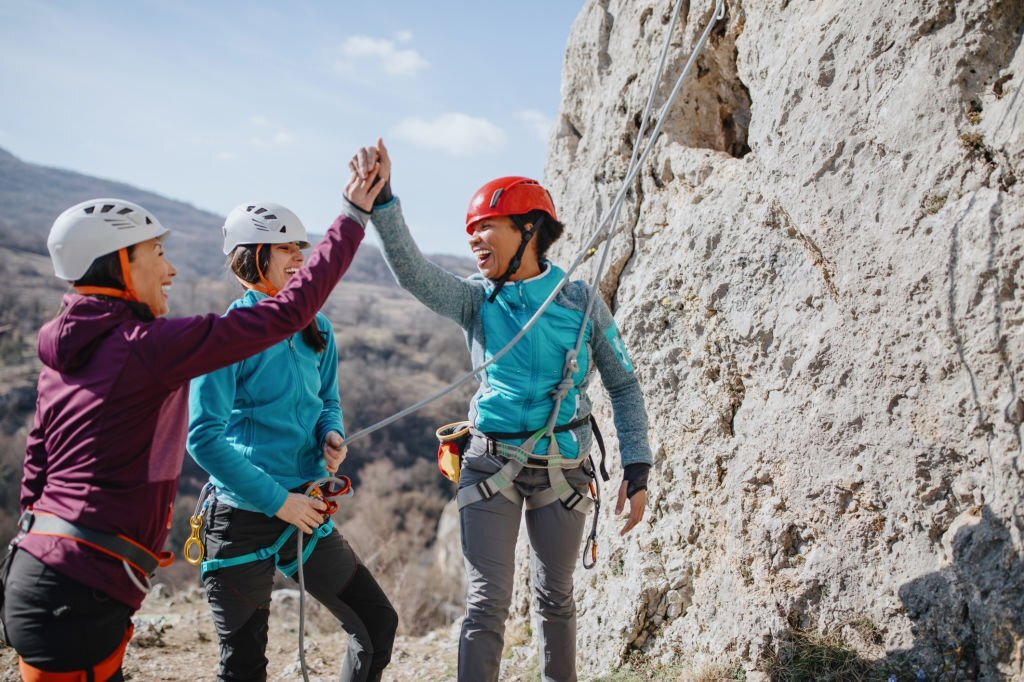 There's no such thing as one-size-fits-all when it comes to climbing helmets. That's a same thing when it comes to trekking poles. So you need to be extra attentive when it comes to choosing a helmet. It is a golden rule when it comes to climbing safety and other mountaineering expeditions. 
Here are some suggestions that I can give you:
For mountaineering - Mountaineering requires you to bring lots of gear and wear a helmet for prolonged periods. Hence, it is recommended that you go with those helmets that have minimal weight and suitable ventilation. Here, a shelled foam helmet is a good choice. I also suggest that you go with brightly colored helmets when mountaineering so that others can see you easily.
For climbing on ice - If the expedition requires you to scale ice walls, then you should go for shelled foam climbing helmets with little to no ventilation. Of course, in these applications, ventilation means little. What you need is ample coverage of protection for your head.
For sports climbing in warm weather - This is the application where you need your helmet to be as breathable as possible. Since you are doing high-exertion activities in temperate or warm climates, cooling becomes a priority. So you shouldn't trade this one off.
For belaying - Belaying will expose you to the dangers of rockfalls. Hence, it is essential that you are equipped with a helmet. There are no special requirements for the helmet here; just make sure that it has enough impact absorption capabilities.
---
The Ideal Fit Of A Climbing Helmet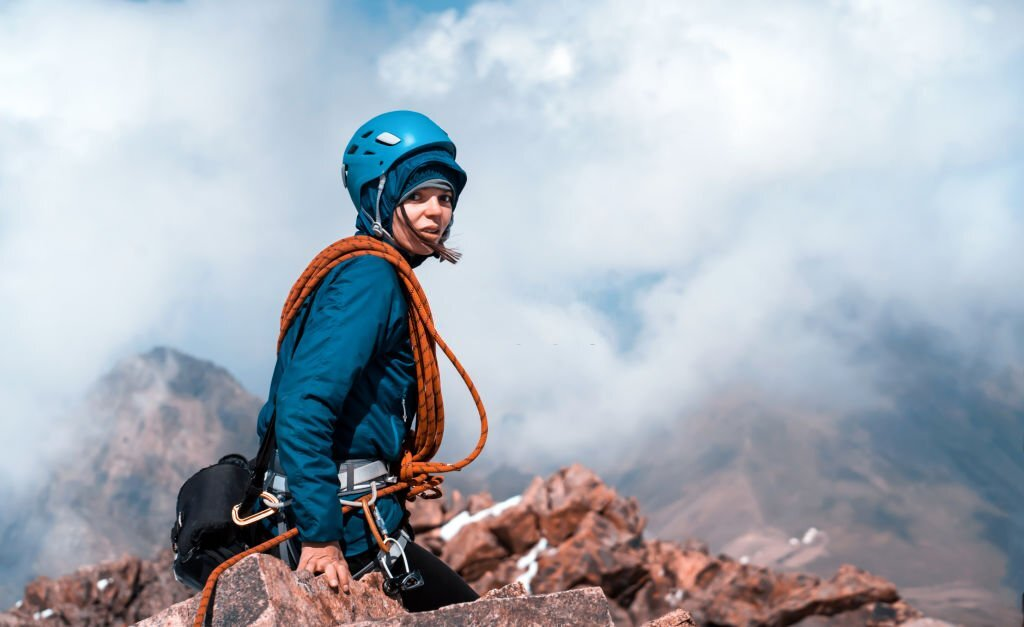 All of your heads are sized differently. So it is just natural and possible that a particular helmet could fit your head and the rest will not. So even if the helmet has an excellent design and construction, if it doesn't fit your head snugly, then you should not wear it.
At this point, it is essential that you wear the helmets by yourself so that you can assess them properly. Here are some considerations you should take into account when fitting a helmet.
Assess the fit of the helmet by placing it on your head. But before you lock the chin strap, try to shake your head from left to right and vice-versa. Tilt your head, too. If the helmet doesn't move that much, then it is snug.
You should probe the fit of the chin strap. After all, this is the component that allows the helmet to be locked in your head. There should be no slacking of the helmet when the straps are on. At the same time, the rear and front straps should create a Y-shape around your ears.
Don't forget to check the ease of adjustment of the said straps. In this way, you can identify how adjustable the helmet is and whether or not you can fine-tune it conveniently. In cold settings, the adjustability of helmets is important because you might need to wear a skullcap.
---
Assessing The Durability Of The Climbing Helmet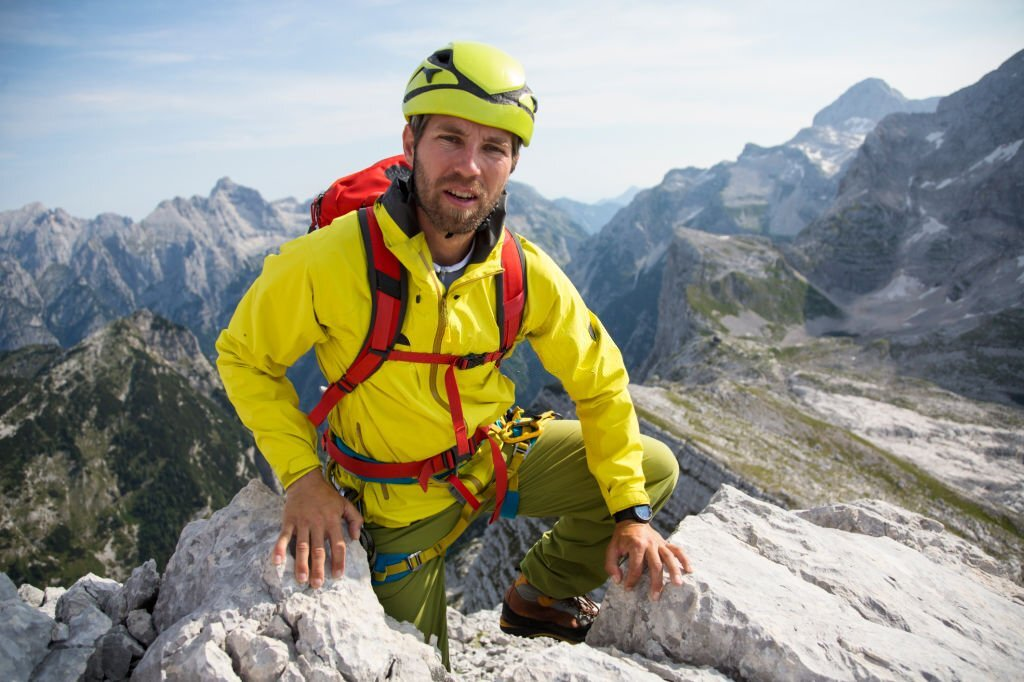 Similar to other climbing gear, there's a limit to the durability of these climbing helmets. Even the toughest options in the market can deform and crack at some point.
Of course, it is prohibited to wear a worn helmet, especially if you are heading somewhere perilous. As long as there are risks of rockfalls, avalanches, and blunt impact, you should wear helmets that are in good condition.
Hence, it is also essential that you check the quality of the helmet before the trip. It's crucial that the helmet you are going to use must be free from structural damage. Among them are deformations, cracks, and holes. It is essential that the helmet doesn't have dents to ensure that it can protect your head.
Unfortunately, there's no telling how much impact a helmet can absorb. Even the sturdiest one out there could break in a single encounter. If this happens, then you have no other choice but to retire the helmet.
Here are some of the signs that a helmet is no longer usable.
Noticeable deformations
Significant dents
Visible cracks
Torn and worn webbings
Buckles no longer lock
Helmets that are over ten years (even if they don't have the physical damages mentioned)
---
Understanding Climbing Helmet Certifications
In the climbing world, there are two institutions that set the standards for the best climbing helmets. They are the UIAA and CEN.
Specifically, the UIAA is a collective of climbing experts and professionals. They are the ones that gather nitty-gritty data about different climbing gear so that they can provide accurate information on what works and what does not. You can also say the same thing about CEN.
CEN is an organization that conducts strict quality checking on various equipment--not just climbing helmets. The standard that it sets is called EN. Essentially, the latter is a set of criteria for the testing procedures to assess the quality of the item. It is then submitted as a European standard, which, in turn, would allow items that have this certification to be sold in the EU. Notably, CEN consults UIAA when it comes to the technical aspects of climbing helmets.
Here, we have EN 12492 and the UIAA-106 as the requirements that manufacturers must meet for their climbing helmets. Climbers should also look for these certifications if they want to make sure that the helmets they are wearing are downright safe and protective. They are not interchangeable, though, as these two standards have different testing methods.
---
Final Thoughts
The best climbing helmets are essential for tough outdoor expeditions. Once you engage yourself in rock climbing, mountaineering, sports climbing, and alpine expeditions, you will need a reliable helmet that can protect your head from serious damage. Fortunately, there's a myriad of options for this particular climbing gear, and it is up to you to decide which one of them fits your requirements. Of course, our picks here in Rilor Wilderness are an excellent start for you.
See our other blog posts: