Tents do suffer from damage from time to time. From holes to broken poles, these things could occur while you are in or away from the campsite. Fortunately, the best tent repair kit can provide the necessary fixes. 
A Quick Overview
Tents serve as your shelters while you are outdoors. Hence, it is important that you can preserve their structural integrity. From camping tents and family tents to backpacking tents, there are several ways you can take care of them. Regular cleaning and proper storage are among those things.
But accidents do happen here and there. Stray branches could cause your tent's fabric to get ripped. Or you could step one of the poles of your shelter. In some cases, constantly using your tent exposes it to the causal process of wear and tear. So eventually, you could spot holes in the mesh or damages on the seams.
Fortunately, fixes can still be done as long as you have the right tools and skills. Here, we have listed some of the top-rated tent repair kits you can bring while camping or backpacking. Heck, you can even purchase one for your home. Check these options now.
---
Best Tent Repair Kit: A Rundown
Below are some of the repair kits that we can recommend for fixing your tent in a moment's notice. We highly recommend that you get one or two of these items to ensure that you can repair different parts of your tent.
Product Name
Inclusions
Where To Buy

Coghlan's Nylon Tent Repair Kit
Adhesive nylon patches
Mesh screen patches
Nylon thread spools
Needle
Ferrules
Shock cord
Amazon

TEAR-AID Unisex Fabric Repair
Patches
Reinforcement filaments
Alcohol pads
Amazon

Coghlan's Tent Pole Repair Kit
Shock cord
Wire
Washers
Ferrules
Amazon

GEAR AID Tenacious Tape Mesh Patches
Tenacious tape mesh patches
Amazon

PatchJoy Tent Pole Shock Cord Repair Kit
Shock cord
Installation wire
Washers
Amazon
---
Best Tent Repair Kits Overview
1. Coghlan's Nylon Tent Repair Kit
One of the finest repair kits for tents that you can get today is Coghlan's Nylon Tent Repair Kit. This particular package contains all the components that you need to conduct field repairs. However, this only works for tents made from nylon and synthetic fabrics.
This kit comes with two adhesive nylon patches, two mesh screen patches, one needle, two spools of nylon thread, and three ferrules with similar sizes. It also has a 45-inch shock cord. Furthermore, it has 0.5-ounce seam seals and sets of mesh and nylon patches.
With these inclusions, we can guarantee that you will be able to handle simple repairs to the fabrics and mesh panels of your tent. The best part is that it is affordable. 
2. TEAR-AID Unisex Fabric Repair
The TEAR-AID is another tent fabric repair amenity that you can get. Specifically, this kit contains multiple patches that can seal small tears and holes in your tent. Each patch is constructed from elastomer, which is both robust and abrasion-resistant.
The patches can handle the elements; they can't be peeled easily, either, thanks to their matte finish. By the way, these patches work on various materials, such as canvas, neoprene, rubber, and nylon. They can also be plastered in plastics, aluminum, fiberglass, and non-oiled leather. In short, the TEAR-AID patches are simply versatile.
Interestingly, these patches have a transparent texture. Hence, they can work seamlessly, regardless of the color of the tent's fabric. Moreover, they are UV-resistant. This means that they don't turn yellowish even after being exposed to constant heat. If that's not enough, the patches conform properly to any surface; they don't go mushy at all. 
3. Coghlan's Tent Pole Repair Kit
Broken tent poles aren't a new thing anymore, especially if you have been on multiple backpacking and camping trips. Of course, this problem is avoidable. However, the inevitable could take place, as well. So if you didn't bring any extra poles for your tent, you better pray that you bring a pole repair kit.
The Coghlan's Tent Pole Repair Kit will let you fix broken tent poles. Needless to say, it won't piece shattered poles into one piece again. Instead, it can be used to splint the poles so that they can remain standing even if they are broken in sections.
This particular kit includes a set of shock cords and wires. Moreover, it also comes with six washers and ferrules for affixing the sections tightly and steadily. The repair kit is designed for easy usage, allowing users to conduct field repairs conveniently. 
4. GEAR AID Tenacious Tape Mesh Patches
One of the most vulnerable parts of tents is their interior mesh. Specifically, these mesh walls help in ventilation, as well as prevent the entry of insects. But just like we mentioned, they can just be torn by being snagged or ripped.
Should you want a reliable patch on the mesh walls and panels of your tents, consider getting the GEAR AID patches. While these patches can be used on tent fabrics, it is best used on screens, no-see-ums walls, and bug nets. Applying these patches is pretty easy, as you don't have to heat them first before they can be applied.
Essentially, the mesh has a peel-and-stick design for convenient application. Just remove the patch's backing and press it to the damaged area. And since the kit has a low profile, packing it in your bag is just a breeze.
5. PatchJoy Tent Pole Shock Cord Repair Kit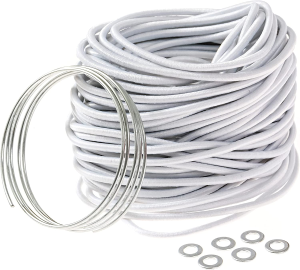 This particular cord repair kit is essentially useful for tents that use shock-corded fiberglass tent poles. The kit contains a 45-foot elastic shock cord, which is sufficient enough for replacing worn or torn shock cords.
Moreover, it has a 30-inch installation wire to support the shock cord; it also comes with six washers that will let you affix the shock cord securely to the tent pole.
No prior experience is needed before you can use this repair kit efficiently. All the necessary tools are already included in the package. There's also an instruction manual that you can follow on how to use its repair amenities. Overall, it is a must-have if you are using tents with fiberglass tent pole assembly. 
---
Guidelines On Choosing The Best Tent Repair Kits 
Repairing tents can be a cumbersome process if you don't have the right tools. This is especially true if you are already in the field and you don't have access to materials and equipment that could help fix broken poles, patch fabric holes, and undo snagged zippers.
Fortunately, you can prepare for these eventualities. After all, preparation is an integral part of outdoor adventures. We even recommend that people follow specific backpacking and camping checklists to ensure that they can have a safe, comfortable, and successful excursion.
These tent repair kits should be included in your outdoor checklist, especially if you are dispersed camping on harsh terrains or areas with tough weather conditions. At the same time, they are an essential amenity for those who are using old tents. You'll never know when your tent's gonna give up.
When choosing a tent repair kit, the following considerations should be applied:
Choose The Ideal Repair Kit
Not all repair kits can address all the problems that your tent will encounter. Some of these repair kits are designed for patching holes in the fabrics and mesh walls. Others serve as a fix for tent poles and shock cords. Meanwhile, some repair kits work to taper loose seams.
Ideally, you need to have sufficient supplies for conducting field repairs, regardless of the type of damage that your tent sustained. But if that's not possible, then pick a repair kit that could cover the damage that could likely happen to your tent.
For example, if you are heading to an area with strong winds, then a pole repair kit is a must. If you are camping in an area where there are a lot of sharp rocks and branches, patches are the best repair tools to have.
Look For User-Friendly Tent Repair Kits
Repairing your tent in the field doesn't have to be cumbersome. We don't expect all outdoor enthusiasts to be experts when it comes to the nitty-gritty aspect of repairing tents.
Fortunately, many of these tent repair kits are already user-friendly. Essentially, you can use them properly even without having prior training or experience.
As much as possible, look for repair kits that are convenient and quick to apply. Patches should be able to cover holes without the need for sewing, heating, or other preparations. Meanwhile, the splints for broken poles should be sturdy and easy to wrap. As long as the repair kit is user-friendly, you can immediately address problems once they arise.
Click here for a full tent repair tutorial.
Go For Quality
Repairing tents is possible if you have the complete supplies. But is this enough?
Quality always supersedes quantity. And this concept applies to tent repair kits. Having the right repair kit will enable you to fix holes and tears with maximum efficiency. They will also let you accomplish the task as quickly as possible. Of course, time is essential, especially if it is about to rain and you find a tear in the rainfly of your tent.
The repair kit should contain materials that are robust and long-lasting. After all, you don't want to do repairs from time to time. The adhesives of the patch should be strong. The sealants should be durable and not easy to peel off. Meanwhile, the splints, cords, and wires should never be flimsy; otherwise, they could snap again, and your tent would collapse immediately.
Investing in high-quality tent repair kits is not difficult these days, though. Many of them are actually affordable, so don't forget to get the best ones right from the get-go.
---
When To Replace Your Tents
One can't easily replace their beloved gear, regardless of how old or worn it is. But as time passes by, you'll eventually realize that the damages sustained by your outdoor equipment render them unusable.
On the flip side, seeing tears in your tents doesn't mean that you have to replace them right away. Basic repair and maintenance will let you restore the overall livability and reliability of these tents.
So when should you replace your tents? Typically, tents last around three to five years. If you don't use them often, they could theoretically last longer than that. The more you use your tent, the more they are prone to wearing out.
Meanwhile, there are some tell-tale signs that you should replace your tents. Here are some of them:
You should replace your tents if the holes or tears on them are too large for any commercial fabric patch to cover. Obviously, the damage to the tent is so significant that attempting to repair it would be useless.
If the pole assembly or architecture of your tent can no longer stretch out the fabric of the tent, that's another sign that you need to replace your existing tent. Poles that are shattered to such an extent can no longer be splinted. You might consider replacing them but consider the price and hassle. If it is easier to buy a new tent, then you should buy one.
---
When To Consider Professional Tent Repair Service
Essentially, you can fix damages on tents that are small and minimal. However, you should anticipate the possibility that the wreck that your tent could experience while using it could be too drastic.
Here, you have the option to replace the tent. But if you deem that the tent can still be rescued, acquire the service of professional tent repair services. They are the ones that can troubleshoot the damages, restoring your tent to a condition where it can be used again. Of course, they can't make the tent brand-new anymore. Still, it is better than buying a new one which could get costly.
---
Final Thoughts
Having the best tent repair kits during your trips can be a lifesaver. They ensure that you can cope with the potential damages and accidents that your tent could encounter while camping or backpacking. These repair kits come in different forms and purposes. So it would be ideal if you get a complete kit or multiple kits that will let you patch fabric poles or attach segmented poles.