How much are tents? How much do they cost, and what to expect about their varying price ranges?
Well, you see, these tents don't have a fixed price. Such questions are difficult to answer objectively, as there are factors that could simply affect their overall price tag.
Extra features, added durability, and other benefits would undoubtedly make a particular tent more expensive than its run-of-the-mill counterparts. Sometimes, even a ridiculous factor like the brand affects the price of a tent.
Before we continue, let me give you a caveat that I can't give exact prices here. Instead, what I can offer you is the estimated price range per every type of tent.
Tent Prices By Common Types And Shapes
It is quite challenging to provide a gauge on the actual pricing of these tents. Hence, what I did is categorized these tents by type, and dissected the market to make acceptable estimates.
Backpacking Tents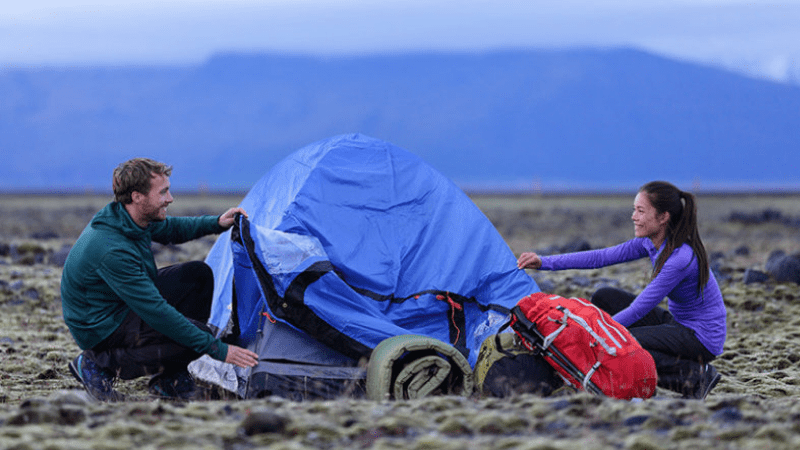 Estimated Price: $100 Above
Backpacking tents are among the most popular types of tents today. Many favor them because of their splendid capability to ensure that you are well protected while you are dwelling in harsh conditions.
These backpacking tents are often used for extensive hiking, backcountry trail, and expeditions to high-altitude terrains.
Of course, there's a myriad of backpacking tents out there. However, one unifying feature they have is their mitigated weight and reinforced structure. These tents will not yield down to tempests and severe atmospheric conditions.
Furthermore, these tents have limited space. They are only livable if there are only one to four people inside. Obviously, the reason for this restriction is weight management.
But because of their rugged and ergonomic construction, these backpacking tents are often placed in the mid to high-end category. This means that they are not exactly cheap as others thought it to be.
Surely, the price is worth it for these backpacking tents, especially if you got a high-quality model. Even after a dozen trips and adventures, ergonomic and innovative tents will remain structurally durable and rugged.
Some Known Examples of Backpacking Tents And Their Prices
ALPS Mountaineering Lynx - $110
TETON Sports Mountain Ultra Tent  - $159
Kelty Late Start Backpacking Tent - $136 to $239
Marmot Crane Creek Backpacking and Camping Tent - $177 to $260
Featherstone 2 Person Backpacking Tent - $109
Camping Cabin Tents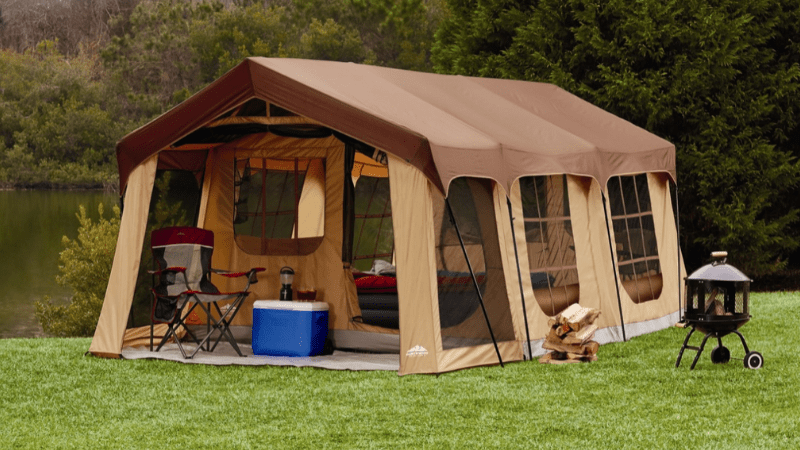 Estimated Price: $100 to $400
If backpacking tents are meant for hiking and trekking perilous and challenging terrains, then these cabin tents are made for leisure and relaxation. Of course, just the term "cabin" indicates that these particular tents uphold livability and comfort above anything else.
Now, this doesn't mean that you can take a cabin tent in a backpacking or hiking adventure. For instance, if your destination is just near or not too technical, then a two-person cabin tent should be an acceptable form of shelter.
But most of the time, these cabin tents are highly discouraged by mountaineers and hikers. After all, their package and minimum weight are quite undesirable for extensive expeditions. They are also bulky.
The best use of cabin tents is still on camping grounds or areas that are designated explicitly for leisure camping. As long as the area is accessible by vehicles, then these multi-room cabin tents should work just fine.
You will love these cabin tents because they resemble cabins that are used for family vacations and gatherings. Sure enough, the functions of these tents are the same, too.
These tents are equipped with livable interiors and roomy headrooms so that you can move freely. They include doors, windows, and ventilation points, too. Aside from that, they include dividers so that people there could have privacy.
It is quite understandable that the bigger the cabin tent, the more expensive it gets. However, make sure that you will get something rugged and stable; don't settle for a flimsy one.
Some Known Examples of Camping Cabin Tents And Their Prices
Ozark Trail 14' x 10' Family Cabin Tent - $129
Coleman Cabin Camping Tent - $189 to $360
Browning Camping Big Horn Tent - $250
ALPS Mountaineering Camp Creek - $150 to $250
Core 9 Person Extended Dome Tent - $129 to $150
Pop-Up Tents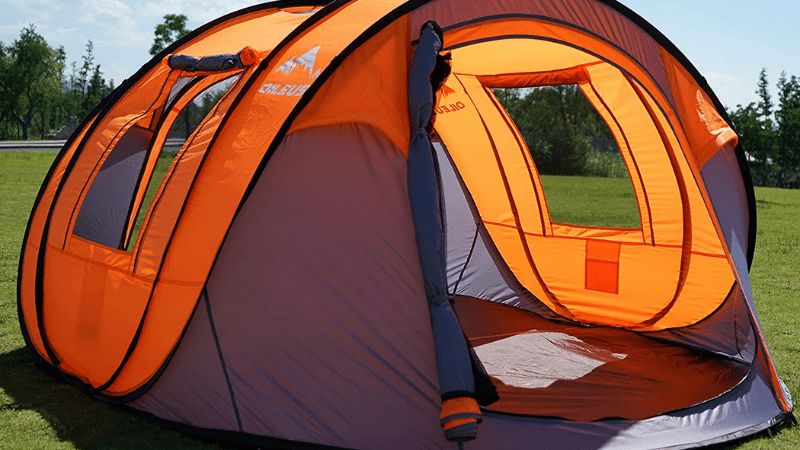 Estimated Price: $50 to $200
Pop-up tents became an existence that dominated the tent industry already. It became a convenient choice for camping tents because of their quick-setup and easy assembly.
Explicitly, these pop-up tents veer away from conventional tents. Of course, the absence of frames and poles made these pop-up tents unique on their own right.
Undoubtedly, the advantage of these pop-up tents lies in their stability and structural strength. However, if you are just in a camping ground or location with a fair weather condition, you don't actually have heavy-duty geodesic and dome tents.
A simple pop-up tent can already serve you on this particular application. Their quick-pitching mechanism and assembly make them an excellent choice for leisure camping with friends and families!
There are also pop-up tents for showering, too.
Some Known Examples of Pop-Up Tents And Their Prices
DEERFAMY Pop Up Tent - $80 to $90
Coleman Cabin Tent with Instant Setup - $90 to $190
Abco Tech Store Pop-Up Tent - $45
MOON LENCE Instant Pop Up Tent - $90
Felicigeely Beach Tent - $33
Tunnel Tents
Estimated Price: $100 to $600
A tunnel tent is an innovation of dome tents. They are designed to provide more space--similar to these multi-room cabin tents.
They are useful for various types of leisure camping, especially if you are with your squad or family.
The price of a tunnel tent can vary, depending on its size. Obviously, the bigger it is, the more expensive it gets.
Furthermore, the price of a tunnel tent is also determined by the presence of different components, such as vestibules and large rainfly. The quality of ventilation and access points can gauge the actual placement of a tunnel tent in the price category.
Some Known Examples of Tunnel Tents And Their Prices
Vango Waterproof Odyssey 800 - $365
Night Cat Waterproof Camping Tent - $80 to $90
Coleman Elite WeatherMaster 6 Screened Tent - $112 to $150
Inflatable Tents
Estimated Price: $150 to $700
Inflatable tents have been designed with the same motivation as pop-up tents. Specifically, these tents are an alternative option for those individuals who don't want to be bothered by assembly or installation.
You can opt for an inflatable tent if you are going to camp in an area with flat surfaces. You can't place them on terrains with uneven land areas because of their restricted flexibility.
Generally, these inflatable tents are affordable because of their leisure-oriented application.
However, units that have sturdier structures (such as reinforced inflatable beams and walls) are priced higher. They can actually be used for extended camping, but not for hiking and backpacking.
Some Known Examples of Inflatable Tents And Their Prices
SereneLife Outdoor Inflatable Camping 2 in 1 Airbed Tent - $130
Easy Camp Hurricane 500 Inflatable Tunnel Tent - $280
Vango Capri 500 XL - $650
Ridge Tents
Estimated Price: $100 to $400
Ridge tents are considered to be one of the traditional designs for tents. In fact, if you will let a kid draw a tent, he or she will undoubtedly doodle a ridge.
Specifically, a ridge tent has a trapezoid structure. Various poles are attached to the ends and center to ensure that it can erect steadily.
Guylines and stakes are also an integral part of these ridge tents since they add further stability.
Ideally, ridge tents can be used in a myriad of camping purposes. They can perform well even in challenging terrains and conditions, as long as they have a high-quality build.
Some Known Examples of Ridge Tents And Their Prices
Timber Ridge Large Family Tent - $130 to $170
Wenzel Pine Ridge Tent - $125
What Affects The Price Of A Tent
As you can see in the previous section, the prices of these outdoor tents do vary. Even those tents in the same type or class (i.e., backpacking and camping tents), price is still a volatile matter.
So what does constitute the cost of a tent? Can we even consider them as expensive and "luxury" items?
We are going to answer these questions later on.
Brand
This one is quite controversial. But whether you admit it or not, the name or logo affixed on a particular tent can change its overall pricing.
Popular tent brands tend to be costlier than their "no-name" counterparts. For instance, manufacturers like Coleman, Ozark, North Face, and Marmot are definitely placed on the higher price range.
They are popular. Hence, people just seem to follow and desire them like they are a cult.
But is this trend or susceptibility justified? For the most part, I do agree with that.
Of course, a particular tent manufacturer will not get avid patronizers if the units and models it creates are shabby. Any item that comes with excellent features and ergonomics will make a noise inevitably.
However, this is not exactly an absolute conclusion. Some ordinary or less-popular brands are always capable of putting up competition against those flagship brands.
But since of the "popularity" factor, the price of these equally great tent brands cannot exceed those that already made names.
Let me emphasize that picking branded tents does not make you a lazy shopper. You simply trust the quality of these opuses, and there's nothing wrong with that.
Material
Of course, the quality of the tent is usually determined by the kind of material used on it.
Composite and synthetic fabrics are relatively pricier than the ordinary canvas or tent. After all, they offer rigidity and durability even without compromising the weight of the tent.
Today, commercial tents feature the use of synthetic nylon fabric. This one is strong and offers a ripstop construction.
However, there are still other high-quality material choices here, such as silnylon and those fabrics with military-grade construction. All of these materials can withstand punishment. That's a guarantee.
Space and Capacity
It is already notable that larger tents are more expensive than smaller ones.
A one-person tent that is more expensive than a four-person tent is an existence that is quite rare. But that's something that is not out of the realms of possibility.
If you are planning to camp alone or do some solo pursuits in the wild, a one or two-person tent is already enough. Since we are trailing the logic that these smaller tents are affordable, you can expect that you don't need to spend too hard for your endeavor.
But of course, room space will always remain an important role to consider from time to time. Eventually, you will encounter situations where the capacity-restricted tents are no longer enough.
If you are going off-the-grid with your family and friends, then large, multi-compartment tents are the best form of shelter that you can acquire. While they are expensive, the price is compensated by the convenience that they give.
Purpose and Application
The use or intended purpose of a tent can determine its overall price. You can say that 3-season and 4-season tents have higher price tags than those single-person tents that are used for car-camping.
If a tent is designed for rugged and straining outdoor adventures (such as high-altitude hiking), you should not be surprised that it will boast a myriad of features. Reinforced double walls, durable and ripstop fabric, and strategic ventilation system further improve the livability of these tents even in harsh conditions.
They also come with a myriad of extra accessories such as added poles, stakes, and guylines. Of course, these added components are constructed to have insane levels of structural rigidity to weather off strong winds and storms.
Sure, these things sound expensive. However, you can guarantee that these features will not only provide comfort; they will also secure you throughout your adventure.
What Are The Other Things To Consider When Buying A Tent
It should come with the right features and components for a tent to be worthy of your hard-earned money.
You may have learned most of the essential aspects, such as the space capacity, type and design, and the intended application for the tent. But at the same time, they are not the only things that you have to pay your attention to here.
Footprint or ground cloth - Not all tents out there have great flooring. Most of the time, you'll be awed in shock that the floors of many tents are tough and rough. Paired with dirt, rocks, and debris underneath, and your back will certainly get punished.Instead of throwing the tent, why not just invest in a footprint? The latter is a custom-made ground cloth. They are not usually sold together with the tent, so it is quite prudent if you will purchase it separately.A footprint will make your tent a more comfortable place to rest.
Stakes - The stakes are the ones that attach the tent to the ground. Specifically, they are the "anchors" when you affix the guylines so that the tent will become more structurally durable and stable.If the tent is light, the stakes that come with it are also light. The same logic applies to heavy tents.If you think that the tent has insufficient stakes, you should not hesitate to get more. Alternatively, you can also use organic tents within your camping area. Roots, trees, and rocks can work as stakes!
Guylines - The guylines are the cords that make the tent taut. As much as these tent manufacturers want, their tents won't be able to be steadfast or immovable without the help of these guylines.If the conditions are reasonably favorable, some tents--like dome tents--do not need these guylines. But if you want to remove all your worries, make sure that you have sturdy guidelines that will keep your tent erect and pitched.
Rainfly - A rainfly is definitely a prime accessory, even if other people seem to don't mind it.Don't forget that the roof of your tent does not come with a ceiling or additional reinforcement. When it rains hard or when the sun blazes harshly, the stand-alone roof won't be able to protect you.A rainfly will help you in these situations. It acts as foolproof protection against harsh weather elements.
Vestibules - Ideally, your tent should come with a vestibule. This is a component that provides an external space where you can store your backpacks, boots, and dirty clothing.
Shovels - Whenever there's a need to dig for your stakes, these small shovels can be your trusty partner. After all, it is difficult to dig holes using your bare hands, especially if the ground is hard.
Conclusion
The question "how much are tents" is truly one of the polarizing searches of many outdoor enthusiasts today. Based on what we have here, I am pretty sure you already had an idea of how much to spend on this particular amenity.
Don't get afraid to get an expensive one, especially if you know that it is the one you need!
But of course, always be prudent in spending. Don't get a hole in your pocket for the sake of just having a tent. Learn to balance things!
I hope you learned a lot here. But if you still have questions, feel free to ask me in the comment section below!