Looking for the best mountaineering tent? You've come to the right place! Our comprehensive guide will walk you through the top-rated options, key features to consider, and expert tips for a remarkable outdoor adventure.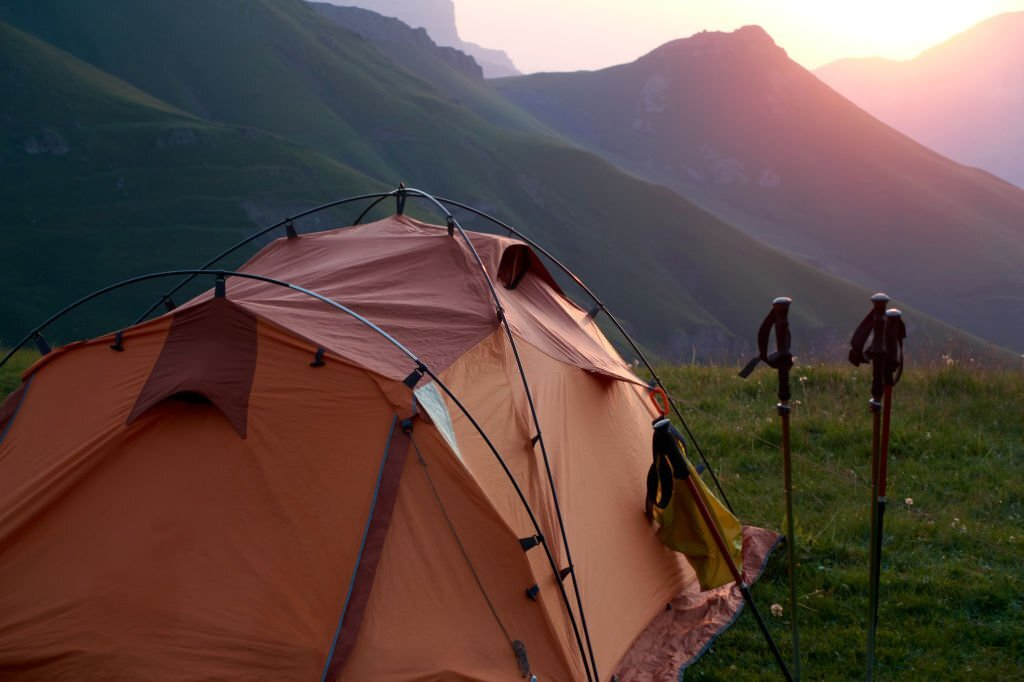 A Quick Overview
When setting off on an exhilarating mountaineering expedition, having the perfect gear becomes paramount. And among the essential equipment, a dependable mountaineering tent reigns supreme. These tents serve as your sanctuary in the face of rugged terrain and capricious weather conditions.
In this all-encompassing guide, we'll immerse ourselves in the realm of mountaineering tents, exploring the crucial features to mull over, expert advice for selection, and the crème de la crème of available options. Whether you're a seasoned climber or about to embark on your inaugural ascent, this guide will steer you towards choosing the best mountaineering tent for your escapades.
---
Best Mountaineering Tents: A Complete Rundown
Here's a rundown of our top picks for mountaineering tents:
Product
Seasonality
Capacity
Where To Buy
The North Face Assault 3 FUTURELIGHT Tent
3- 4-Season
3-Person
REI
Mountain Hardwear Trango 2 Tent
4-Season
2-Person
REI
MSR Remote 2 Tent
4-Season
2-Person
REI
Amazon
Sea to Summit Telos TR2 Plus Tent
3 - 4-Season
2-Person
REI

MSR Access 2 Tent
4-Season
2-Person
REI
Amazon
---
Best Mountaineering Tent Reviews
1. The North Face Assault 3 FUTURELIGHT Tent - Editor's Pick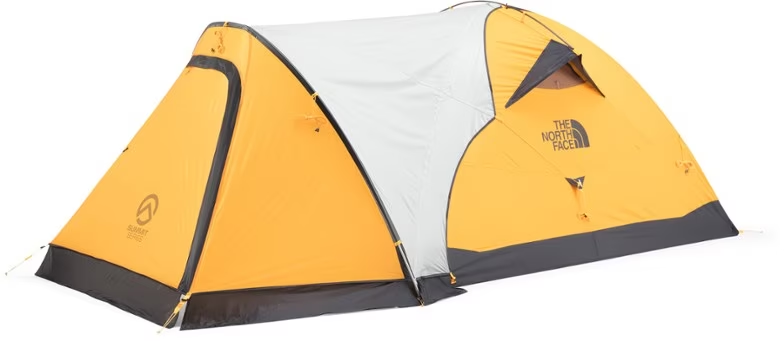 TECHNICAL SPECIFICATIONS
Ideal Use
Seasonality
Capacity
Floor Area
Peak Height
Pole Material
Tent Material

Minimum Trail Weight
Packaged Weight
Mountaineering
3- 4-Season Tent
3-Person
36.9 sq. ft.
46 inches
Carbon-fiber Easton Syclone
20-denier FUTURELIGHT recycled nylon with DWR
6 lbs. 5 oz.
6 lbs. 13 oz.
The North Face Assault 3 FUTURELIGHT Tent Review
The North Face Assault 3 FUTURELIGHT Tent is a game-changer in the realm of mountaineering shelters. As an avid mountaineer, I recently had the opportunity to put this tent to the test in the rugged alpine terrain, and it exceeded my expectations in every way.
One of the standout features of the Assault 3 is its exceptional construction. Crafted with high-quality materials, this tent strikes a remarkable balance between durability and weight. Weighing in at just under 6.5 pounds, it impressed me with its featherlight design without compromising on strength. Constructed using the innovative FUTURELIGHT 3L recycled fabric, the tent offers superior breathability, making condensation a thing of the past. This feature greatly enhances comfort during extended stays in challenging weather conditions.
Setting up the Assault 3 is a breeze, thanks to its user-friendly design. The ridge-pole assembly allowed me to tension the tent's top effortlessly, even in adverse weather conditions. At the same time, it also comes with an easy-pitch X-tent design for convenient pitching. With a spacious floor area of 36.9 square feet, this 3-person tent offers ample room for gear storage and comfortable sleeping arrangements. The 46-inch peak height allowed for easy movement within the tent, further enhancing the overall livability.
When it comes to protection against the elements, The North Face Assault 3 truly shines. The tent's robust design, reinforced by its sturdy Carbon-fiber Easton Syclone, ensures excellent stability, withstanding high winds and heavy snow loads. Moreover, the thoughtfully placed top vents allowed for optimal airflow, preventing condensation buildup and maintaining a dry interior.
PROS
CONS
Lightweight construction makes it ideal for mountaineering expeditions
Made from recycled yet durable materials
Easy to pitch and disassemble
No known drawbacks
2. Mountain Hardwear Trango 2 Tent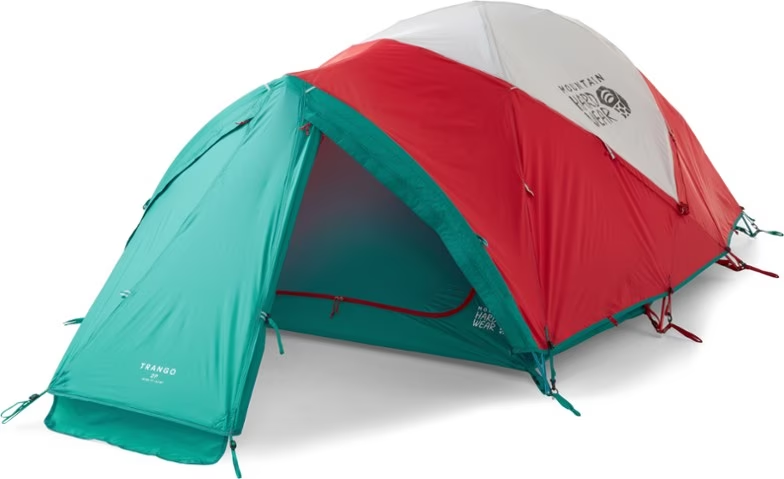 TECHNICAL SPECIFICATIONS
Ideal Use
Seasonality
Capacity
Floor Area
Peak Height
Pole Material
Tent Material
Minimum Trail Weight
Packaged Weight
Mountaineering
4 Season Tent
2-Person
40 sq. ft.
38 inches
DAC Featherlite aluminum
40-denier ripstop nylon
8 lbs. 9.7 oz.
9 lbs. 10.2 oz.
The Mountain Hardwear Trango 2 Tent Tent Review
The Mountain Hardwear Trango 2 Tent is a stalwart shelter that stands as a beacon of reliability for intrepid adventurers seeking uncompromising protection and unwavering durability in their alpine expeditions. As an experienced mountaineer, I had the privilege of putting this exceptional tent to the test, and it exceeded my expectations, emerging as an indomitable fortress in the face of nature's most formidable challenges.
Crafted with meticulous attention to detail, the Trango 2 is built to withstand the rigors of extreme environments. The tent's robust construction, utilizing rugged and ripstop nylon on its canopy, offers exceptional durability and abrasion resistance, ensuring it can handle the toughest terrains. This reinforced design instilled in me a sense of confidence, knowing that my shelter would stand strong against the elements. Meanwhile, both its floor and rainfly fabrics are crafted from 70-denier nylon taffeta, each having a 10,000mm waterproof rating.
Setting up the Trango 2 proved to be a breeze, thanks to its intelligent and user-friendly design. The color-coded poles and intuitive clips allowed for effortless and efficient assembly, even in harsh weather conditions. The tent's freestanding structure provided flexibility in choosing the perfect campsite, and the ability to pitch the tent fly first kept the inner tent dry during rainy setups.
The Trango 2's interior is spacious, offering ample room for two occupants and gear. The well-designed layout includes multiple pockets and gear loops for easy organization, maximizing livability in a compact space. The tent's generous headroom and steep walls allowed for comfortable movement inside, enhancing overall comfort during extended stays.
When it comes to protection against the elements, the Trango 2 truly shines. The tent's fly features fully taped seams and a waterproof coating, providing reliable and robust waterproofing in heavy rain or snowfall. The welded corners and reinforced guy-out points enhanced the tent's stability, withstanding high winds with ease. The well-placed vents and mesh panels ensured excellent ventilation, reducing condensation buildup and maintaining a comfortable interior climate.
PROS
CONS
Designed ergonomically; full of storage options on its interior and on its vestibules
Ventilated design keeps its interior cool and free from condensation
Durable and weather-resistant construction
Quite expensive
3. MSR Remote 2 Tent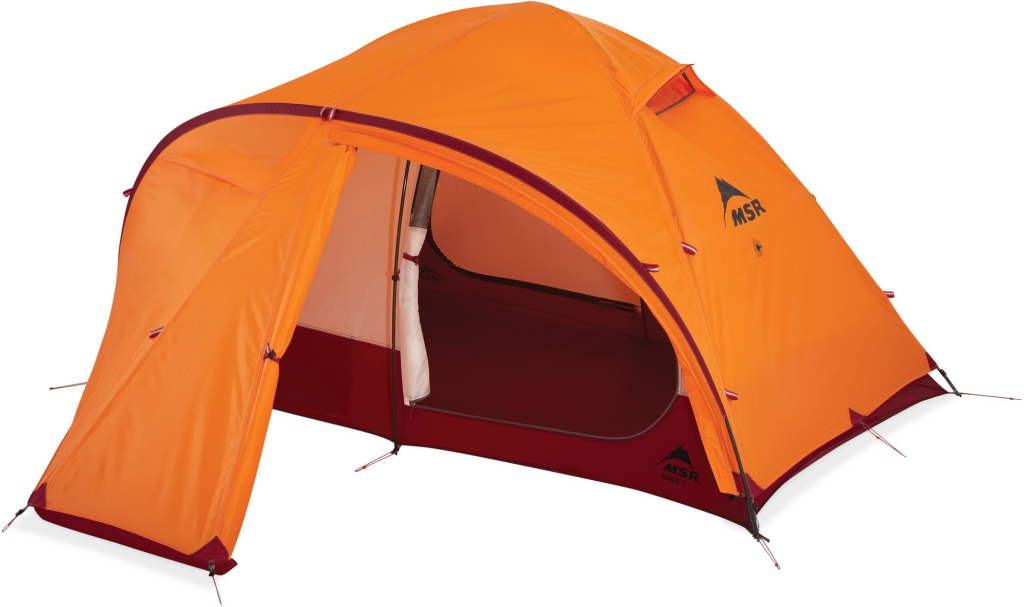 TECHNICAL SPECIFICATIONS
Ideal Use
Seasonality
Capacity
Floor Area
Peak Height
Pole Material
Tent Material
Minimum Trail Weight
Packaged Weight
Mountaineering
4 Season Tent
2-Person
33 sq. ft.
44 inches
Easton Syclone
40-denier ripstop nylon
6 lbs. 11 oz.
7 lbs. 2 oz.
MSR Remote 2 Tent Review
The MSR Remote 2 Tent is a formidable shelter designed to withstand the harshest alpine conditions. Built with uncompromising durability, this double-wall tent ensures maximum protection and comfort for adventurers pushing the limits of their expeditions.
Constructed to withstand fierce winds and heavy snow loads, the Remote 2 features a sturdy central-support frame and robust Easton® Syclone™ poles. These components provide exceptional stability, allowing the tent to stand strong even in the most challenging environments. Rainfly vents effectively help in temperature regulation, while snow flaps seal out spindrift, maintaining a dry and comfortable interior.
One of the standout features of the Remote 2 is its spacious interior and extra headroom. When hunkered down on the side of a mountain, this tent becomes a secure haven, offering ample space to rest and regroup. The large hooped vestibule, complete with snow flaps, provides generous storage space for climbing equipment, keeping it protected and easily accessible.
Setting up the Remote 2 is a breeze, thanks to the color-coded pole clips. Quick and efficient setup is guaranteed, even in challenging conditions, allowing adventurers to focus on their expedition without wasting time on complicated assembly.
The MSR Remote 2 Tent prioritizes durability with reinforced, reflective guyout points that prevent fabric tears and ensure optimal tension in ferocious winds. The DuraShield™-coated, waterproof bathtub floor keeps occupants dry, providing reliable protection against moisture. Two internal pockets add organization and convenience, offering easy access to essential gear.
Transporting the tent is effortless with the wide-mouth stuff sack, simplifying packing and loading. The Remote 2 tent includes the tent body, rainfly, poles, stakes, guylines, stuff sack, and setup instructions, ensuring a comprehensive package for adventurers seeking a reliable and robust shelter.
PROS
CONS
Designed to be lightweight and durable at the same time
Provides optimal ventilation
Setup is fairly simple
Prone to internal condensation
4. Sea to Summit Telos TR2 Plus Tent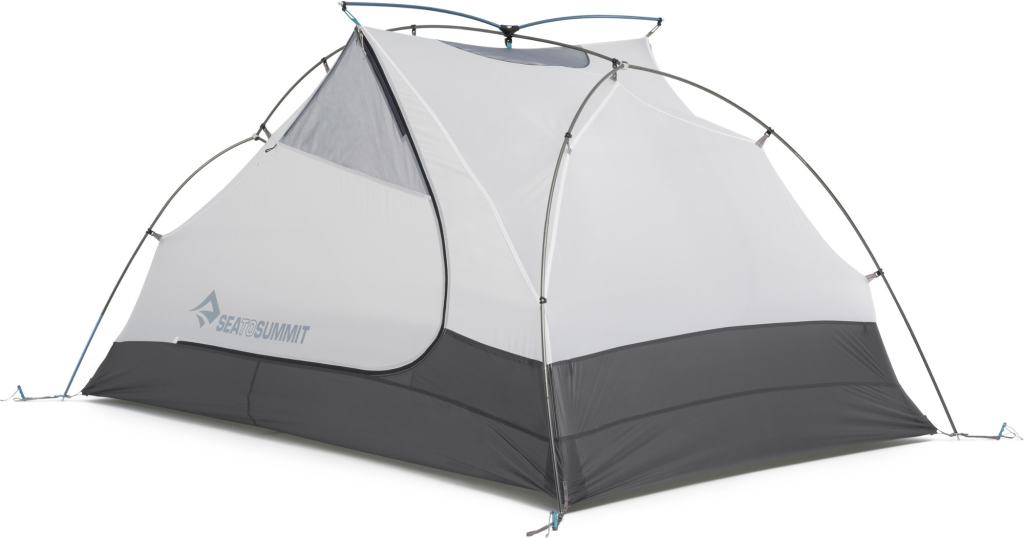 TECHNICAL SPECIFICATIONS
Ideal Use
Seasonality
Capacity
Floor Area
Peak Height
Pole Material
Tent Material
Minimum Trail Weight
Packaged Weight
Mountaineering / Backpacking
3- 4-Season Tent
2-Person
28 sq. ft.
43.5 inches
Aluminum DAC TH72M
20-denier ripstop nylon
3 lbs 9.7 oz.
2 lbs. 9.5 oz.
Sea to Summit Telos TR2 Plus Tent Review
The Sea to Summit Telos TR2 Plus Tent takes outdoor to the next level with its ingenious design and exceptional performance. Designed for 3+ seasons, this tent incorporates added materials to ensure warmth and dryness in harsher conditions, making it an ideal choice for adventurous souls seeking reliable protection.
One of the standout features of the Telos TR2 Plus is its fabric inner tent, which effectively keeps out cold drafts, providing a cozy and comfortable interior. The higher-specification waterproof floor enhances its capability to fend off wet weather, ensuring a dry and secure shelter.
The Telos TR2 Plus utilizes the innovative Tension Ridge™ architecture, featuring an inverted brow pole. This unique design not only allows for extensive interior living space but also increases ventilation and provides higher doors. The result is a spacious and airy environment that enhances comfort during extended stays.
Keeping condensation at bay is effortless with the oversize Apex Vent™ positioned at the highest point of the tent. This vent efficiently expels warm air, preventing condensation buildup, and can be easily zipped closed from inside the tent for added convenience. Adjustable vents at the base of the tent offer further control over airflow, allowing effective management of humidity and condensation without compromising protection from the rain.
The Telos TR2 Plus offers versatility in setup. In wet conditions, setting up the rainfly first ensures the inner tent and gear remain dry. Conversely, when packing up, the reverse order is recommended.
This thoughtful design eliminates the hassle of wet gear and provides added convenience. For stargazers, the rainfly can be rolled up to the Tension Ridge, allowing unobstructed views of the night sky. When needed, it can be deployed quickly and secured from inside the tent, ensuring a swift response to changing weather conditions.
PROS
CONS
Great for mountaineering adventures with moderate weather conditions
Lightweight design enables quick and hassle free-packing
Great in preventing internal condensation
Might not put up a good fight against strong winds
5. MSR Access 2 Tent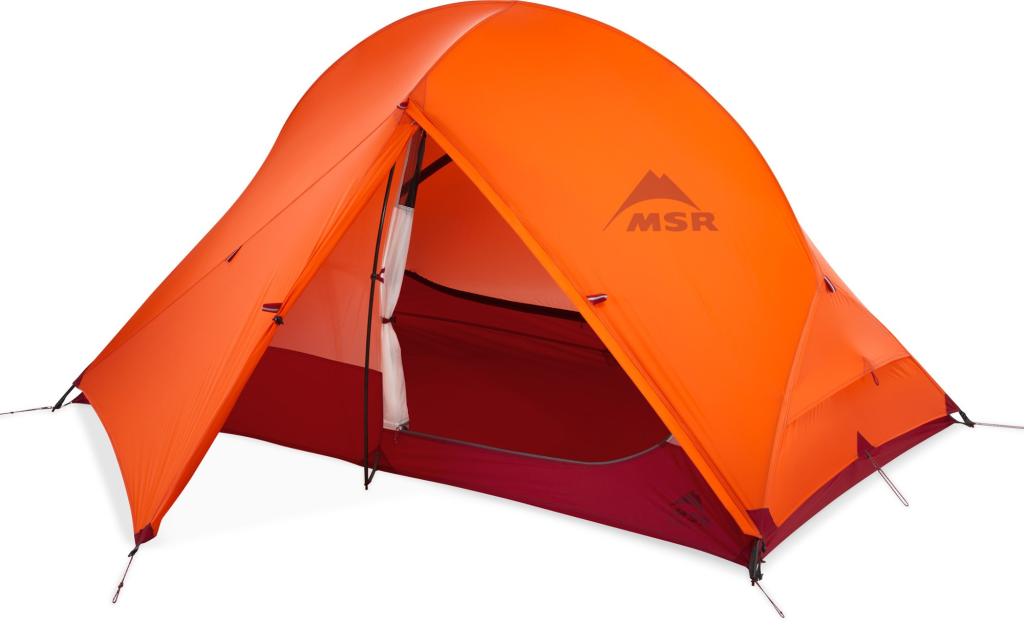 TECHNICAL SPECIFICATIONS
Ideal Use
Seasonality
Capacity
Floor Area
Peak Height
Pole Material
Tent Material

Minimum Trail Weight
Packaged Weight
Mountaineering
3- 4-Season Tent
2-Person
29 sq. ft.
42 inches
Easton Syclone composite
20-denier ripstop nylon/10-denier micro-mesh polyester
3 lbs. 10 oz.
4 lbs. 1 oz.
MSR Access 2 Tent Review
The MSR Access 2 Tent is a remarkable winter shelter designed to meet the demands of adventurous explorers in cold and snowy environments. With its impressive features and thoughtful design, this tent delivers a reliable and comfortable experience in the backcountry.
One of the standout features of the Access 2 is its limited mesh on the tent body, which effectively retains hard-earned warmth on cold nights. This feature, combined with the tent's overall light weight, ensures that you remain nimble while skiing and hiking. The central-support frame is built to withstand overnight snow-loading, providing peace of mind in extreme winter conditions. The large hooped vestibule, complete with snow flaps, offers ample space to shelter climbing equipment, keeping it protected from the elements.
The tent's spacious floor plan and extra headroom create a generous interior that comfortably accommodates two climbers and their bulky winter gear. The unified, hubbed Easton® Syclone™ pole simplifies the pitching process, even in challenging winter conditions. Its composite materials are resistant to breaking, ensuring reliability when you need it most.
The Access 2's rainfly vents effectively reduce condensation, keeping the interior dry and comfortable. The Xtreme Shield™ waterproof polyurethane coating provides excellent protection against the elements while promoting long-term durability, ensuring the tent stands up to the rigors of winter adventures.
With two doors and two internal pockets, the Access 2 offers convenient access and organization for your gear. The multiple guyout points further enhance stability and ensure a secure pitch, even in gusty winds.
PROS
CONS
Provides secure and hassle-free assembly
Weather-proofing is top-notch
Ample interior space for the storage of climbing equipment
Its poles aren't as durable as we thought it to be
---
How To Choose The Best Mountaineering Tents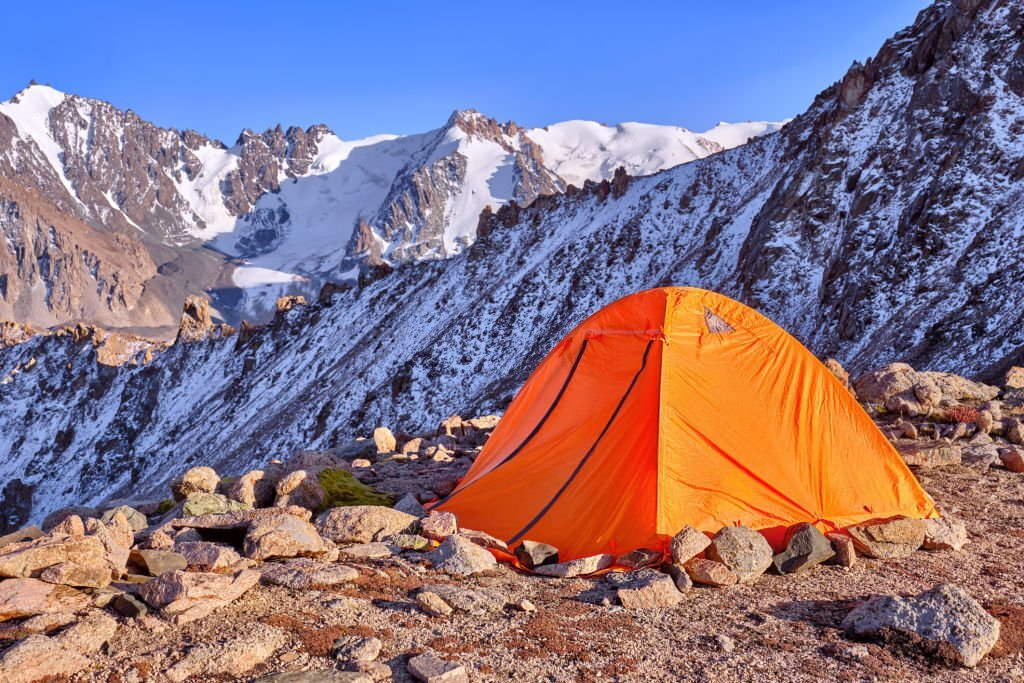 Embarking on a mountaineering expedition demands meticulous preparation, and the right equipment plays a pivotal role in ensuring your journey's success. Among the arsenal of indispensable gear, a high-quality tent stands as a stalwart guardian.
More than just a shelter, a mountaineering tent shields you from the unforgiving elements that characterize the mountain environment. This guide delves into the critical factors to contemplate when selecting a mountaineering tent, empowering you to make an informed decision that aligns seamlessly with your outdoor pursuits.
Understanding Your Needs
Before delving into the technical intricacies of choosing a mountaineering tent, it is crucial to gain a comprehensive understanding of your specific requirements and preferences. Reflect on the following questions:
What are the typical weather conditions in your intended mountaineering destinations?
Mountaineering tents are engineered to withstand the harshest weather conditions, from fierce winds and heavy snowfall to bone-chilling temperatures. Familiarizing yourself with the prevailing weather patterns of your chosen destinations will aid in determining the requisite level of weather resistance your tent should possess.
How many individuals will be sharing the tent?
Consider the number of fellow adventurers who will accompany you on your mountain escapades. Mountaineering tents are available in various sizes, catering to solo explorers and groups ranging from two to four or more. Opting for the appropriate size ensures optimal comfort and sufficient space for both occupants and gear.
What is your budget?
The price range of mountaineering tents can be diverse. Defining your budgetary boundaries will facilitate a focused search, helping you discover the tent that strikes the ideal balance between quality and affordability.
---
Crucial Features to Consider When Choosing The Best Mountaineering Tents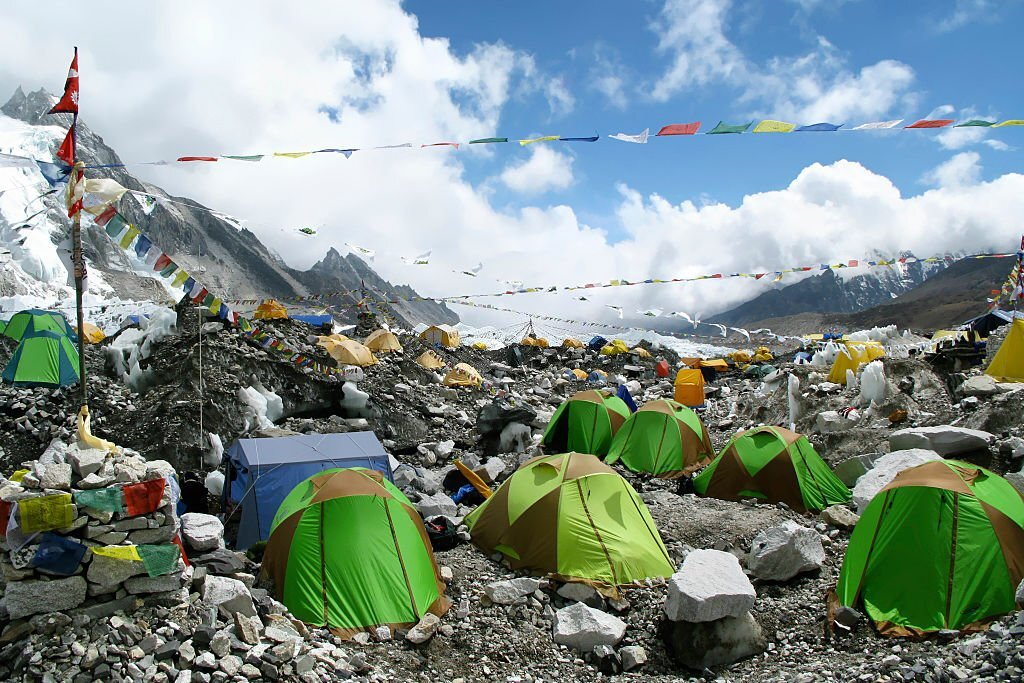 Durability and Weight
Durability and weight serve as indispensable factors when selecting a mountaineering tent. It is imperative to choose a tent that can withstand the rugged mountain environment while remaining lightweight enough for arduous treks. Seek out tents crafted from premium materials like ripstop nylon or polyester, reinforced with sturdy seams and poles. Additionally, carefully assess the tent's packed weight to ensure it aligns with your carrying capacity.
Weather Resistance
Withstanding the onslaught of challenging weather conditions is imperative for mountaineering tents. Look for tents boasting a high waterproof rating, preferably exceeding 3,000mm, to ensure unwavering protection against heavy rain and snow. Pay attention to the tent's wind resistance, ventilation options, and the inclusion of a rainfly for added fortification.
Tent Design and Structure
Mountaineering tents encompass a plethora of designs, such as tunnel tents, dome tents, and geodesic tents. Each design offers unique benefits in terms of stability, livability, and ease of setup. Carefully consider the topography of your camping terrain and select a tent design that aligns seamlessly with your specific needs. Evaluate the tent's interior space, headroom, presence of gear storage vestibules, and ease of entry and exit.
Seasonal Suitability
Mountaineering tents are typically classified as either 3-season or 4-season tents. The former is ideal for spring, summer, and fall adventures, providing excellent ventilation and protection from rain. The latter, specifically engineered for winter and high-altitude mountaineering, offer enhanced weather resistance and insulation. Choose a tent that caters to your intended season of use.
---
Additional Considerations For Selecting The Best Mountaineering Tents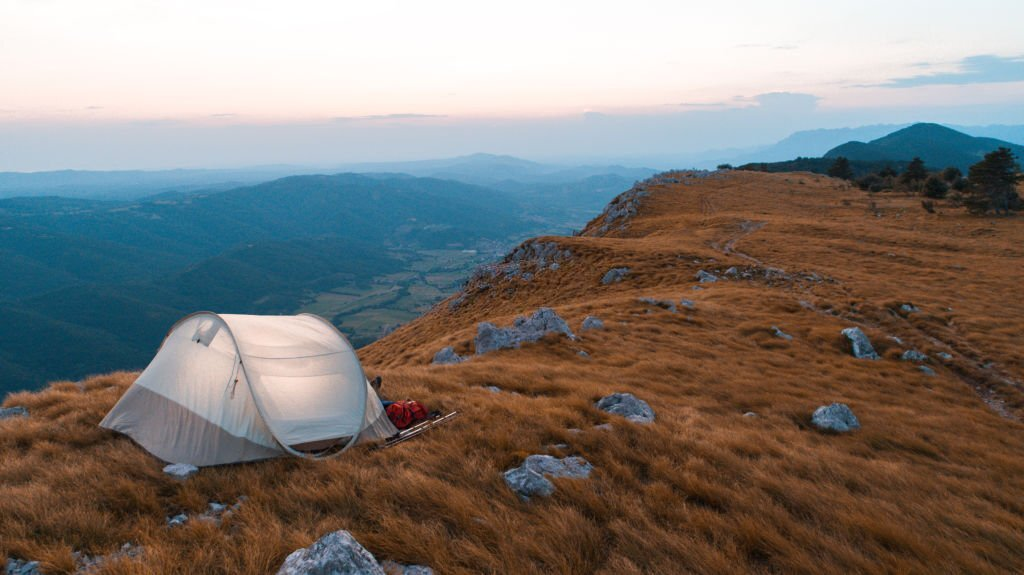 Ease of Setup
When faced with challenging weather conditions or the weariness that accompanies a long day of hiking, the ability to set up your tent quickly and effortlessly becomes paramount. Look for tents equipped with intuitive setup systems, color-coded poles, and clear instructions. Freestanding tents, which do not rely on stakes for support, can prove advantageous.
Packability
For multi-day mountaineering expeditions, the compactness of your tent is of utmost importance. Opt for tents that can be compressed into a minimal size, effortlessly fitting into your backpack. Additionally, consider the tent's shape and how it can be accommodated alongside your other gear.
Cost and Value for Money
While budgetary considerations are significant, it is equally vital to assess the value for money offered by the tent. Evaluate the overall quality, durability, and features provided by the tent and weigh them against the price. Sometimes, investing slightly more upfront can result in a tent that outlasts and outperforms its counterparts over the long run.
---
Expert Tips In Using Mountaineering Tents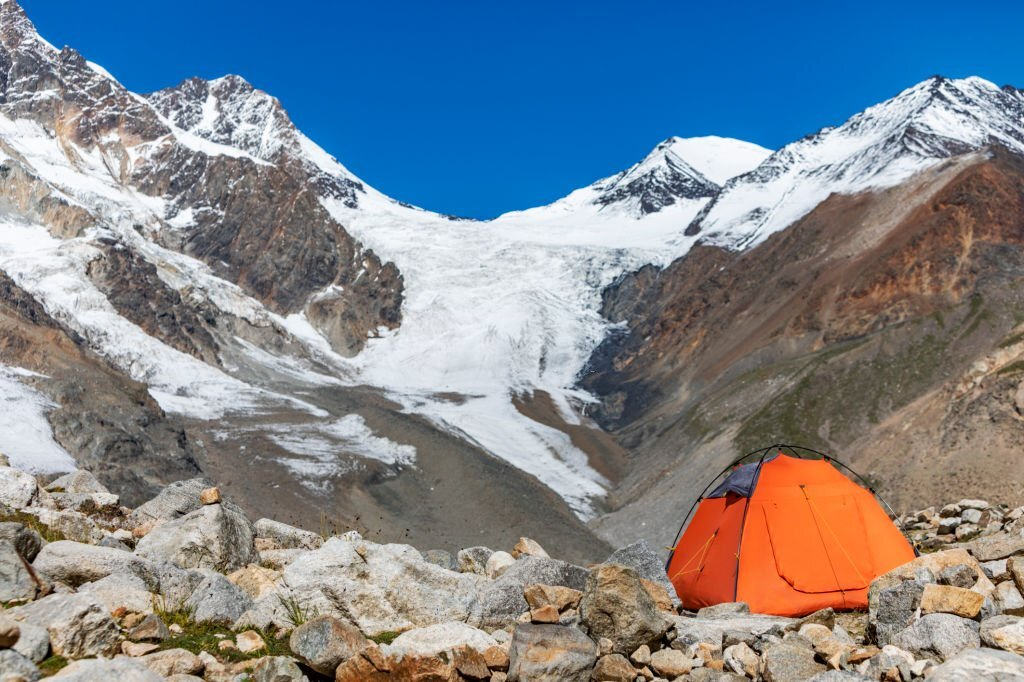 Mountaineering tents, an indispensable piece of equipment for outdoor enthusiasts venturing into challenging terrains and extreme weather conditions, play a pivotal role in ensuring safety and comfort.
However, selecting the right tent is just one part of the equation; understanding how to utilize it effectively is equally crucial. In this comprehensive guide, we will delve into various aspects of using mountaineering tents, exploring everything from erecting the tent to harnessing its features for supreme comfort and unwavering safety.
Tent Setup
Setting up a mountaineering tent properly serves as the bedrock for a secure and cozy outdoor experience. Let's delve into the steps to follow when erecting your tent:
Step 1: Discover a Suitable Campsite
Choosing a level and well-drained campsite that shields you from potential hazards like cascading rocks or avalanches is paramount. Seek an area with soft ground that facilitates easy insertion of stakes.
Step 2: Clear the Site
Rid the campsite of any rocks, sticks, or debris to create a smooth surface. This measure prevents discomfort and safeguards the tent floor against potential damage.
Step 3: Unfold and Arrange the Tent
Unpack the tent and meticulously lay out all components, including the rainfly, poles, and stakes. Prior to proceeding, ensure that all the necessary parts are at hand.
Step 4: Assemble the Tent Poles
Refer to the manufacturer's instructions to seamlessly assemble the tent poles. Most mountaineering tents employ shock-corded poles, which feature an elastic cord for effortless setup.
Step 5: Attach the Rainfly
If your tent is accompanied by a rainfly, affix it securely to the tent body. The rainfly acts as an additional layer of fortification against rain, wind, and condensation.
Step 6: Secure the Tent Stakes
Insert the tent stakes into the designated loops or grommets at the tent's corners and guylines. Ensure they are firmly embedded in the ground, providing unwavering stability.
Step 7: Raise the Tent
With the poles assembled and the rainfly attached, commence the process of raising the tent by inserting the poles into the pole sleeves or clips. Progress around the tent systematically, ensuring the poles are correctly inserted and the tent is taut.
Step 8: Fine-Tune and Stake Out
After the tent is raised, make any necessary adjustments to guarantee proper alignment and tension. For enhanced stability, securely stake out the guylines, especially when facing gusty winds.
Tent Maintenance and Care
Adhering to proper maintenance and care protocols is pivotal to extending the lifespan and maximizing the performance of your mountaineering tent. Here are some invaluable tips for keeping your tent in pristine condition:
Cleaning the Tent
Engage in regular cleaning endeavors to eradicate dirt, debris, and unsightly stains from your tent. Adhere to the manufacturer's instructions as different materials may necessitate specific cleaning methods. In general, a gentle hand washing with mild soap and water suffices. Avoid using harsh chemicals or machine washing, as they can compromise the tent's waterproof coating. Here's a guide on tent cleaning.
Drying the Tent
Following each use or cleaning session, ensure that the tent is meticulously dried before packing it away. Hang it up or lay it flat in a well-ventilated area, away from direct sunlight. Damp or wet tents are prone to mold and mildew formation, leading to unpleasant odors and potential fabric damage.
Storage
During periods of non-use, store your tent in a cool and dry location, ideally in a breathable storage bag or mesh sack. Refrain from storing the tent in a compressed state for prolonged periods, as this can undermine the fabric's durability and waterproofing capabilities.
Addressing Minor Damage
Regularly scrutinize your tent for signs of wear or damage, such as rips, tears, or malfunctioning zippers. Address minor issues promptly using repair kits specifically designed for tents. These kits typically contain adhesive patches, seam sealant, and replacement parts.
Optimizing Tent Features for Different Conditions
Mountaineering tents are meticulously engineered to provide unparalleled protection and comfort across diverse weather conditions. Here are some invaluable tips to optimize your tent's features for various scenarios:
Cold Weather Camping
Insulation measures: Utilize a high-quality sleeping pad and insulating layers to minimize heat loss through the ground, ensuring warmth is retained.
Ventilation management: While preserving warmth is crucial, proper ventilation is equally essential to prevent condensation buildup. Skillfully adjust the vents and openings to strike a delicate balance between warmth and airflow.
Rainy Conditions
Rainfly deployment: Ensure that the rainfly is meticulously attached and securely fastened to shield against rain and maintain a dry interior.
Seam sealing: Routinely inspect and reapply seam sealant to preserve the tent's impeccable waterproofing capabilities.
High Winds
Staking and guylines: Bolster your tent's stability by staking it down and securely fastening guylines to prevent it from succumbing to strong gusts.
Tent orientation: Strategically position your tent to minimize wind impacts, considering natural windbreaks or land formations that offer additional shelter.
By adhering to these guidelines, you can master the art of using mountaineering tents with finesse, maximizing both safety and comfort during your outdoor expeditions.
Conclusion
Choosing the best mountaineering tent is a consequential decision that significantly impacts your outdoor experiences. By understanding your needs, considering essential features, and evaluating additional factors, you can make an informed choice.
Prioritize durability, weather resistance, and weight while factoring in your budget and personal preferences. Armed with the perfect mountaineering tent, you can immerse yourself in the awe-inspiring grandeur of the mountains, confident in the knowledge that you are protected from the elements.
Related posts: