Hiking is a fun adventure. But it can also be challenging and difficult, especially if you are going to encounter unexpected things.
However, for most seasoned hikers and backpackers, being caught off guard by nasty weather or other external "inhibitors" is something that is entirely avoidable. We may not have tamed Mother Nature, but we have at least learned how to play under her rules.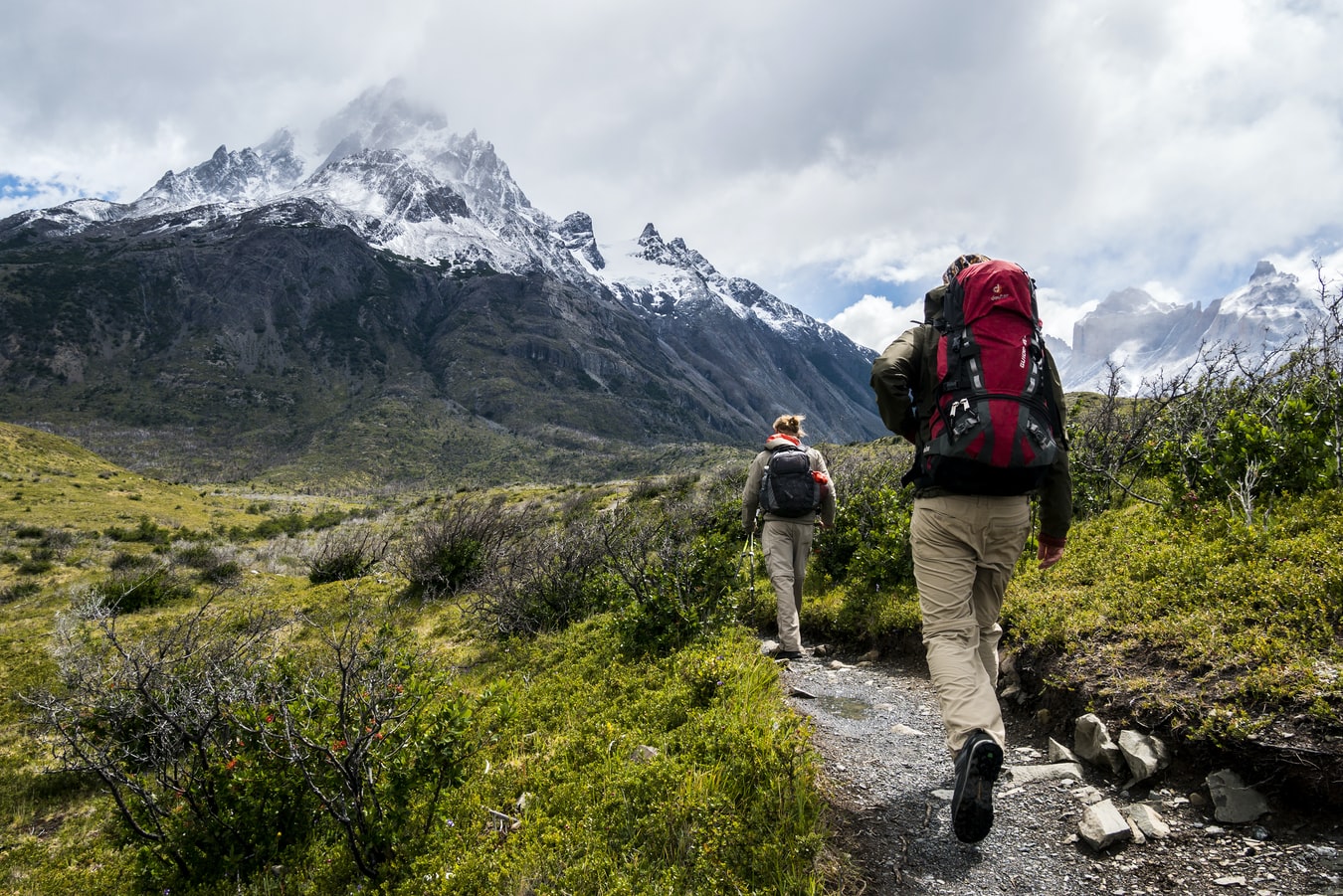 With that being said, hiking is a pursuit worth experiencing. You only need to have the essential preparation to keep your adventure memorable and worth-cherishing.
Tips For A Perfect Hiking Trip
1. Train Yourself
Assuming that you are a first-timer, there's a need for you to do some training before going into a hike. You don't want to experience muscle cramps, fatigue, or shortness of breath while you are still ascending.
Your vitality and overall condition are crucial to the hiking trip. You won't really enjoy what the entire jaunt has to offer if you keep on getting tired and weary.
Aside from that, being physically unfit will hold back everyone who is with you. A beginner will always have to respect the overall nature of the activity. Even leisure hiking is not a pursuit you can downplay. Endurance and balance are a must. Every time you do it, your physique should be in top shape.
Recommended exercises:
Lunges
Jump squats
Hip roll
Jogging
2. Pick The Easy Destinations
This recommendation is not actually necessary. If you are a trained hiker, you can already ignore this. After all, there's a good chance that you are already familiar with the different kinds of technical terrains out there.
This tip is dedicated to beginners. Most of the time, many want to try hiking because they found scenic locations that they want to climb. But little they know that the route to that area is treacherous and nerve-wracking.
You have to start smoothly. From there, you can gradually scale the "difficulty level." A short but moderately technical course could be a good start for those who want to have a taste of what hiking is all about. Do a little research about the local routes that could offer a beginner-friendly terrain.
Also, it would be great if you can research the details about the route. Know the elevation, the average time hikers can traverse it, distance, and even the type of terrain that it has.
3. Familiarize The Route
Once you know where you are going to hike, it is proper that you can familiarize its terrain. Before you traverse it, there's a need for you to have a good understanding of its layout. You have to know the right way to your camping site, and if it has alternate routes available.
Also, be wary of intersecting or splitting paths. These are the ones that can cause hikers and trailers to get lost. For this particular purpose, you need to ask locals and jot down whatever information they give. Their inputs will be vital in your hiking trip.
If it is available, acquire a map. This is the most foolproof method not to get lost. Bring a compass, too, as it might come helpful in navigating directions.
4. Be Aware Of The Weather
With technology and modern advancements, weather prediction is no longer a thing of science fiction. Science has been able to provide us with the means to forecast the atmospheric conditions days or weeks ahead of time. Our dear meteorologists do this job for us.
Because of this, you have no excuse to be caught off-guard by sudden rain or snow while you are hiking. You can actually plan and set the date of your hike based on the most favorable weather condition.
Furthermore, you can also assess the natural climate of your destination. Be mindful that some areas tend to be more susceptible to precipitation and condensation.
By knowing these things, you will be able to pack and dress appropriately.
5. Inform People About Your Trip
Every time you go somewhere distant and off-the-grid, you have to inform others about it. That's one way of ensuring your safety in case something went wrong in the trip.
Tell your close friends and families where you are heading, the date and time of your departure, and your expected day of your descent. Furthermore, you have to inform them of who you are with, and their respective address.
Moreover, don't forget to leave your contact details. Save the essential emergency numbers, too. You have to ensure that your safety will not be compromised while you are on a hike or going outdoors.
6. Pack The Essential Gears
Consider your first hiking trip as a test of how resourceful and prepared you are as a person. Come prepared, and you can get a perfect hiking trip. Ignore the essential preparations, and you will have a lousy time throughout the excursion.
Now, there is a myriad of outdoor gears that you can bring in an outdoor adventure. However, there are some items that prove to be irreplaceable when it comes to hiking. They are the ones that do not only assure your comfort but your safety as well.
It would be too lengthy to discuss these items here one-by-one. I will just give a breakdown of what they are. Keep in mind that you can change these items based on the weather condition and the terrain you are going.
Here are those essential hiking gears:
Navigation - This includes GPS devices, compass, maps, satellite phones, personal locator beacon, and altimeter.
Illumination - Lamps, headlamps, and flashlights are crucial, especially if you are going to stay there overnight.
First aid - Don't forget to bring a first-aid kit on your trip. Injuries can happen while you are ascending. Don't forget to bring insect repellent, too.
UV protection - Expect that the hike would be hot and steamy. It is crucial that you can protect your skin and eyes from extreme heat and UV rays. Sunglasses, sunscreen, and protective clothing are a must.
Shelter - This could come in the form of a single-person tent or lightweight bivy. You should pack them every time you are going on a trip.
Fire - Starting a fire in the outdoors is quite a challenging task. Hence, it would really be great if you have lighters, matches, or tinders with you.
Provisions - Pack the right amount of food and water supply. The more you can bring the better.
Extra clothes - Should things get rough and watery out there, having an extra set of clothing would really be beneficial.
7. Have A Hiking Buddy
Do you have friends that are into hiking? Bring them over! If you have none, look for someone who can refer you to a guide or expert hiker. Having a partner in this particular journey is quite essential. They can teach you on the fundamentals of hiking while ensuring that you have someone that can help you whenever necessary.
As early as now, I don't recommend that you take someone amateur as your hiking partner. Do not burden yourselves by minding extra loads. It is okay to have a crowd of novices, as long as there's a veteran in the group.
Hiking Alone?
The idea of having a solo hiking trip is quite thrilling. It gives you a sense of freedom and independence.
However, it can also bring a feeling of isolation and dread, especially if the weather and surroundings turn gloomy. You can always do a stint if you really desire it.
But if you are new to hiking, I do suggest that you stall it. Gain some valuable experience first!
8. Dress Appropriately
When it comes to hiking and other outdoor adventures, looking good should never be your top priority. That's the common mistake of many hikers out there. They think that the flashiest and most aesthetically-appealing apparels can give them the best service.
While this doesn't mean that high-quality outdoor gears are ugly, it is a testament that you should go ergonomics over function.
Dress accordingly. You have to fit your clothing to the kind of adventure you are about to do.
Here are the recommended hiking gears that you should bring:
Footwear
If you want the best hiking experience, having the right pair of footwear is a must. Keep in mind that your mode of transport here is your feet. If they are not comfortable and protected, you can't hike seamlessly.
There are several factors in choosing footwear. The following guideline is just short, but it should help you have a basic understanding of how to select hiking footwear.
Terrain - Light shoes are suited for mild land terrains. But if the destination is technical (e.g., snowy, jagged, or mountainous), rugged and durable mountaineering shoes and boots are essential. Meanwhile, backpacking boots are in between.
Material - If the weather is hot and humid, you need a breathable pair of shoes. Hence, you should go for footwear made from polyester and nylon. On the flipside, full-grain leather is heavy and not breathable. However, they feature extreme durability. They work best on difficult terrains.
Other Hiking Apparel
You can hike better if you are wearing fabrics that have quick-drying and moisture-wicking properties. Examples of these fabrics are polyester and wool. Try to avoid cotton as they don't dry quickly.
Base layers - They should be made from polyester or wool. Aside from their water-resistant properties, they insulate pretty well.
Hiking clothes - The shirt and pants you wear should be tailored from polyester or nylon. They provide enough breathability so that you don't feel too hot.
Insulating layers - You need to wear insulating layers if the situation requires them. Jackets, vests, gloves, warm hats, and fleece pullover are essential whenever dealing with snowy and windy terrains.
Rain gears - It is a sound idea if you can bring a waterproof jacket regardless of the weather condition. Being prepared for hiking is always a golden rule.
9. Secure Your Provisions
Food and water are both essential for any physically rigorous activity. It doesn't matter if you are hiking or playing a basketball game; your system must be replenished from time to time.
For starters, the ideal calorie intake for hiking is around 200 to 300 calories per hour. Meanwhile, you also need to drink half a litre of liquid every hour. But of course, you can increase or decrease these amounts based on the rigidity of your hike, weather condition, rate of sweating, and your age.
The more you hike, the more you can assess your needs for nourishment. Here are some of the lightweight and easy-to-pack food for hiking:
Protein and energy bars
Sandwiches
Dried fruits
Trail nuts and mixes
Beef and animal jerkies
10. Pack Light
Hiking is quite an exciting adventure. There are lots of ideas that can come up in anyone's mind on how to enjoy the entire trip.
Of course, there's nothing wrong with that. Every now and then, hiking provides a venue for other leisure activities like cooking, outdoor musicals, and sight-seeing of magnificent wildlife.
However, don't let these things make you think that you can bring a lot of items and equipment on a hike. You have to realize that the expedition itself requires your entire physical strength and endurance.
If you bring a lot of stuff, the ascent would be difficult. A heavy backpack would drain your energy and stamina, too. For leisure camping, cumbersome and bulky luggage is tolerable. However, for hiking, that is not.
11. Choose The Appropriate Shelter
Whenever you are hiking, it is vital that you can bring a tent with you. It doesn't even matter if the adventure wouldn't last for a day. You still need a reliable tent to ensure your safety and convenience.
Think of this: what if it rains or snows, and you are in the middle of an exposed part of a terrain? Will you still have time to look for a natural shelter?
Tents can protect you in these unexpected situations. They are the ones that can shelter you from the element, and that alone can save your hiking trip.
There are a plethora of tents you can choose here. We have 3-season tents or 4-season tents on the market. You are free to choose between them, depending on the nature of your hike. If you are going to frigid and extensive terrains, pick a 4-season tent. For moderate areas and conditions, a 3-season tent is suitable.
Also, mind the weight and compressibility of the tent. Just like I said: pack light.
12. Don't Rush
It is your first time hiking, and you are pretty excited. You are giddy to overcome the trail and see the top in a bird's eye view.
There's a sense of rush here. And believe me or not, such a thing is not suitable for hikers and hiking in general.
When hiking, you need to maintain a moderate pace. Not too fast and not too slow. The idea here is that you want to conserve energy as long as you can. If you speed up your pace, you will exhaust yourself quickly.
Furthermore, rushing separates you from your group. When hiking, you should go as a group, arrive as a group, and leave as a group. Don't ever think that it is a good idea to leave them or stay behind them. It increases your chances of getting lost.
13. Look At The Ground
Don't ever ignore this tip at all! Hiking requires awareness of your surroundings. Hence, it would really be fatal if you don't look where you are walking from time to time.
It is easy for someone to twist his or her ankle because of stepping on a slippery rock. Wounds and injuries do take place because hikers failed to avoid loose branches and sharp objects that are hiding along the path.
Likewise, snakes and dangerous animals could also be lurking in the ground. If you fail to see them, you could suffer from life-threatening bites.
14. Take Breaks
Nobody will ever require you to march to the top unceasingly. That's not hiking if that's the case. That's near-suicide already.
Even the most experienced hikers don't ever recommend an extensive walk and climb without rest. Your body needs to replenish the energy it lost. In fact, if the destination is far and difficult to reach, scheduled breaks are essential.
Taking breaks is not just about resting. It also allows you to enjoy the scenery. Take a deep breath and enjoy the wonders that surround. That's one of the best ways to enjoy the trip.
15. Leave No Trace
Enjoying a hiking trip is not possible if you leave a lot of mess behind.
You should never do that! Be a responsible hiker. Wherever you go outdoors, always remember that you are just a visitor. If a visitor comes into your house, do you want them to throw rubbish and garbage around?
Of course, the answer is a big no.
Similarly, you should never make Mother Nature dirtier than it is right now. You have to respect her and the beings that dwell in her bosom.
For me, that's one of the best ways to enjoy a hike.
Conclusion
These are the tips for a perfect hiking trip that you shouldn't miss. If you are a first-time hiker, I recommend that you follow these tips and observe them religiously.
Trust me. They can turn a mundane excursion to a memorable expedition in the wild!
That's it for now. I hope you learned something from this guide. For questions and suggestions, feel free to drop them in the comment section below.