Camping will never be a complete experience without the best camping sleeping bags. Well, it is not a subjective statement, honestly. You need to have a functional, well-insulated bag to ensure that you can sleep comfortably away from your home.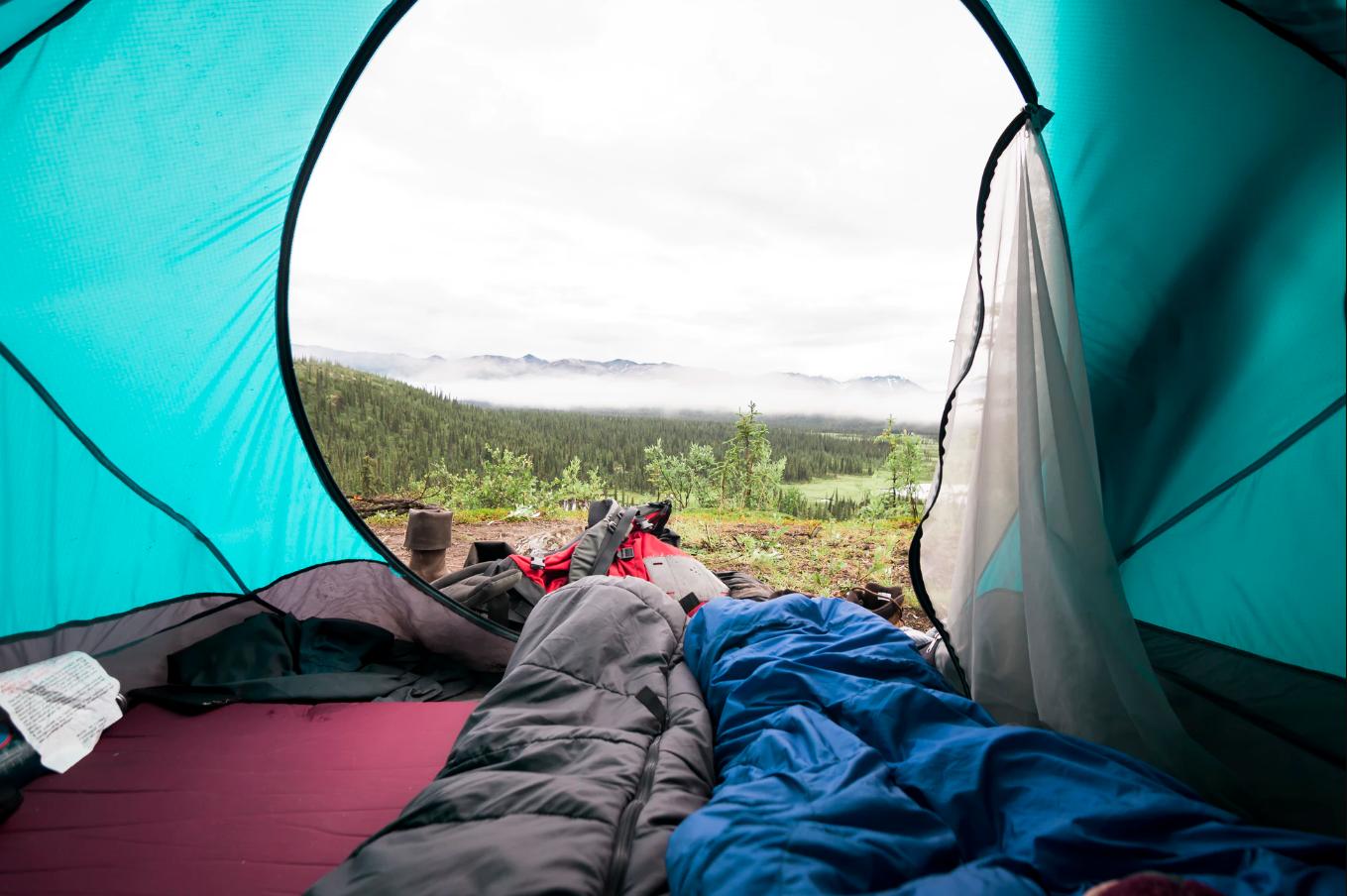 Of course, you should always consider that the external world is unpredictable. If you want to avoid being stuck in an unlikely predictable once you are about to rest, better wrap yourself in an ergonomic cocoon. Here are your options for these sleeping bags for camping.
Best Camping Sleeping Bag Reviews
1. NEMO Forte 35 Sleeping Bag - Editor's Pick
NEMO Forte 35 Sleeping Bag - Men's
Synthetic insulation offers warmth, moisture resistance and packed volume
Thermo Gills let you regulate comfort by releasing heat without letting cold drafts in
Blanket Fold™ can be tucked in like a draft collar or flipped out to release heat from the bag
Integrated pillow pocket allows a jacket, extra clothes or a NEMO Fillo™ (sold separately) to be stuffed in the sleeve to create a pillow
Full-length, double-slider zipper with snag guard built into the draft tube makes its easy to enter and exit the bag
The NEMO Forte 35 isn't your ordinary mummy sleeping bag. While most conventional sleeping bags don't support side sleepers, this one does. You see, it has been tailored to have added room on its knees and elbows so that you can sleep on your sides.
Meanwhile, the PrimaLoft RISE insulation of this unit features an 80% post-consumer recycled content. The synthetic insulation delivers optimal warmth without being too heavy. It doesn't retain water as compared to other synthetic insulators.
In fact, the quality of the PrimaLoft RISE insulation is able to match 650-fill-power down. It has impressive compressibility and heat retention that works well in a 3-season camping jaunt.
Furthermore, the Thermo Gills of the Forte 35 can extend its temperature range. This feature is quite useful whenever you are camping in mild conditions. You can unzip the gills so that the heat can escape while preventing the cold drafts from leaving.
Speaking of, the Blanket Fold technology features the combination of a full-length draft tube and an extra draft collar. They maximize the comfort that you can feel while sleeping on this bag.
Pros:
Made from 30-denier, water-resistant ripstop polyester
Insulation is capable of matching high-quality down fills
Can be used in humid and temperate climates
Features enough interior space for side sleeping
Foot box is breathable and waterproof
Cons:
Not for frigid temperatures
2. TETON Sports Celsius XXL Sleeping Bag - Runner-Up
TETON Sports Celsius XXL Sleeping Bag; Great for Family Camping; Free Compression Sack
COMFORTABLE SLEEPING BAG FOR ADULTS: Soft lining; Half-circle mummy style hood keeps you warm and your pillow clean; Unzips at the top or bottom for easy access and ventilation; For camping in 3...
NEVER ROLL YOUR SLEEPING BAG AGAIN: TETON provides a great compression sack for stuffing your sleeping bag; Start at the bottom and stuff the bag in, then tighten the heavy-duty straps
STAY WARM IN COLD WEATHER: You'll be warm and rested in this sleeping bag; Innovative fiber fill, double-layer construction and draft tubes work together to keep the warmth in
SLEEP WARM: Fluff your sleeping bag and use a camp pad to sleep warmer; Hang loops for long-term storage to maintain maximum loft
TETON SPORTS PROMISE: Reach out to our AMAZING product support team if you have any questions or concerns; YOU CAN COUNT ON US to get you taken care of and back OUTDOORS with TETON Sports
The TETON Sports Celsius XXL Sleeping Bag is a comfortable option for adults. This unit features a half-circle hood that ensures warmth in your head and neck region. It is also spacious enough to accommodate a pillow.
The bag has an ergonomic capability that allows you to zip or unzip it on either its top or bottom. It is a useful design that improves the accessibility of the bag while ensuring ventilation.
There are draft tubes on its zippers and shoulders so that heat won't escape outside. Hence, it is never prone to cold spots.
This sleeping bag features SuperLoft Elite Hollow Fiber. It is actually capable of generating warmth so that you can feel comfortable while camping at low temperatures. Meanwhile, its inner liner is created from brushed poly flannel, which provides ultra-plush experience to your skin.
Of course, the TETON Sports Celsius will not become a top-rated sleeping bag if it is not durable. Its exterior shell is rugged and resists damage amidst continuous. Surely enough, the shell is water-resistant, too.
Pros:
Works well in cold temperatures
Two-way zipper design improves its accessibility
Exterior shell is rugged and water-resistant
Provides spacious sleeping space
Comes with a lifetime warranty
Cons:
Too big for lightweight backpacking
3. Coleman Palmetto 30°F Cool Weather Sleeping Bag - Budget-Friendly Pick
Coleman Palmetto Cool-Weather Sleeping Bag, 30°F Lightweight Camping Sleeping Bag for Adults, No-Snag Zipper with Stuff Sack Included
Adult sleeping bag for camping in temperatures as low as 30°F
Accommodates most campers up to 5 feet 11 inches tall
Polyester cover and tricot fiber blend liner provide warmth and softness
ZipPlow system plows fabric away from teeth to prevent snagging while zipping and unzipping
Roll Control fasteners and a patented no-tie closure allow for easy one-person packing
Another great yet affordable camping sleeping bag that you should check out is the Coleman Palmetto. This entry-level sleeping bag is suitable for leisure camping since it gives the perfect balance between insulation and ventilation.
The synthetic insulator of this tent makes you feel comfortable even if the external temperature is 30 degrees Fahrenheit already. It allows you to sleep in this condition without shivering.
Furthermore, the combination of tricot fiber liner and polyester cover adds to the thermal efficiency of this sleeping bag. These materials are also soft, enabling you to experience a plush-like convenience outdoors.
It is also interesting that this unit implemented the ZipPlow system. It is a beneficial design that plows the teeth of the zipper from its fabric. As a result, you will not find any snagging problems when zipping the bag.
Pros:
Features a patented no-tie closure for quick packing
Zipper does snag the fabric
Inner lining has a plush quality
Synthetic insulation is pretty great
Durable construction
Cons:
4. REI Co-op Magma 15 Sleeping Bag - Premium Pick
REI Co-op Magma 15 Sleeping Bag - Men's
Designed with generous knee and foot space and a fitted silhouette that delivers the most efficient warmth-to-weight ratio in the REI Co-op brand sleeping bag line
Downproof Pertex® shell, water-resistant 850-fill-power goose down and supple 15-denier lining combine to provide lasting coziness and a supersoft feel
Down is certified to the Responsible Down Standard (RDS) and bluesign® approved
Trapezoidal footbox keeps feet comfy; a toe box baffle positions downward to provide warmth
Variable baffle spacing locates and stabilizes the down fill, delivering high thermal efficiency and reducing weight
One of the superb camping sleeping bags in the market today is definitely the REI Co-op Magma. That's no bluff. Experiencing the performance of this lightweight and compressible sleeping bag is a big favor that you can do to yourself.
The quality of this unit can be seen with its natural Downproof Pertex 850-fill-power goose down. It provides maximum insulation to combat low temperatures while ensuring that it remains a lofty option cocoon where you can rest.
But things don't stop there. The supple 15-denier lining also extends the comfort and coziness that you can feel. It is ultra-soft and feels like the mattress back in your home. Furthermore, the down has a Responsible Down Standard (RDS), which guarantees that no geese were abused or threatened on its construction.
The bag comes with a plethora of ergonomics, too. It is tailored to have a roomy foot and knee space for a more efficient warmth-to-weight distribution. Moreover, it has a fitted silhouette, too, for added comfort.
Pros:
High fill-power down for extremely cold conditions
Intuitive zipper shield and anti-snag strip for better accessibility
Trapezoidal foot box adds warmth and comfort to your feet
Contoured hood can accommodate one small pillow
Rugged and water-resistant exterior shell
Cons:
The surface of the shell is somewhat slippery
5. REDCAMP Cotton Flannel Sleeping Bag
REDCAMP Cotton Flannel Sleeping Bag for Camping, 50F/10C 3-Season Warm and Comfortable, Envelope Blue 3lbs(75"x33")
Larger size and Softer Material: Size is 75"x33"/190x84cm. Perfect REDCAMP sleeping bag flannel for adults of 6 feet in tall. High-quality and durable 210T polyester ripstop fabric, waterproof and...
Temperature Range: 3lbs filling cotton lined adult sleeping bag is comfort in 50°F/10°C and fits temperature range 41-68°F/5-15°C. 4lbs filling sleeping bags is comfort in 41°F/5°C, and fits...
Reverse Zipper: 2-way zippers that right or left-hand zippers allow for 2 flannel sleeping bags for camping to be attached together.
Compressed Sack: Convenient internal stuff pocket for store your belongings and a compressed oxford sack is included to pack. Package size: 17"x8"x8"/45x20x20cm. Pack weight: 4.6lbs/2.1kg.
100% MONEY BACK GUARANTEE: REDCAMP offers a 360-day limited manufacturer.value warranty. If you're not satisfied for any reason, please contact us immediately and we will give you a reply within 24...
For leisure purposes, the REDCAMP Cotton Flannel Sleeping Bag is already a beyond-satisfactory option. This one is large, capable of fitting adults of up to 6 feet tall.
The construction of this sleeping bag is far from being shabby, either. The exterior is tailored from 210T polyester ripstop fabric and has been fitted with water-resistant treatment. It is rugged and efficient in protecting its insulation from being damp.
Meanwhile, the soft flannel on its interior plus the hollow cotton fiber ensures improved thermal efficiency. Of course, they also elevate the coziness that you can feel in this bag.
One of the ergonomic features of this REDCAMP Sleeping Bag is its two-way zippers. Specifically, it enables the bag to be attached to another same bag. It is a good option for a double bag for couples!
A stuff pocket is also present in the interior of the sleeping bag where you stash your small valuables.
Pros:
Wide rectangular design; fits most adults
Interior cotton and flannel fabric adds comfort and warmth
Two-way zipper design for accessibility
Includes a stuff sack
Overall durability is pretty impressive
Cons:
The Best Camping Sleeping Bag: A Buying Guide
You can't enjoy a night in the outdoors if you are chilling from the weather. At least you should come prepared. Pack the right insulating gears, and you should be able to slumber comfortably.
But of course, I am not just talking about the tent here. Even for camping purposes, most tents don't provide the right kind of insulation to keep you warm. At this point, you need to get a camping sleeping bag.
What's The Difference Between A Camping Sleeping Bag From A Backpacking Sleeping Bag
There's no technical variation between a sleeping bag for backpacking and a sleeping bag for camping. But of course, the nuance is there, especially if you are going to mind the nature of these applications.
You see, a camping sleeping bag is more spacious than its counterpart. Meanwhile, a backpacking sleeping bag is designed to be light and fit.
Compressibility is also important for backpacking bags, as you are going to carry them for extended periods. On the other hand, a camping sleeping bag can be big and bulky, given the fact that you are going to travel with them on short-distances or with your vehicle.
Temperature Rating
When choosing a camping sleeping bag, it is essential that you can assess its temperature rating. Always keep in mind that you don't need a heavily insulated sleeping bag for camping. After all, leisure camping doesn't usually deal with elevated terrains or breezy conditions.
But of course, if insulation is needed, then a sleeping bag with low-temperature rating should be your priority.
Check the guide below on how sleeping bags are categorized based on their temperature ratings.
Summer Season - 30 degrees Fahrenheit or higher
3-Season - 15 degrees Fahrenheit to 30 degrees Fahrenheit
Winter - 15 degrees Fahrenheit and lower
Shape
Another essential consideration in choosing a sleeping bag for camping is its shape. Generally, there are specific "cuts" for commercial bags.
Of course, there's no right or wrong when it comes to this aspect. After all, each of us has differing needs and preferences. Some people want to have space to move or sleep sideways. Others want it to be extra snug.
Rectangular - If space is your priority, you should go with rectangular sleeping bags. They are the roomiest among all the sleeping bag shapes. It is easy to stretch your arms and legs inside them.
Semi-rectangular - A modification of the rectangular sleeping bag. This barrel-shaped shelter strikes the perfect balance between space and insulation.
Mummy - The mummy is your top option if warmth is pivotal for your sleeping comfort. It has restricted space, but the snug construction enables you to feel extra warmth and comfort.
Double - Are you sleeping with someone? Go for double bags right away. Usually, double sleeping bags are two rectangular units that are attached via zipping and other similar mechanisms.
Insulation
Now, we should learn more about the insulation used on these camping sleeping bags.
Right now, we have two distinct categories for insulation: down and synthetic. Both of these are effective in generating warmth. Respectively, they have their pros and cons.
Synthetic Insulation
Inexpensive
Insulates even wet
Durable and dries quickly
Non-compressible
Down
Lightweight and compressible
Excels in both warm and cold conditions
Durable and retains loftiness
Requires water-resistant treatment
Expensive
You are free to choose which of these insulation types can fit your needs. Generally, those who want unparalleled comfort and warmth will go for down sleeping bags. Synthetic sleeping bags, on the other hand, are a practical choice for leisure and recreational camping.
When it comes to the down fill, the Responsible Down Standard and Traceable Down Standard are a must. These are the certifications that guarantee that no animals were harmed from the production of the down.
Specifically, these down came from geese and ducks. It is quite sad that others abuse these animals for the sake of making down sleeping bags. That's a big no for me.
Conclusion
The best camping sleeping bag is an important element for a hassle-free and comfortable stay outside. With the right unit, you can enjoy your short jaunt without experiencing inconveniences. I think that perk is a solid reason why every outdoor adventure deserves a high-quality cocoon.
I hope you have learned from this guide. For questions and suggestions, feel free to drop them in the comment section.