The best ice axe can define the success of your outdoor trip during the frigid season or when you are in icy terrain. See all the top options for this particular equipment here.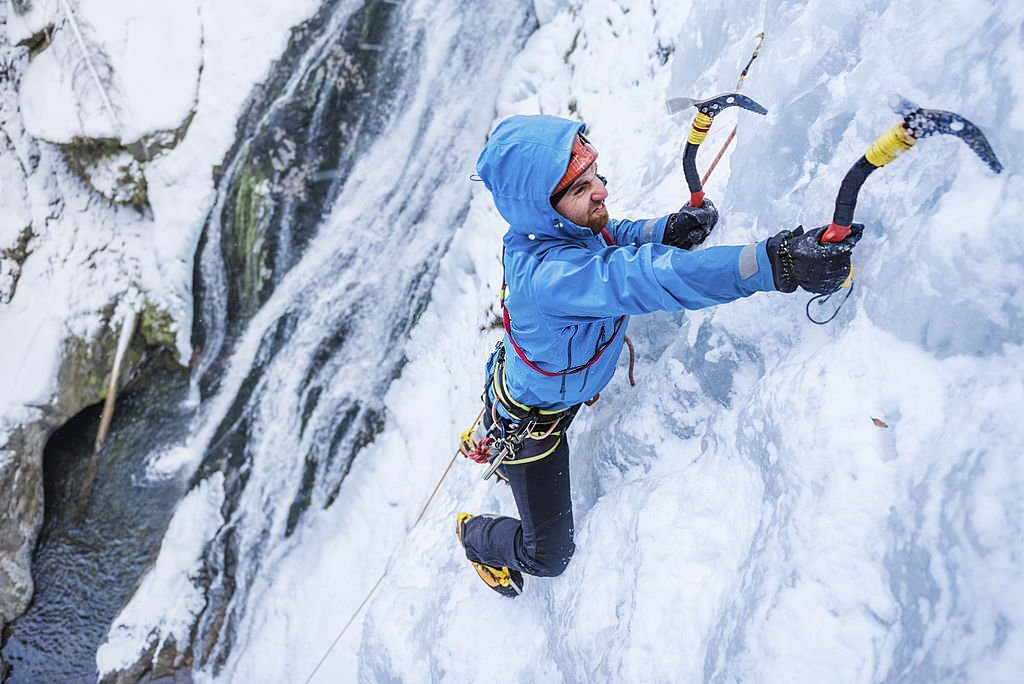 A Quick Overview
Mountaineering, ice climbing, and any other winter outdoor activities require proper gear for optimal safety and performance. An indispensable item on icy terrain is an ice axe; high-quality versions offer stability, balance, and extra layers of safety in challenging conditions. It is as important as mountaineering helmets, hardshell jackets, and mountaineering boots.
When you buy your first ice axe to support a high-altitude adventure, it's important to consider what type of outdoor activity you will be doing. To ensure you get the correct ice axe length, it is also important to take the time to learn the different parts and how to use them.
We will explore this fascinating world of ice axes together in this comprehensive guide, discussing key features before helping you locate an axe to suit your personal requirements. In the meantime, I have reviewed some of the best ice axes that you can check, acquire, and use for your next icy adventure. See them now.
---
Best Ice Axes For Outdoor Adventures: A Complete Rundown
Pick Shape
Shaft Shape
Where to Buy
Black Diamond Raven Ice Axe
Classic curve
Straight
REI
Amazon
Petzl Summit 2 Ice Axe
Classic curve
Bent
REI
Amazon
Petzl Summit Evo Ice Axe
Classic curve
Bent
REI
Amazon
Trango Raptor Ice Axe
Reverse curve
Bent
REI
Amazon
Grivel G1 Plus Ice Axe
Classic curve
Bent
REI
Amazon
Best Ice Axes Review
Here's our concise but comprehensive take for the ice axes that we have listed here.
1. Black Diamond Raven Ice Axe - Editor's Pick

TECHNICAL SPECIFICATIONS
Ideal Use
Material
Pick shape
Shaft shape
Available sizes
Weight
Mountaineering
Head: investment-cast stainless steel /shaft: aluminum
Curved
Straight
60 cm / 65 cm / 70 cm / 75 cm
15.7 oz. / 1 lb. 03 oz. / 1 lb. 08 oz. / 1 lb. 1.4 oz.
Black Diamond Raven Ice Axe Review
One of the most reliable ice axes we ever used is the Black Diamond Raven. In hindsight, the design of this axe originates from Yvon Chouinard's traditional mountain axe. Hence, it is suitable enough to take you on different mountaineering expeditions.
What separates that Black Diamond Raven Ice from its predecessor is its lighter design. The stainless steel head and aluminum shaft have been streamlined to exude minimal weight so that climbers can ascend with comfort. Moreover, it also has an improved adze and pick geometry so that you can create more rigid placements on surfaces.
Even its spike has been redesigned so that it can bite better icy objects. Meanwhile, its shaft has a notable trapezoidal cross-section. We like this structure because it improves hand grip and comfort. Overall, this particular axe is durable, lightweight, and pretty much suitable for both seasoned and beginner climbers.
PROS
CONS
Lightweight and climbing-oriented design
Offers secure bites on icy surfaces
Head comes with a hole for slotting carabiners
No notable drawbacks
2. Petzl Summit 2 Ice Axe
TECHNICAL SPECIFICATIONS
Ideal Use
Material

Pick shape
Shaft shape
Available sizes
Weight
Mountaineering
Heat-treated steel / 7075 aluminum / stainless heat-treated steel
Curved
Bent
52 cm.
14.1 oz.
Petzl Summit 2 Ice Axe Review
Essentially, the Petzl Summit 2 Ice Axe is an indispensable tool for mountain climbers and ice trekkers. I have personally used this axe in various climbing expeditions in the Midwest, and it didn't disappoint.
It is a little lighter than many conventional ice axes. Still, it has enough weight on its head that allows users to anchor it sturdily. The upper portion of its shaft has a sufficient curve for enhanced clearance. This is actually an ergonomic design useful for climbing. Meanwhile, the notable straight lower part of the shaft ensures that you can hammer the axe with maximum penetration.
Its pick has a thickness of about 3mm; it also has toothing on its tip. These features enable the pick to have a better anchoring mechanism on hard ice and snow. But interestingly, its pick is somehow thicker in the middle; this design optimizes anchor while you are traversing in soft snow. Meanwhile, its stainless steel spike can penetrate hard show quickly.
PROS
CONS
Good for both soft and hard snow
Geometric design enables optimized use
Comes with anodized finish for sufficient protection against the elements
No notable drawbacks
3. Petzl Summit Evo Ice Axe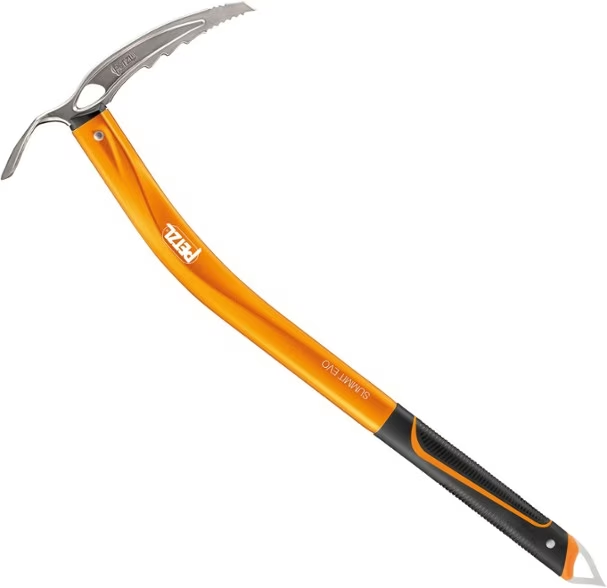 TECHNICAL SPECIFICATIONS
Ideal Use
Material
Pick shape
Shaft shape
Available sizes
Weight
Mountaineering
Aluminum / steel/ thermoplastic polyurethane
Curved
Bent
52 cm. / 59 cm.
14.1 oz. / 14.8 oz.
Petzl Summit Evo Ice Axe Review
Another Petzl ice axe that I want to feature here is the Summit Evo. It is a trusted mountaineering tool by thousands of alpine and ice climbers. Features of this particular product ensure safe and comfortable ascents.
It is lightweight and comes with a waterjet-formed shaft that allows a comfortable grip just under its head. The shaft is curved, as well, for better clearance while on steep, slippery terrains. At the same time, the lower portion is straighter, which, again, helps in better snow penetration. As you have noticed, the design of its shaft is similar to the Petzl Summit 2.
Speaking of, the head of this axe has a well-balanced forged construction. It enables optimal anchoring capabilities for the axe. Similar to its cousin, it has a toothed and durable pick for dealing with hard snow. But it also works on soft snow because its pick is thicker in its center.
PROS
CONS
Durable, corrosion-resistant construction
Well-balanced design allows easier usage on different terrains
Comes with a good penetration power
Handle is somewhat too thick for those with small hands
4. Trango Raptor Ice Axe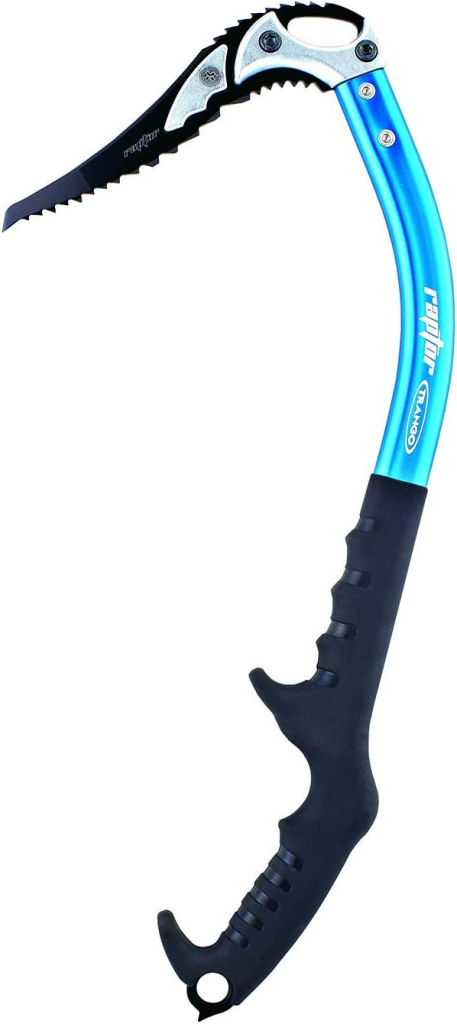 TECHNICAL SPECIFICATIONS
Ideal Use
Material
Pick shape
Shaft shape
Available sizes
Weight
Ice climbing
Aluminum / steel / rubber
Reverse curve
Bent
48.9 cm.
20 oz.
Trango Raptor Ice Axe Review
One of the best leashless ice axes you can get today is the Trango Raptor Ice Axe. It is a well-built ice climbing tool, as it features a plethora of features, such as a non-obtrusive molded grip and a highly durable pick that can pierce even the toughest ice you can meet on your expeditions.
Its package also includes removable weights. This is an excellent feature that enables the axe to become a one-size-fits-all tool for ice climbing. Specifically, the axe weighs about 20 ounces without the pick weights. If the weights are included, it sits about 22 to 24 ounces. Coupled with its well-balanced geometry, the axe can attain robust bites every time.
Notably, it comes with a lightweight aluminum shaft. This shaft was designed for lesser pump and more streamlined use. Its tapered ice pick is also tailored for easy maintenance. It can be cleaned conveniently, even after being covered by thick mud and snow.
PROS
CONS
Great tool for technical ice climbing
Added weights improved its overall versatility
Well-balanced anatomy for easier handling and more robust mines
Doesn't come with a hammer
5. Grivel G1 Plus Ice Axe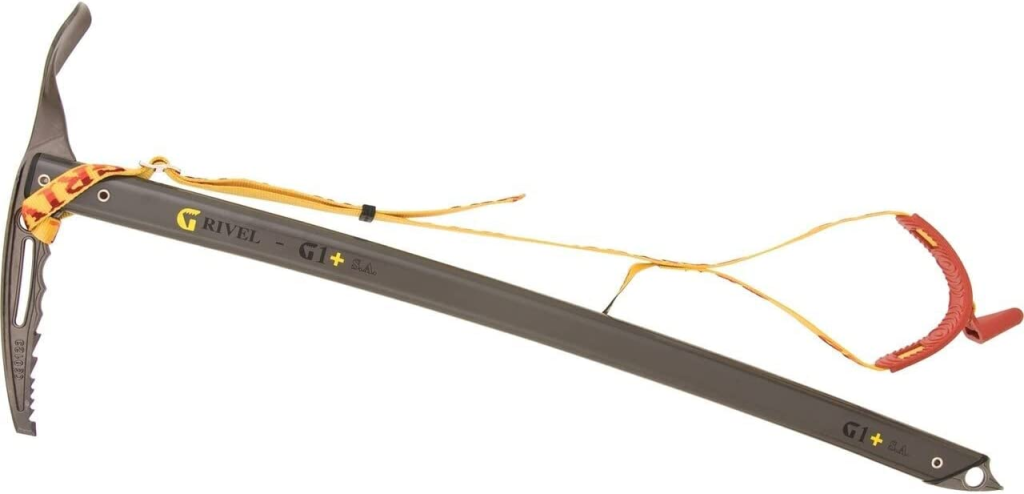 TECHNICAL SPECIFICATIONS
Ideal Use
Material
Pick shape
Shaft shape
Available sizes
Weight
Mountaineering
Carbon steel / alloy
Classic curve
Bent
66 cm
1 lb. 1.9 oz.
Grivel G1 Plus Ice Axe Review
For easy glacier and summit climbs, the Grivel G1 Plus Ice Axe is definitely an impeccable tool. It has a durable construction, as is evident by its hot-forge carbon steel head and aircraft-grade 7075 aluminum shaft. These materials ensure that the tool can handle harsh elements.
The carbon steel head has a high-strength design so that it can generate more powerful bites and chopping force. Moreover, the head is ergonomically tailored so that it can fit your hands properly. It is an integral feature that you can take advantage of during your ascents on glaciers and snowy terrains.
The Grivel G1 also has a proprietary self-arrest curvature on its shaft. This particular technology enables more power to be transferred to the shaft if you want to break or stop a fall. It also enhances the penetration ability of the axe, whether you are ascending or descending. In a nutshell, the Grivel G1 is a suitable utility that every ice climber should consider. It is lightweight but efficient enough for technical ascents.
PROS
CONS
Proprietary shaft design is great for breaking falls
Can be used by tall users
Includes a reliable leash for easier handling
No notable drawbacks
---
Understanding Ice Axes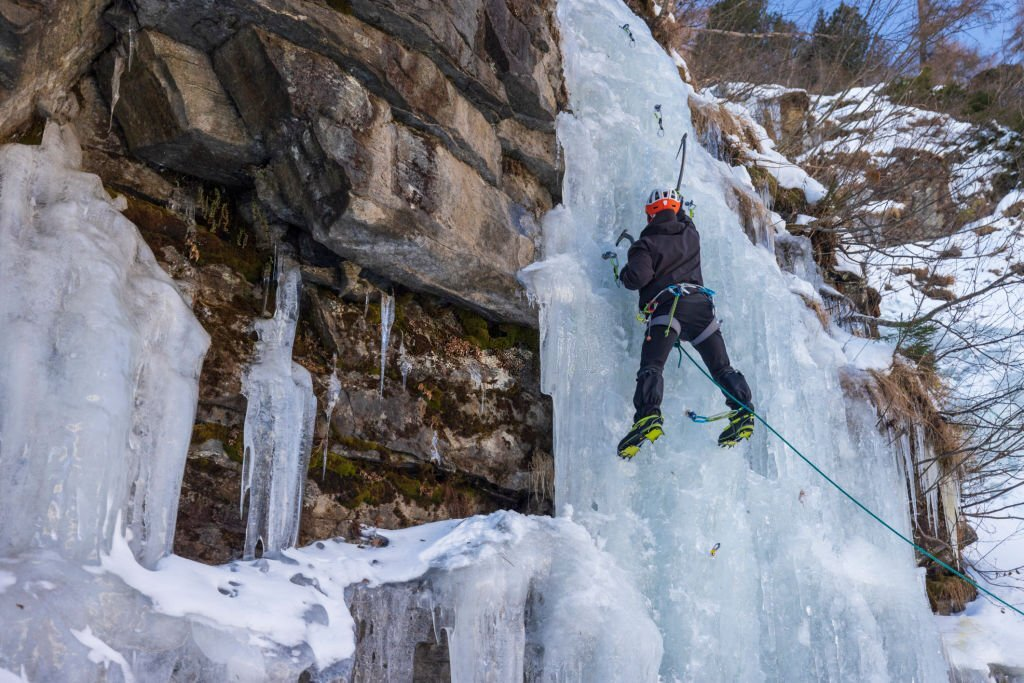 Before we get to the nitty-gritty aspect of choosing ice axes, it is essential that we know about the purpose of this particular tool. At the same time, it would be best if you know the exact anatomy of an axe so that you can choose and use one properly.
What Is An Ice Axe
An ice axe is a tool designed for travel in cold or snowy environments. It consists of three parts, including its shaft, head and pick. Shaft materials typically used include aluminum or carbon fiber and the head is home to its pick - the tool's pointed end used to secure into snow or ice surfaces.
Ice Axe's Purpose
An ice axe serves various functions depending on the activity it is being used for, from self-arrest during a fall and providing balance and support while traversing slopes to cutting steps, creating anchors, or performing ice climbing maneuvers - an ice axe is an indispensable and versatile tool that you need on winter mountaineering expeditions, glacier hiking adventures or ice climbing missions alike!
Anatomy Of An Ice Axe
An ice axe comprises several essential parts that work together to achieve its functionality, each playing an essential part in its proper workings. These parts include:
Adze or Hammer - The flat part on the other side of a pick, used for cutting steps or driving pitons.
Shaft - Lightweight materials such as aluminum or carbon fiber make up its long handle
Head - Its head houses an ice pick and an adze or hammer, with its pointed end being used for anchoring into ice or snow surfaces.
Spike - A sharp point near the base end of an ice axe used to provide extra stability on soft ground such as snow.
Grip - This area allows climbers to grasp and manipulate the ice axe for climbing purposes.
---
Types Of Ice Axes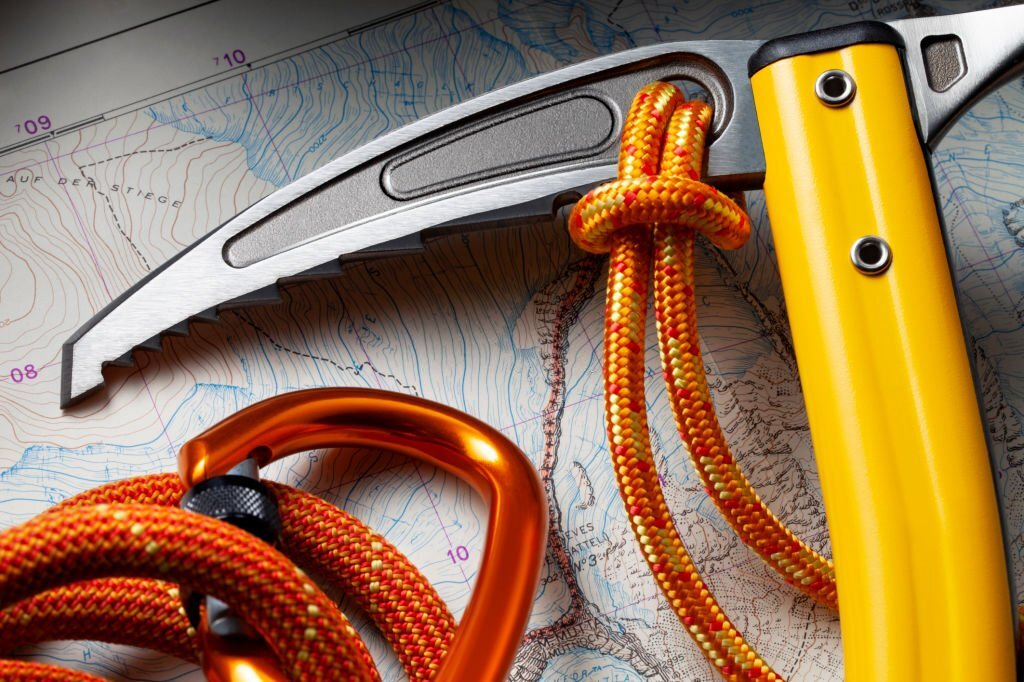 Ice axes come in many varieties to meet various climbing styles and objectives. Let's examine three main categories of ice axes:
Mountaineering Ice Axes
Mountaineering ice axes are versatile tools used for various terrains and climbing styles, featuring straight or slightly curved shafts with moderate-sized adzes and less aggressive pick curves - ideal for general mountaineering, glacier travel, and moderate-angle ice climbing.
Technical Ice Axes
Technical ice axes are specifically tailored for steep ice climbing and technical mountaineering routes, featuring an aggressive pick curve, smaller or no adze, and ergonomic handles with more aggressive contours for better control and precision on vertical terrain or mixed terrain surfaces. Technical ice axes excel when applied on steep, vertical terrain where precision and control are key.
Hybrid Ice Axes
These hybrid ice axes combine elements from mountaineering and technical axes. Their versatility means they can handle moderate ice climbing as well as technical sections. Hybrid ice axes are popular choices among climbers who engage in various climbing styles but need one tool to cover different terrain.
---
Selecting The Best Ice Axe For Outdoor Adventures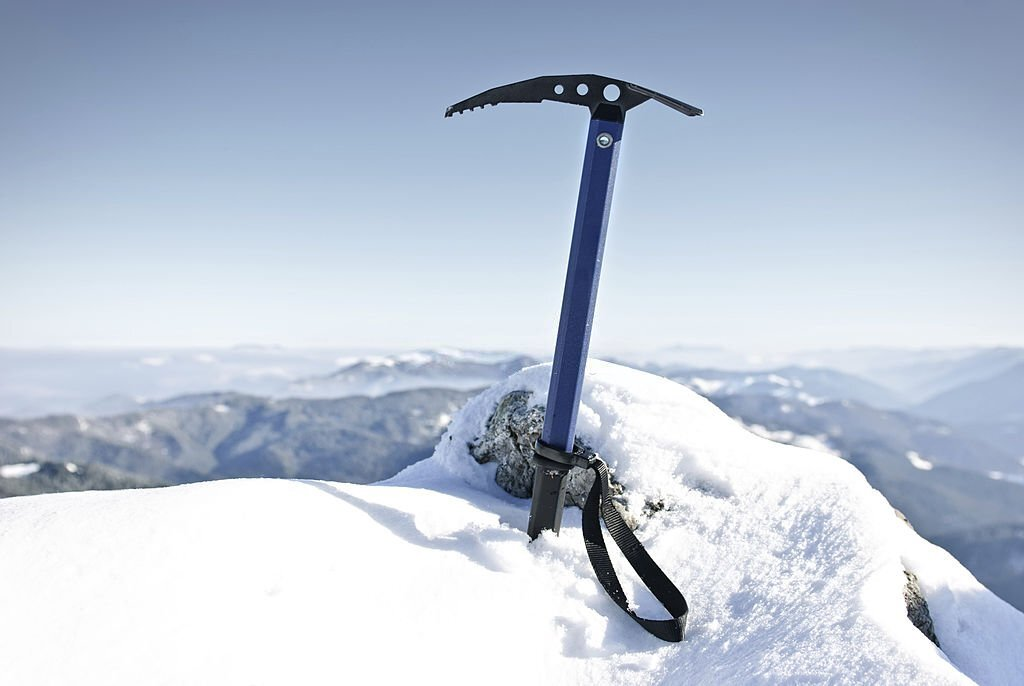 When selecting an ice axe to meet your adventures' specific requirements and needs, several key considerations need to be kept in mind in order to find one which suits you exactly. With the right axe, you could avoid a variety of mountaineering hazards. Let's dive deeper into these factors now:
Function
Ice axes come in various designs optimized for different activities. You should carefully consider your intended usage: general mountaineering, technical ice climbing, glacier travel, or mixed alpine routes are just a few uses that require specific features like pick type or shaft length for use with any particular axe design.
Shaft Material
The type of shaft material selected has an enormous influence over an ice axe's weight, durability, and performance. Aluminum shafts tend to be lightweight yet cost-effective solutions while still offering sufficient strength. Carbon fiber shafts offer even lighter vibration dampening but at an additional expense; find one which suits both your preferences and budget best! Carbon is also among the commonly materials used for the best trekking poles.
Type Of Head
Ice axe heads typically come in two varieties: modular and non-modular. Modular heads allow for interchangeable parts that enable you to use an adze, hammer, or other accessories; non-modular models typically offer fixed designs. It's important to consider which style best meets the needs of your activities when making this choice.
Type Of Pick
Ice axe picks vary in shape, curvature, and thickness to meet different terrain and activity needs. Selecting an ice axe pick depends upon terrain and activity: mountaineering with moderate curve picks work great; steep ice climbing demands more aggressive curves that penetrate harder ice surfaces more deeply, while thinner picks perform best with soft snow cover.
Length and Weight
Selecting an appropriate length and weight is crucial in creating the optimal user experience with an ice axe. Longer models tend to provide greater reach, stability, and maneuverability in deep snow, while shorter versions offer agility on steep ice terrain. When selecting the length, consider your climbing style as well as intended use, as well as your height when choosing length - lightweight alternatives should still offer durability when possible.
Grip and Leash
A comfortable and ergonomic grip is essential to long-term use, so when selecting an ice axe, make sure it matches your hand size and shape. Most come equipped with an adjustable leash to prevent accidental drops while offering added security; check that its release mechanism allows easy emergency escape in case it should become necessary.
---
Picking The Best Ice Axe For Your Adventure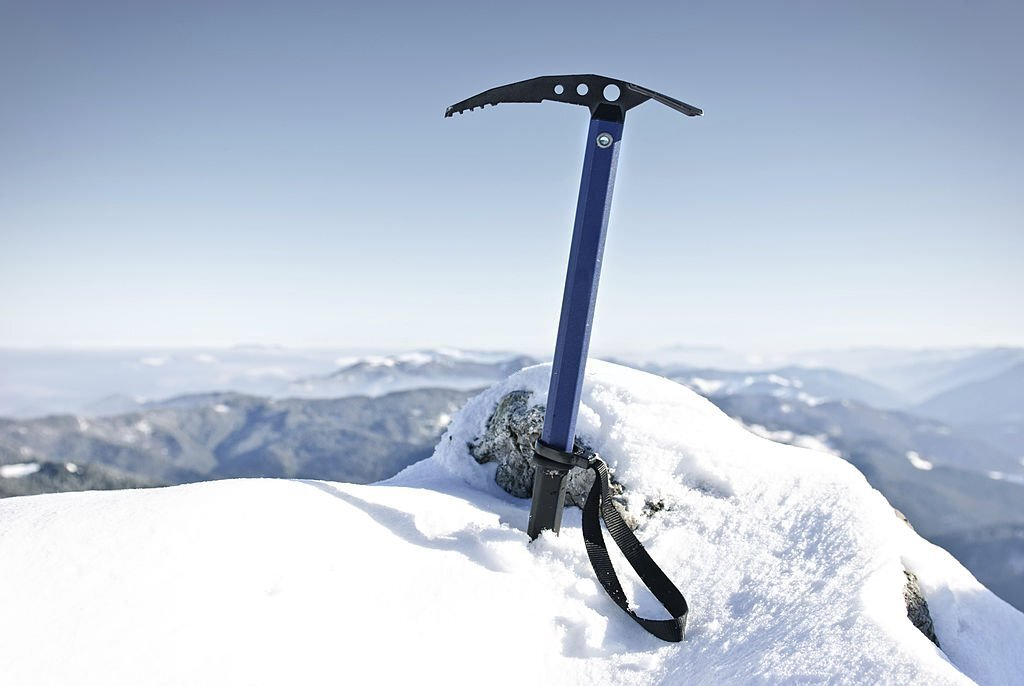 Consider the type of adventure you will be engaging in before selecting the ideal ice axe. Of course, it pays to train yourself how to use an ice axe efficiently. In the meantime, let's examine some suitable models for each climbing discipline:
Ice Climbing
A technical ice axe is the preferred tool for dedicated ice climbing. Choose an ice axe with a highly curved pick for better ice penetration, ergonomic handles for precision, and length and weight considerations depending on the steepness and difficulty of routes you plan to explore.
Alpine Climbing
Alpine climbing involves both mountaineering and technical sections, so having a hybrid ice axe with the appropriate balance between length, weight, and design for alpine terrain is ideal for alpine climbing. Choose one with this ability in order to accommodate both moderate ice climbing as well as general mountaineering activities.
Glacier Travel
Glacier travel requires a sturdy ice axe for self-arrest and walking on level or slightly inclined terrain, ideally one with a moderate pick curve and functional adze - mountaineering ice axes can make an excellent addition; lightweight models with secure gripping points may also work.
---
Maintenance Tips For Ice Axes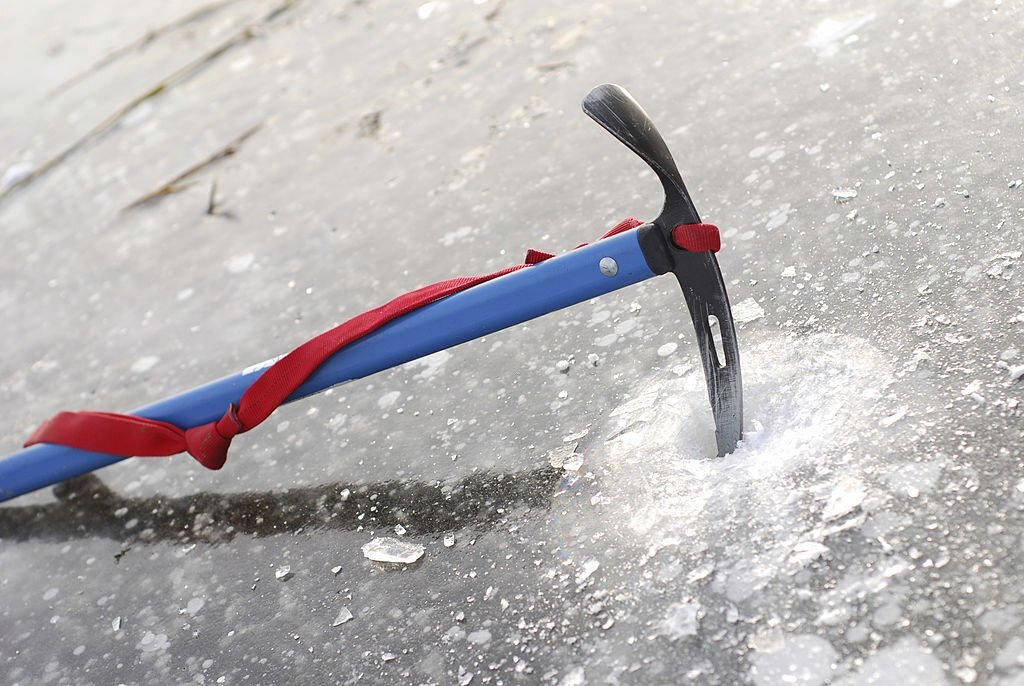 Cleaning Your Ice Axe
It is vital that after every use, you properly clean your ice axe to reduce dirt build-up, moisture accumulation, and mold growth. Here is a step-by-step guide on how to do just that:
Clean off any snow or ice - Utilize either a brush or gloved hand to safely brush away all ice or snow from your pick, adze, and shaft of an ice axe - paying close attention to any crevices or hard-to-reach areas that might contain frozen deposits.
Use warm water - Fill a basin or sink with warm water and mix in mild detergent before submerging the ice axe and gently cleaning its surfaces using soft brushes or sponges, such as picking, adze, shaft, and handle surfaces. Ensure all surfaces have been adequately covered.
Rinse thoroughly -To remove all remaining detergent or debris, thoroughly rinsing your ice axe under clean running water is crucial in order to get it clean again and avoid leaving behind soap traces on it. Pay particular attention when doing this step, as soap residue may remain and need to be addressed quickly in order for its full effectiveness.
Dry your ice axe - Wipe down your axe with a dry cloth to absorb excess moisture. Doing this when still wet can result in rust or damage; allow air drying in an open, well-ventilated space before storing away in its case.
Inspecting For Wear and Damage
Regular inspections help identify any wear or damage to your ice axe that might compromise its performance and safety, so follow these steps when inspecting it:
Check for cracks or chips - Carefully inspect every aspect of an ice axe's construction - shaft, pick, adze, and handle - for any sign of wear, such as cracks or chips, that could compromise its structural integrity. Even small cracks may weaken it over time.
Test adze or hammer attachments - If your ice axe includes an interchangeable adze or hammer attachment, ensure it remains securely fastened without showing signs of loosening or wear and tear.
Assess pick condition - Check your pick carefully for dullness, nicks, or excessive wear to ensure efficient ice penetration and self-arrest. Sharp picks are essential to efficient self-arrest.
Sharpening The Pick
Maintaining a sharp pick is critical to effective ice axe performance, so follow these steps to sharpen it properly:
Secure your ice axe - Use a vice or clamp to keep the axe stable in position and ensure its pick is within easy access for sharpening purposes.
Apply a file or whetstone - Hold the file or whetstone against the pick at an even angle, following its original contours, while moving along its length, applying even pressure with each move of the file or whetstone along its length.
Sharpen both sides of the pick - For optimal results, repeating this sharpening procedure on both sides will create an evenly sharpened edge and ensure consistent angles are maintained through this process.
Examine sharpness - After sharpening, run your finger along the pick's edge carefully to test its sharpness, taking care not to injure yourself while testing its edge for sharpness. If necessary, sharpen until desired sharpness has been reached, and keep testing!
Storing Your Ice Axe
Proper storage of an ice axe helps avoid damage and ensure its longevtity, so please follow these guidelines when storing yours:
Prior to storage, ensure your ice axe is both clean and completely dry in order to avoid rust and corrosion.
For extra safety and to prevent cuts or other incidents caused by its sharp blade, protect it by covering or sheathing it with protective material such as sheathing it in some fashion. This also serves to keep other gear away from becoming caught up on it.
Select a dry and well-ventilated area when choosing to store your ice axe. Avoid direct sunlight or extreme temperatures as these could damage it over time.
---
Conclusion
Selecting the best ice axe for outdoor adventures requires careful consideration of numerous factors, including type, material, design, and intended use. Make sure that safety, durability, and performance are top considerations in making your decision; by investing in high-quality equipment and honing your skills through practice and training, you'll soon find yourself equipped to tackle icy terrains safely while enjoying exciting mountaineering adventures - stay safe while climbing!
Related posts: